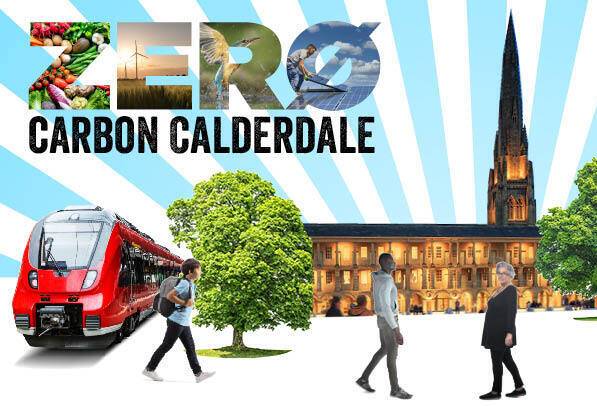 As the world's attention focuses on the COP26 conference in Glasgow, Calderdale Council is launching a new campaign this November, to inspire people to take their own action to tackle the climate emergency. 
The 'Our path to a brighter future' campaign will raise awareness of climate change in Calderdale, and the steps being taken as the borough leads the way on tackling this vital issue.
Addressing the climate emergency remains one of the Council's top priorities, and a key part of achieving the Vision2024 for Calderdale by protecting our distinctive environment and building a resilient future.
Cllr Scott Patient, Calderdale Council's Cabinet Member for Climate Change and Resilience, said:
"COP26 is a major opportunity to highlight Calderdale's work on the climate emergency at an international level. To build on this momentum locally, we're launching the 'Our path to a brighter future' campaign to paint a picture of a carbon-free Calderdale and the positive future we're working towards.

 

"By raising awareness of the severity of climate change, how much of a priority it is to fight it, and the great things that are already being achieved, we hope to inspire local people to take their own action. We all have a part to play in achieving net zero carbon emissions in Calderdale by 2038."
From Sunday 31 October to Friday 12 November 2021, COP26 – the 26th annual UN Climate Change Conference – will bring world leaders together to make important decisions on how nations tackle climate change.
Each country will report on how they plan to reduce their carbon emissions and will agree on a new, ambitious emissions path for the future.
This work is already underway in Calderdale. The Council and its partner organisations have published the Calderdale Emission Reduction Pathway report, which includes planned local actions to reach zero carbon. As well as work on buildings, technology, transport and land use, a key part will be the steps that local communities can take.
The 'Our path to a brighter future' campaign will give plenty of ideas and inspiration through social media, advertising and other awareness-raising.
For more information, visit www.calderdale.gov.uk/climateemergency
Join the conversation on social media using #ClimateActionCdale
For simple actions we can all take to reduce carbon emissions, head to www.imperial.ac.uk/stories/climate-action(external link)