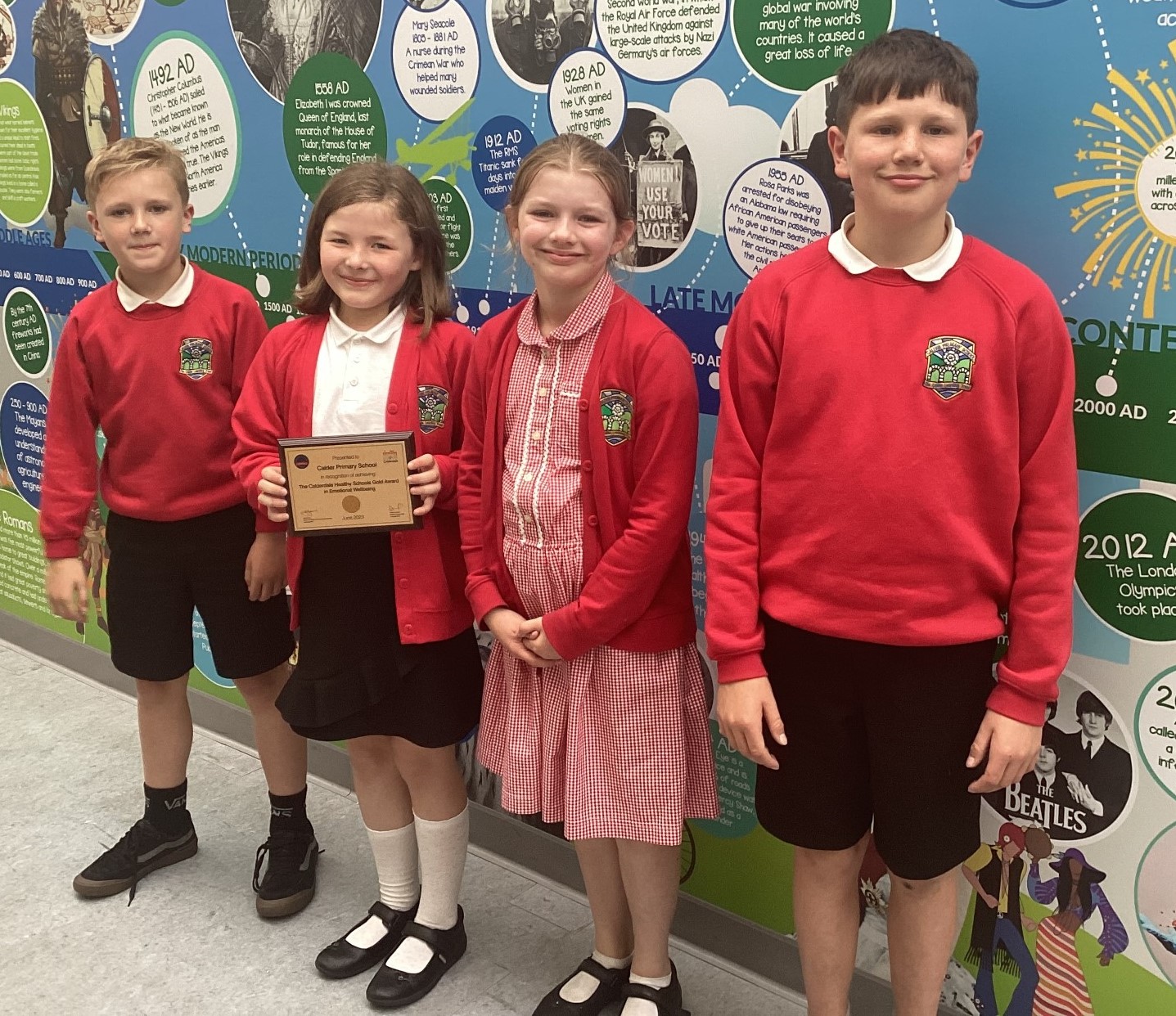 A Calderdale school has received the borough's highest level of recognition for the health and wellbeing support it offers its young people.
Calder Primary School, part of the Calder Learning Trust, is the first school in the borough to receive the Gold achievement award in the Calderdale Healthy Schools award programme, which recognises and celebrates the work that schools carry out to support children and young people's health and wellbeing.
The primary school provides a high-level of support for its pupils across the programme's key themes of health and wellbeing, physical activity and food. The school's exceptional work to support the emotional wellbeing of pupils and staff has led to it becoming the first school to achieve the Gold level award.
Examples of the school's good work in this area include its particular effort to know each pupil individually and make time to understand their goals and any concerns and support them accordingly. Pupils also have regular opportunities to discuss their wellbeing and the school provides reading materials on a variety of mental health and wellbeing issues.
Staff also receive regular training to ensure they are aware of emotional issues pupils may be facing and the school hosts its own annual staff wellbeing event and regular staff support groups and workshops.
The Gold award was presented to the school's Head Teacher, Kate Lambert at the recent inaugural Schools' Health and Wellbeing Conference, which was held across two days and attended by more than 100 members of staff representing 58 primary and secondary schools in the borough.
The event, at Mytholmroyd Community Centre, included speeches about mental health, water safety, school food, and a new Police scheme that will support schools to deliver effective learning about crime. There was also a 'marketplace' where providers of healthcare and wellbeing support for children and young people advised staff on the support available to schools and families.
Feedback from the event was overwhelmingly positive, with those attending enjoying the opportunity to share ideas and learn from each other and finding the amount of information available particularly useful.
Calderdale Council's Cabinet Member for Public Health, Cllr Tim Swift, said:
"Many young people across the borough continue to feel the ongoing effects of the pandemic on their mental health and wellbeing and it's so important that schools feel well equipped to support pupils and young people feel able to discuss any issues.

"The recent Schools Health and Wellbeing Conference was the first time since the pandemic that staff from schools across the borough have been able to come together and learn more about health and wellbeing support, sharing ideas and hearing from expert speakers.

"The conference was also an opportunity to present the very first Calderdale Healthy Schools Programme's Gold achievement award to Calder Primary School, in recognition of their work to support pupils, and in particular for their work around emotional wellbeing."
Calderdale Council's Cabinet Member for Children and Young People's Services, Cllr Adam Wilkinson, said:
"Congratulations to Calder Primary School on being the first school in the borough to achieve the Gold standard in the Calderdale Health Schools award programme.

"The programme has been developed in partnership with schools and provides a clear framework to enable them to demonstrate their commitment to young people's health and learn from each other.

"I'm sure we'll see many more schools following Calder Primary's example and achieving Healthy Schools status or building upon their existing bronze and silver rating."
Headteacher at Calder Primary School, Ms Kate Lambert, said:
"We were delighted to be part of the working party to develop the Calderdale Healthy Schools Award. It has given us the opportunity to celebrate all the great work we already do in our school, develop our next steps and share ideas and work with other schools.

"We were thrilled to have achieved Gold for Emotional Health and Wellbeing – and to be the first school to do so. The children are keen to work towards Gold in Physical and Food now. We would encourage all schools to get involved!"
The Calderdale Healthy Schools award programme supports the Vision 2024 for Calderdale, with improved health and wellbeing outcomes creating more resilient communities where people can reach their potential.
In the year 2024, Calderdale will celebrate its 50th birthday. Where do we want to be by 2024? Join the conversation by following #VisionCdale2024 on social media and visit www.calderdale.gov.uk/vision.