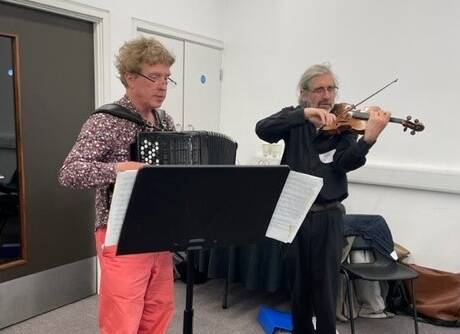 Calderdale Council has thanked local residents for their kindness in offering their homes to people fleeing Ukraine, at a special event in Halifax.
Thanks to the generosity of Calderdale people, more than 200 Ukrainian refugees have arrived in the borough and are living safely in their hosts' homes.
Just over a year on from the Government's Homes for Ukraine scheme getting underway in Calderdale, the Council has held a thank you event for hosts.
On Wednesday 28 June, over 20 hosts gathered at Square Chapel Arts Centre in Halifax to build friendships within the Homes for Ukraine hosting community.
Heidi Waters, Calderdale Council's Strategic Housing Delivery Manager, said a big thank you to hosts on behalf of the Council and the whole borough. A special film highlighted hosts' and guests' experiences of Homes for Ukraine in Calderdale, an accordionist and violinist played Ukrainian folk music, and a Ukrainian guest performed her poetry in Ukrainian and English.
Cllr Scott Patient, Calderdale Council's Cabinet Member for Climate Action, Active Travel and Housing, said:
"Calderdale communities have shown amazing kindness in response to the devastating situation in Ukraine. People and organisations have come together as a Valley of Sanctuary to welcome refugees fleeing the war.

"We owe particular thanks to residents who have gone the extra mile and generously shared their homes with Ukrainians seeking sanctuary.

"The Homes for Ukraine event was our chance to thank hosts in person and bring them together to form connections and friendships."
For information about support for Ukrainian refugees in Calderdale, and how to get involved in the Homes for Ukraine scheme, please visit www.calderdale.gov.uk/v2/residents/community-and-living/equality-and-diversity/supporting-ukraine
Kindness is an important part of the Vision 2024 for Calderdale. The year 2024 marks Calderdale's 50th birthday and there is less than a year to go. Where do we want to be by 2024? Get involved on Twitter with #VisionCdale2024 and find out more at www.calderdale.gov.uk/vision
ENDS