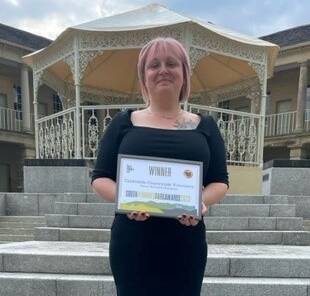 A team of volunteers who look after Calderdale's beautiful countryside have won a prestigious award.
The Calderdale Countryside Volunteers came top in the Nature Recovery category at the South Pennines Park Awards on Friday 26 May at The Piece Hall, Halifax.
The awards celebrate nature and the diverse landscape within the South Pennines Park, which covers 460 square miles across the Yorkshire and Lancashire county boundary and is home to 660,000 people.
As Calderdale is a key part of the Park, the Countryside Volunteers were nominated in the awards because they support its commitment to 'looking after nature and each other'.
The Nature Recovery Award recognises people and organisations who have implemented, or are continuing, a nature recovery initiative within the South Pennines Park – physical boots on the ground doing great work, with people and conservation at the heart of sustainable development.
The Calderdale Countryside Volunteers do a wide variety of practical work, including creating leaky dams, cutting back foliage to improve rights of way, biodiversity work, tree planting, drainage, recycling Christmas trees, carrying out path maintenance, helping to manage invasive species, removing fly-tipping and installing footpath signage. They also take part in the Calderdale sphagnum moss project, growing the plant to carpet the ground on local moors as part of natural flood management and carbon capture. Sphagnum moss restores degraded moorland, soaks up carbon, retains water, prevents the decay of dead plant material and eventually forms peat.
Cllr Sarah Courtney, Calderdale Council's Cabinet Member for Towns, Tourism and Voluntary Sector, said:
"Congratulations to our wonderful volunteers! This is well-deserved recognition for their hard work and enthusiasm, and fits perfectly with Volunteers' Week 2023. I was delighted to be at the Council's Volunteers' Week celebration event where this award was highlighted.

"The team of talented and resilient Countryside Volunteers kindly give their time and come out in all weathers to help keep Calderdale's countryside looking its best. The beauty of the borough's landscape is one of the things that keeps our towns thriving by attracting visitors, and encourages local people to get active in the great outdoors. The volunteers' role also plays an important part in protecting the environment through natural approaches to flood management and climate action.

"We are extremely grateful for the support that volunteers give to Council services and to community organisations across the borough. We encourage anyone interested in volunteering to come forward and give it a go."
There are lots of opportunities in Calderdale if you'd like to get involved in volunteering:
Volunteering opportunities in Calderdale: www.vsialliance.org.uk/opportunities(external link) and https://new.calderdale.gov.uk/jobs/volunteering
Calderdale Pledge: www.vsialliance.org.uk/cvp(external link)
Volunteers' Week: https://volunteersweek.org(external link)