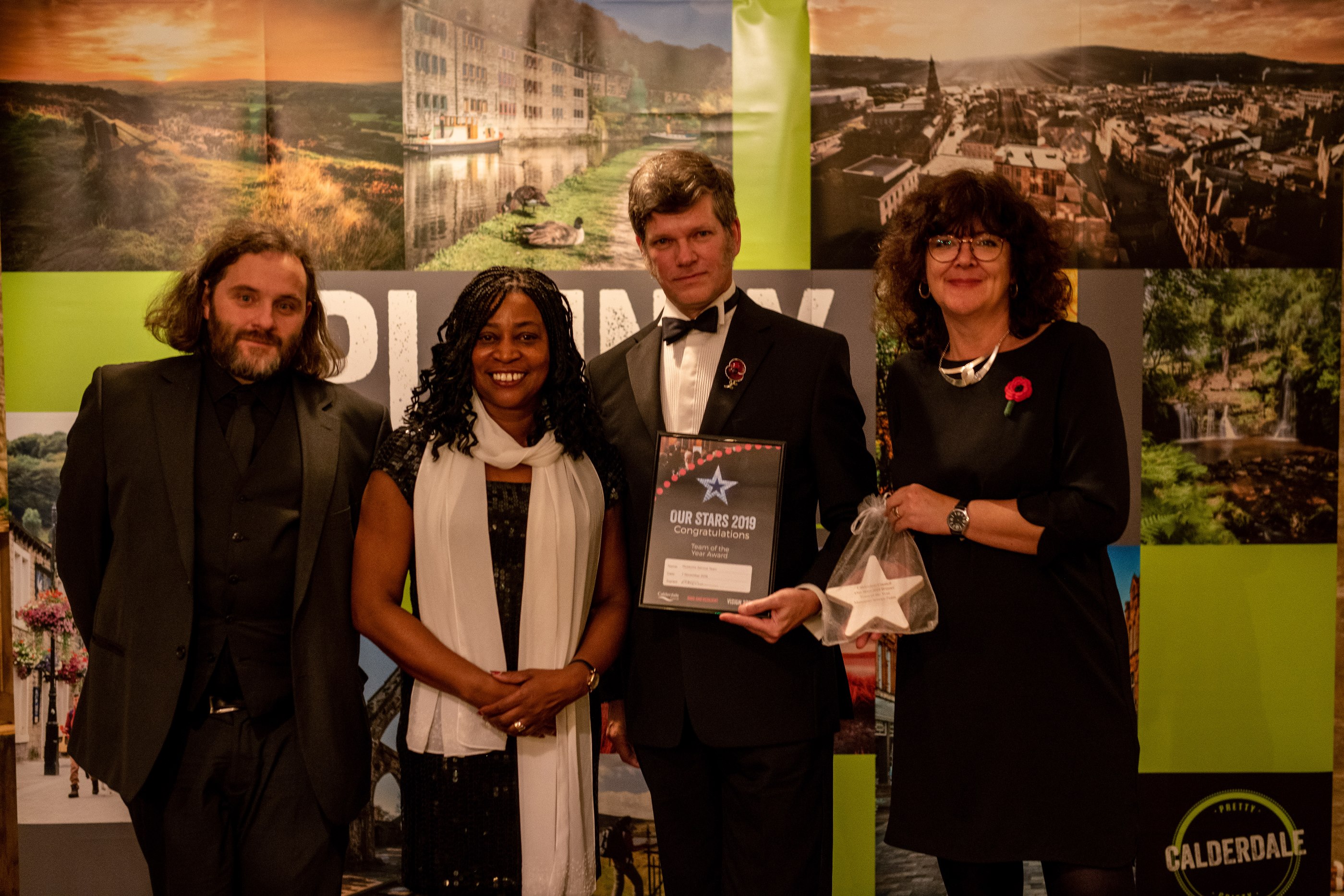 The hard work and dedication of Calderdale Council staff, volunteers and local partner organisations was celebrated at the annual Our Stars awards ceremony on Thursday 7 November.
The Council held its Our Stars awards event at The Venue in Barkisland, to recognise the amazing efforts of talented Calderdale staff and partners over the last year.
The award categories followed the Vision2024 themes of Distinctiveness; Kindness and Resilience; and Enterprising and Talented.
The winners were picked by a panel including the Council's Chief Executive, Robin Tuddenham, Head of HR and Organisational Development, Jackie Addison plus representatives from Calderdale Youth Council.
Robin also presented the Chief Executive's Award and the Leader of the Council, Cllr Tim Swift awarded a Leader's Award, both recognising employees they thought had gone the extra mile and made a real difference to people in Calderdale.
Recognition was given to Simon Nendick, Facilities Support Officer, who sadly passed away last week, in honour of his contribution to the Council over many years. A minute's silence was held at the event and colleagues paid tribute to his hard work for the Council and reflected on how he will be missed by all who knew him.
Calderdale Council's Chief Executive, Robin Tuddenham, said:
"It's always wonderful to be able to recognise the outstanding efforts of Calderdale staff and partners. I'd like to thank our sponsors for helping make the event possible.

"The awards were presented to staff from across the Council and we heard from really deserving winners who have shown amazing commitment to the Vision2024 for Calderdale. 

"Their efforts, along with colleagues from across the borough, help us to deliver our ambitions  for Calderdale to be a distinctive place, where everyone can reach their potential, where talent and enterprise can thrive, and where people are kind and resilient." 
The award winners are as follows:
Distinctiveness
Creating a distinctive borough – sponsored by The Piece Hall Trust
Winner – Laura Johansen, Cultural Development Manager, from Calderdale Cultural Destinations (an Arts Council / Visit England project to increase cultural tourism in the borough).
Laura has worked hard with Council staff and partners to seize opportunities to enhance tourism and increase our visitor offer.
A particular success was the Anne Lister weekend which attracted visitors from all over the world, building upon the impact of Gentleman Jack.
Collaborative Working – sponsored by AHR
Winner – Together Housing and Mytholm Meadows – Carly Buckley and Mytholm Care Team.
Together Housing and the care team at Mytholm Meadows have worked with the Food for Life Better Care Programme over the last 18 months with the aim to improve the health and wellbeing of older people, bring communities back together and reduce loneliness. As part of this, residents at Mytholm Meadows have been working with children at the local primary school, cooking and eating together and sharing community growing tasks. The programme has been a great success with older people and children sharing stories together and forming new friendships.
Highly Commended: Calderdale Road Safety Delivery Group.
Enterprising and Talented
Rising Star – sponsored by Calderdale College
Winner – Lauren Foulger, Commercial Solicitor
Lauren has shown excellence in her role as a solicitor. She is hard-working and provides sound legal advice with integrity and impartiality. Lauren is a trusted and a well-respected colleague within Legal Services, as well as the wider directorate client base. Lauren's commitment to the Council and becoming skilled in all areas as a local government solicitor is exemplary.   
Enterprising – sponsored by Dean Clough Ltd
Winner – Aftab Hussain, Young People's Service
Aftab has gone above and beyond in his role as caretaker at Queens Road Neighbourhood Centre. His commitment to the local community is unwavering and he regularly gives up his own time to ensure the smooth running of events at the centre. Aftab is incredibly professional and has even worked outside the centre to diffuse instances of anti-social behaviour.
Highly Commended: Steve Barnes, School Safeguarding Advisor. 
Outstanding Leadership – sponsored by Lattitude7
Winner – Jez Tweed, Environmental Management Officer
Jez is the Environmental Management lead at Calderdale Council. He works tirelessly to identify opportunities to protect our environment, working on a huge range of projects from small things like making sure we use recycled paper to major initiatives like looking after development of plans for a major District Heat scheme.  He has a lot of talent for turning ideas into reality and leads by example, always going the extra mile and genuinely caring about making environmental improvements for our communities.
Highly Commended: Martin Winter, Waste and Recycling Manager. 
Kindness and Resilience
Volunteer of the Year – sponsored by Covea Insurance
Winner – Rachel Hanks, Mixenden Activity Centre
Rachel is a true inspiration, overcoming adversity and not letting anything stand in her way of achieving her goals.  Rachel is blind but has realised her ambition to work with groups at Mixenden Activity Centre and has even passed her archery instructor qualification! She has also been involved with expeditions with the centre and was the first blind person in Britain to cycle 30 miles unaided on a recent expedition to Wales. She is an inspiration to all, and everyone at the centre and beyond are in awe of her achievements.
Team of the Year – sponsored by YPO
Winner – Museums Service Team
It's been a busy year for the Museums service as Gentleman Jack showcased Calderdale's distinctiveness to the world, leading to unprecedented visitor numbers to Shibden and beyond. Visits to Bankfield Museum in Halifax have almost trebled and visitor numbers at Shibden Hall have exceeded all previous records.
Outstanding Act of Kindness – sponsored by NOVO Integration Ltd
Winners
Andrea Fawthrop and the North and East Youth Work Team
Aftab Hussain, Young People's Service
Bereavement Services
James Glossop, Libraries
Four nominees were chosen to be recognised for this award as it was impossible to choose between them. Their efforts included; working with a community to help them mourn the loss of a young man who was tragically killed (Andrea Fawthrop and the North and East Youth Work Team); protecting volunteers and workers from anti-social behaviour (Aftab Hussain); guiding people through a difficult time in their lives (Bereavement Services); and going above and beyond to help customers on a daily basis with issues that are affecting their quality of life (James Glossop).
Chief Executive and Leader Awards
Chief Executive's Award – sponsored by blacc
Winner – The Elections team
The elections team is responsible for ensuring the smooth running of all elections in the borough and promoting voter registrations. As well as organising venues for polling stations and the election count, they also organise the staffing and efficient counting of thousands of postal votes as well as the votes cast on the day of election. The team has had a busy year, which looks set to continue as they prepare for the upcoming general election.
Leader's Award –  sponsored by blacc
Winner – Peter Vardy, Events and Licensing Officer
Peter is responsible for all filming requests for the borough and has had a busy year as interest from production companies to film in Calderdale's distinctive landscape is increasing all the time. In addition, Peter offers advice for Calderdale's many events and festivals throughout the year, ensuring organisers have all the necessary permissions in place for successful and safe events.
ENDS