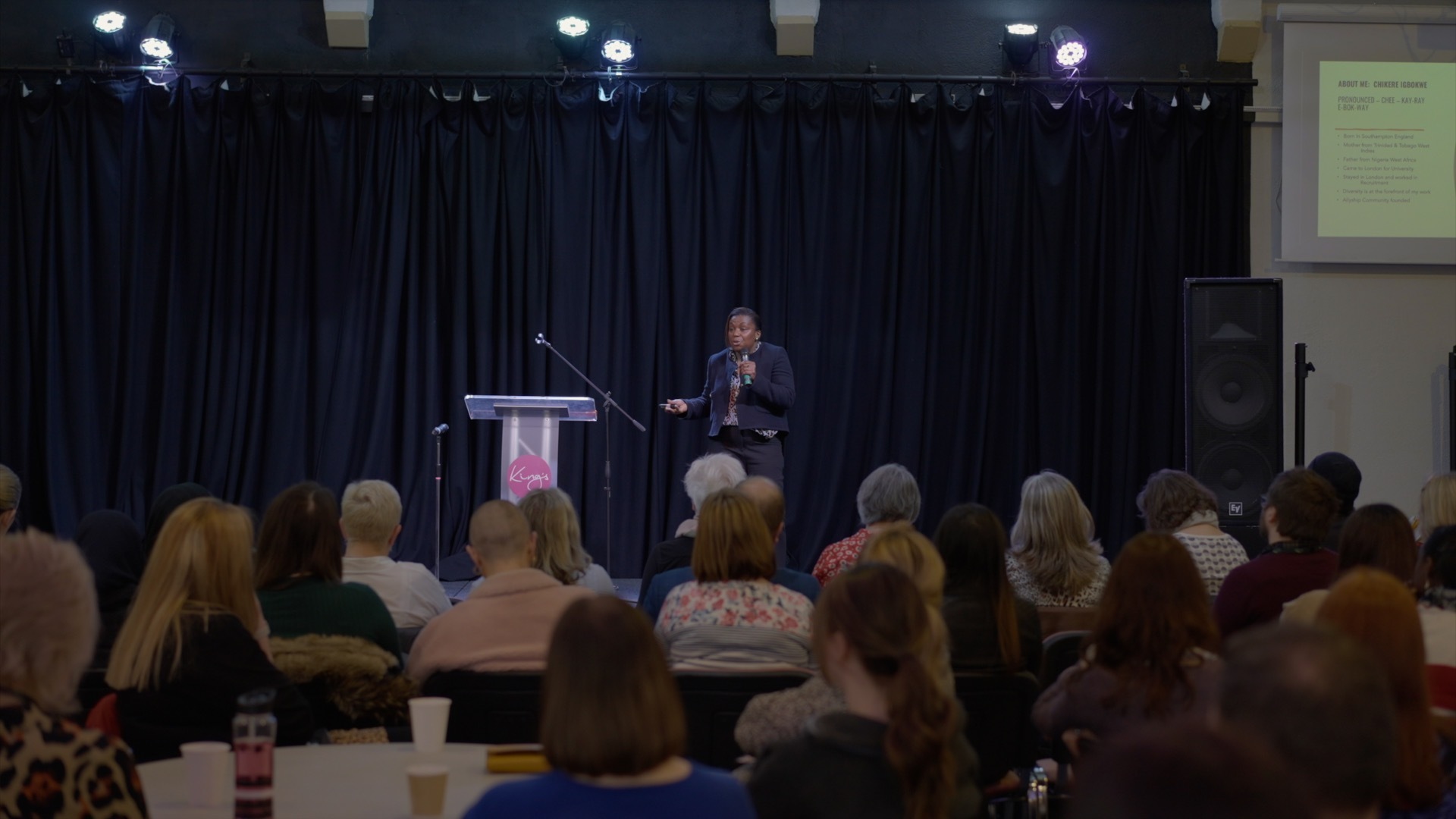 Calderdale Council has been celebrating World Social Work Day (Tuesday 21 March) with a special event for social work colleagues across the organisation.
World Social Work Day is a celebration that aims to highlight the achievements of social work, to raise the visibility of social services.
To mark the occasion, Council social work staff from both adults and children's services attended an inspirational celebration event today, at the Kings Centre in Halifax. The event also formed part of wider activities for Social Work Week (20-24 March) which is led by Social Work England, the regulator for social workers in England.
The event was opened by poet J Ahmed, with a specially crafted composition about social work in Calderdale, inspired by ideas from local social workers. J's poetry draws on his lived experience of services and his captivating poem covered both the positives and challenges of working in the sector.
The keynote speaker at the event was Chikere Igbokwe, a consultant on diversity, equality and inclusion with over 20 years of experience in social work. In line with this year's World Social Work Day theme, 'Respecting Diversity Through Joint Social Action', her inspiring speech focused on ways to promote equality and diversity amongst those who use social care services. It also considered how employees can be their true authentic selves.
Further workshops on the day supported attendees with activities to help boost wellbeing, including sleep support and mindfulness.
Calderdale Council does all it can to support existing social work staff and works hard to attract new talent to the sector. The Council has new competitive pay levels and ensuring flexibility and a good work/life balance is a priority.
To promote opportunities with local care providers, the Council has also launched the Calderdale Cares Careers website (www.calderdalecarescareers.co.uk(external link)) which includes lots of information about the great career and development opportunities available in the social care sector.
The Leader of Calderdale Council, Cllr Tim Swift, said:
"World Social Work Day is an opportunity to shine the spotlight on the incredible efforts of social workers and the vital work that takes place every day to support some of our most vulnerable residents.

"This year's theme focuses on respecting and appreciating our diversity. The event at the Kings Centre highlighted the importance of working together and communicating effectively, to benefit both our social work colleagues and the residents they support.

"We do all we can to ensure we can support those employed in the social work sector, with competitive rates of pay and a focus on emotional wellbeing and flexible working opportunities."
The kindness shown by those in social work helps us build a more resilient future and supports the key themes of our Vision2024 for Calderdale. The year 2024 marks Calderdale's 50th birthday, and there's less than year to go. Where do we want to be by 2024? What's our ambition and what will be different? Find out more at www.calderdale.gov.uk/vision
ENDS