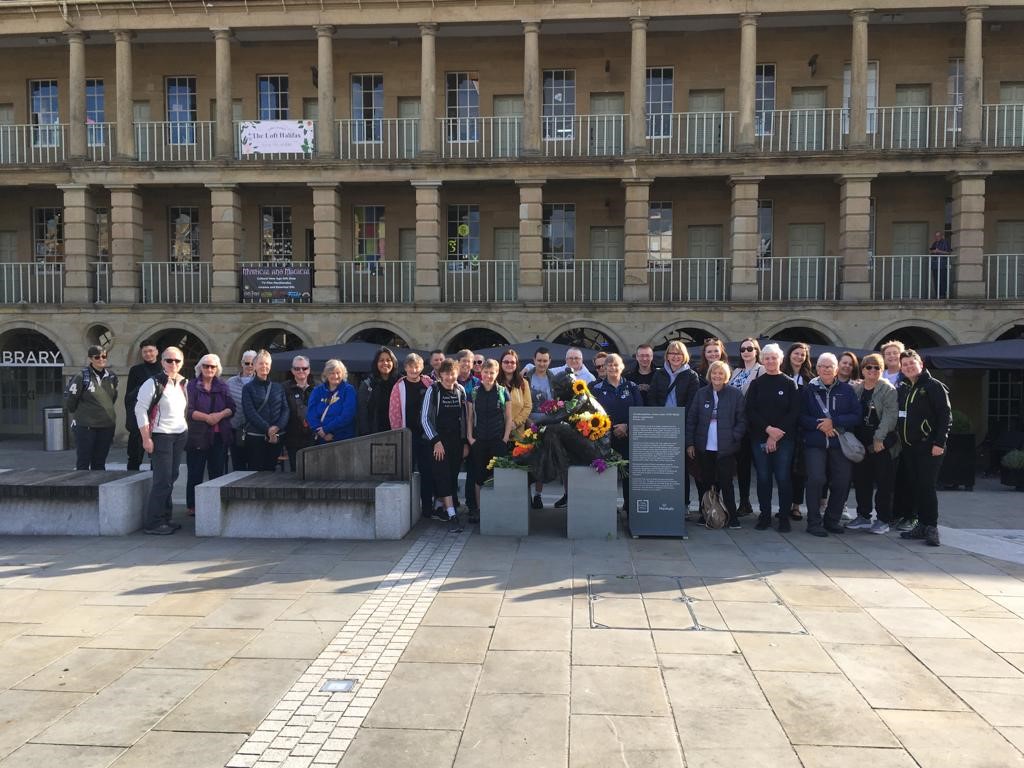 Friday 22 September 2023 marks 183 years since the death of Anne Lister, and organisations around Calderdale are taking part in a programme of events to celebrate her remarkable life and legacy.
The famous diarist, landowner, entrepreneur, mountaineer, scholar, traveller, and lesbian, Anne Lister, was born in Halifax on 3 April 1791 and died on the 22 September 1840. Her fascinating diaries of over five million words detailed her life, loves, health, business interests and politics and her story became world-famous through Sally Wainwright's BBC/HBO series, Gentleman Jack.
To commemorate the 183rd anniversary of her death, a series of events are being held across Calderdale from Thursday 21 to Sunday 24 September. The packed programme features a mix of talks, walks, memorial services, and opportunities for reflection. There is also a very special extra event being held on Saturday 30 September, with bestselling author Emma Donoghue, celebrating her new Anne Lister novel, 'Learned by Heart'.
Shibden Hall, Anne's former home and the location for much of the filming for the series Gentleman Jack, is open every day for visitors and is expected to be busy throughout the anniversary period. To guarantee entry, please book in advance, at https://www.eventbrite.com/cc/shibden-hall-admission-820159(external link)
The full programme of events taking place for 'Anne Lister 183 – Celebrating her legacy' and information about booking where applicable, is available at
www.culturedale.co.uk/events(external link)
Calderdale Council's Cabinet Member for Public Services and Communities, Cllr Jenny Lynn, said:
"We're incredibly proud of our connection to Anne Lister and it's fantastic that so many people are now aware of her remarkable life, thanks in no small part to the series Gentleman Jack.

"It's no exaggeration to say that Anne's story has changed people's lives and we continue to hear stories about how she has inspired people to be their true selves, which is just wonderful.

"We're delighted to be able to once again welcome people to Calderdale to celebrate Anne's life and legacy. Last year's events were incredibly popular and, in many cases, very emotional. The outpouring of affection felt for Anne, the people she loved, and the places she lived and visited, is truly extraordinary and I've no doubt that this year's events programme will be as popular and as inspirational as ever."
Events begin on Thursday 21 September, and includes the opening of a special free exhibition at Halifax Central Library and Archives, exploring the moving words Anne used to talk about grief and featuring items from both the Archives and the Library collections.
Many events are taking place on the anniversary of Anne's death (Friday 22 September). This includes a special service at Halifax Minster to remember Anne's life and legacy. The service starts at 7.30pm and is open to all with no booking required. There is also a buffet event available from 5.30pm, book ahead for this at Halifax Minster(external link).
Events on Saturday 23 September begin with flower laying at the sculpture of Anne Lister in the Piece Hall, Halifax from 9.30am. Anyone is welcome.
From 6-7.30pm that evening, celebrated author, Jill Liddington will host a talk on her book 'As Good As A Marriage', the long-awaited sequel to 'Female Fortune: the Anne Lister diaries 1833-36' – the book that inspired Gentleman Jack. To book a place, visit https://www.ticketsource.co.uk/calderdale-culturedale(external link)
On Sunday 24 September from 10.30am-12.30pm, there is the rare opportunity to visit Lightcliffe Tower and the memorials it contains, including Ann Walker's restored plaque.
Ann is also the focus of a talk that evening at Square Chapel in Halifax, detailing her life after the death of Anne Lister. Book at www.squarechapel.co.uk(external link)
On Saturday 30 September, a rare, intimate event will celebrate Emma Donaghue's new Anne Lister novel, 'Learned By Heart' and feature a reading, a discussion, an audience Q&A and book signing. There will be two sessions, for this event, the first at Square Chapel from 3.30-5pm (http://www.squarechapel.co.uk/(external link)) and the second at the Calderdale Industrial Museum, from 7-8.30pm (https://www.eventbrite.co.uk/e/emma-donoghue-learned-by-heart-tickets-699076716277(external link)). Booking is essential.
Keep an eye on www.culturedale.co.uk(external link) and www.visitcalderdale.com(external link) and associated social media for all the latest updates around events for 'Anne Lister 183 – Celebrating her legacy'. There's also lots of information about other attractions and events happening around the borough, as well as details of where to stay and what to do in Calderdale.
The range of diverse, engaging and vibrant events exemplify the CultureDale brand, showcasing the borough's cultural offer and experience as a destination. Find out more about CultureDale at www.culturedale.co.uk(external link).
The CultureDale website also contains lots of information about the upcoming Calderdale Year of Culture 2024 – a year-long programme being held across the borough, which is set to inspire, entertain, and showcase Calderdale by bringing people together through arts, heritage, sports, and culture in all its forms.