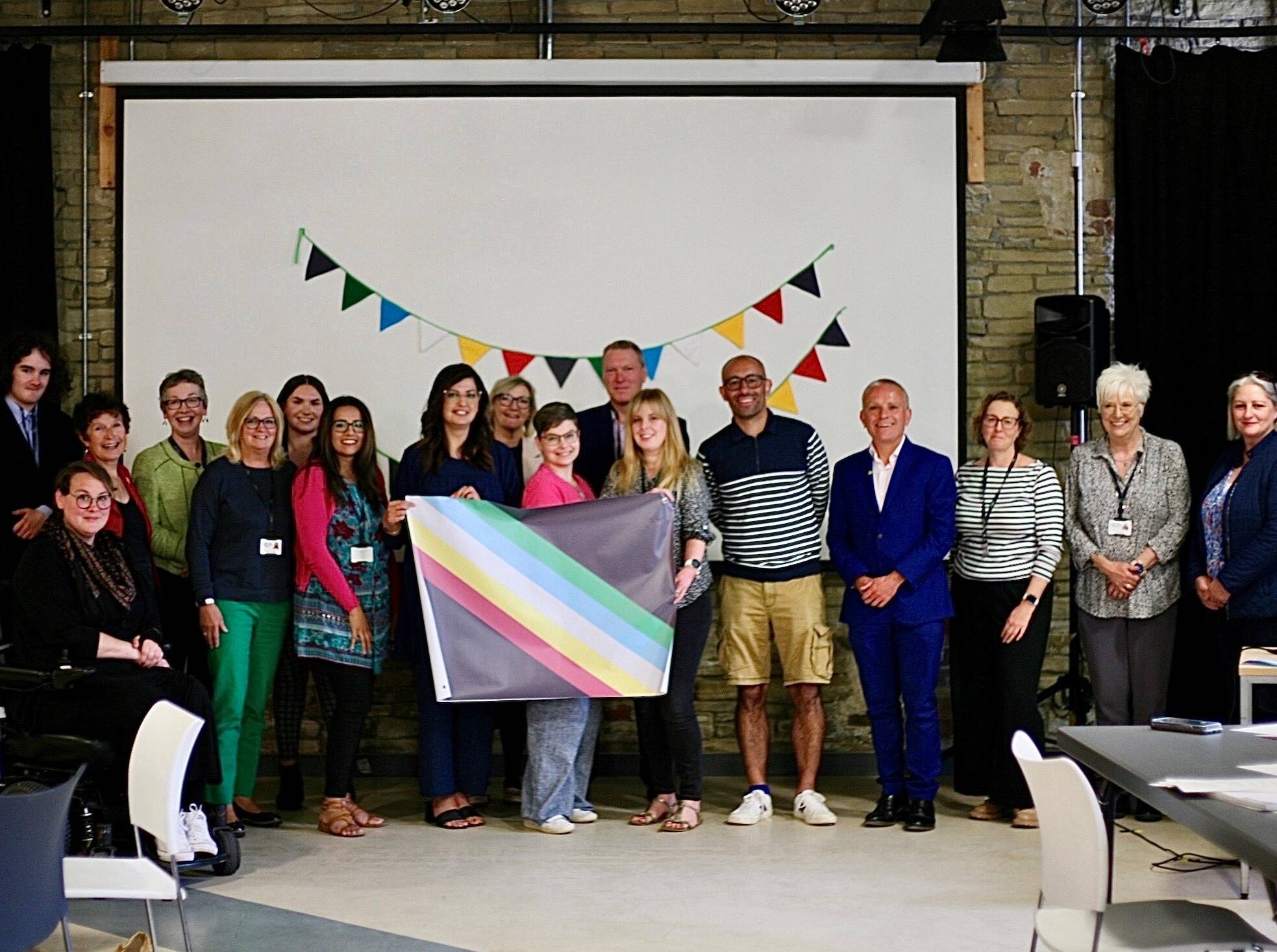 Embracing all disabilities and celebrating each person's uniqueness was the focus of a Calderdale Council event to mark Disability Pride Month.
This important awareness-raising month takes place nationally every July.
To celebrate Calderdale's disabled community and their achievements, the Council's Staff Disability Forum held the Disability Pride Get Together on Tuesday 25 July at Orange Box Young People's Centre in Halifax.
The Council formed its Staff Disability Forum as part of its commitment to reducing inequalities and being an inclusive employer. The group brings together staff who consider themselves to have a disability, who work to bring about positive change within the Council and the community.
As well as promoting equality, diversity and inclusion, sharing ideas, supporting each other and facilitating consultation with disabled colleagues and the wider workforce throughout the year, the Staff Disability Forum organised the Disability Pride Get Together to talk about the part everyone can play in making Calderdale more welcoming and accessible for all.
The event brought together Council employees and Councillors, residents and local organisations, such as Accessible Calderdale Disability Access Forum and Hebden Bridge Disability Access Forum, to network and share their lived experiences. Inspiring personal stories highlighted what it's like to have a visible or non-visible disability, and discussions addressed what's done well in Calderdale and what could be better.
The Council's Staff Disability Forum said:
"Celebrating Disability Pride Month is important to us because it provides an opportunity to share our achievements and experiences in a positive way to encourage self-acceptance and build confidence.

"We marked Disability Pride Month for the first time in 2023 by hosting the Disability Pride Get Together. This event provided a valuable opportunity to become more disability confident."
Cllr Jenny Lynn, Calderdale Council's Cabinet Member for Public Services and Communities, said:
"Around 20% of people in Calderdale have a disability. We're embracing Disability Pride Month as an opportunity to raise awareness and have positive conversations about disability. It's about promoting inclusion and visibility of people with disabilities, and celebrating diversity, which is extremely important to the Council and supports our priority to reduce inequalities. 

"Thank you to our Staff Disability Forum for holding such an inspiring event, showcasing the pride and accomplishments of the disabled community, and the message that everyone should be their authentic selves. It also highlighted the barriers and discrimination that disabled people can face."
Calderdale Councillor, Cllr Danielle Durrans, spoke about her lived experience at the event, and added:
"I was honoured to be asked to take part in the Disability Pride event. As a disabled person myself and carer I feel these opportunities are key in raising awareness about the positive impact of inclusion.

"There were some really valuable conversations and lots of shared information and support. Calderdale Disability Forum should be proud of what they are achieving; their collective action to address barriers and celebrate what value people with disabilities can offer should be commended.

"Well done everyone involved!"
Reducing inequalities for people with disabilities is an ongoing commitment for the Council, which is proudly working with Halifax-based social enterprise, Visits Unlimited to make places across Calderdale safer and easier for everyone to visit and enjoy. In March 2023, they joined forces to host the Accessible Calderdale conference at the Shay Stadium in Halifax, to help people who run businesses, organisations and events to contribute towards a more accessible borough. The Vision 2024 for Calderdale is to be a place where you can realise your potential whoever you are, whether your voice has been heard or unheard in the past. The year 2024 marks Calderdale's 50th birthday, and there is less than a year to go. Where do we want to be by 2024? What's our ambition and what will be different? Find out more at www.calderdale.gov.uk/vision