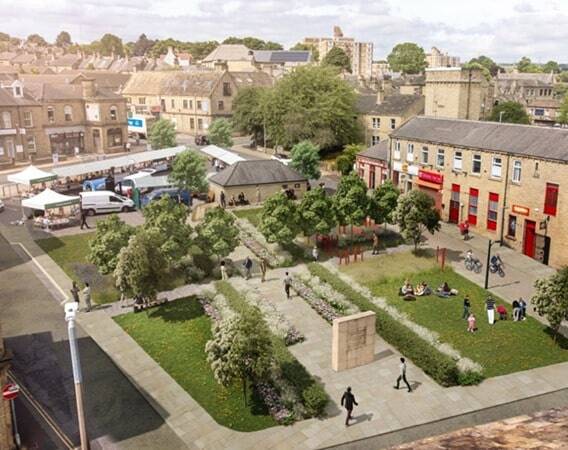 A transformed market area and a new community hub in Elland are moving a step closer, as part of the £6 million transformation of the town centre.
Calderdale Council is investing in a thriving future for Elland through the Future High Streets Fund. This will improve public spaces and the main shopping areas, and provide new community facilities and natural features – creating a vibrant place for residents, businesses and visitors.
The Council recently appointed contractor Eric Wright Civil Engineering to transform the look and feel of the town centre, and Code Building Solutions to upgrade the Cartwheel Club.
Both are hard at work, with Code Building Solutions on site at the Cartwheel Club and Eric Wright Civil Engineering preparing to start construction in October 2023 in the Market Square area and on the high street and Southgate.
Roof works and repointing have started at the Cartwheel Club, survey works are ongoing and the inside of the building has been stripped out to make way for new facilities in a complete refurbishment. The next steps will be to build a side extension and an accessible lift and to fit out the roof and the new building interior.
To get ready for the market transformation, the Friday outdoor market is temporarily moving from Market Square, and will operate just around the corner in Upper Timber Street car park from Friday 6 October for around three months. The open market's friendly vibe and charm will continue in its temporary location, with all the great products people know and love, from food and stationery to babywear and jewellery.
Once the works are complete, traders will move back to the newly revamped Market Square, which will have an attractive new garden area and seating for people to relax and socialise; new local stone flags and anchor points for the market stalls; and a more flexible layout making it easier for people to trade and shop.
New trees and planting around the market will add to the new look and feel, and will contribute to climate action. Elizabeth Street will become one-way, improving safety for market visitors and providing more space for traders to transport their goods.
In the heart of the high street, signage, lighting and the environment will be improved to make the area feel safer and more attractive. There will be traffic restrictions on the main shopping street to clean up the air and make it a more pleasant place to walk around, and trees will be planted along the street.
Lower Timber Street car park will be closed throughout the town centre improvement works to enable construction vehicles and equipment to be stored safely.
Cllr Sarah Courtney, Calderdale Council's Cabinet Member for Towns, Tourism and Voluntary Sector, said:
"The rebirth of this great market town is a longstanding ambition. It contributes to our priority for thriving towns and places, and complements the many other regeneration projects ongoing throughout Calderdale.

"It's exciting to see work underway to develop Elland as a destination, where businesses can flourish and people spend more time, shop, work, meet others and live healthier, more active lives. 

"Elland is full of history – its market has been there for over 700 years. We want to make the most of its heritage whilst bringing it up-to-date to give people what they need from a town centre."
Think you know Elland? Think again(external link).
For more information about this and other investment projects across Calderdale, visit www.calderdalenextchapter.co.uk(external link)
To book a stall with Calderdale Markets, please email marketsd@calderdale.gov.uk
Supporting resilient, thriving towns is a priority for the Council and contributes to the Vision 2024 for the borough. In the year 2024, Calderdale will celebrate its 50th birthday. Where do we want to be by 2024? Join the conversation by following #VisionCdale2024 on social media and visit www.calderdale.gov.uk/vision