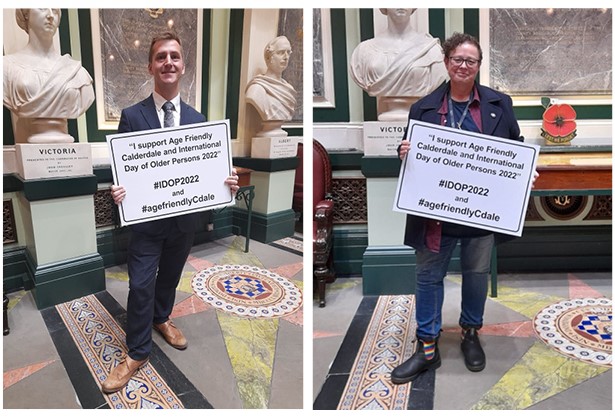 Celebrations are taking place across Calderdale to mark the International Day of Older Persons, supporting the borough's Age Friendly status.
International Day of Older Persons is a worldwide awareness day created by the United Nations and celebrated on 1 October every year. It recognises the valued contribution of older people in society and raises awareness of the issues they face.
Calderdale is a member of the UK network for Age Friendly Communities and as an Age Friendly borough, the Council and many of our partners in the borough, are committed to ensuring that older residents have the support and opportunities they need to live a full and healthy life.
As part of this commitment, work has been taking place across five key themes: Accessibility; Things to do; Feeling safe and belonging; Getting about; and Age friendly housing.
To inform this work discussions have been happening within Calderdale communities, speaking to older people to find out more about how the borough could be more Age Friendly and what could improve to make Calderdale an even better place in which to age.
One of the common themes in discussions was the desire for more opportunities for older people to socialise and more activities aimed at older people.
To support this, the Council has approved a grant scheme for local voluntary and community organisations to apply for funding of up to £400 to support events for this year's International Day of Older Persons.
Eight organisations across the borough successfully applied for funding and will be hosting events throughout October aimed at engaging and entertaining older people. This includes tea dances, live entertainment, afternoon tea events, games and quizzes and the opportunity to take part in activities such as Tai Chi, art and New Age Kurling.
For more information about all the events taking place, visit https://calderdaleforum50plus.com/2022/09/26/international-day-of-older-persons-2022-1-october/(external link)
The Council is also encouraging local people to show their support on social media using the hashtags #AgeFriendlyCdale and #IDOP2022, if they wish, posting a photo of themselves holding a statement saying 'I support the International Day of Older Persons' or showing what being age friendly means to them.
Calderdale Council's Cabinet Member for Adult Services and Wellbeing, Cllr Josh Fenton-Glynn, said:
"We have a long-standing commitment to ensure that older people in Calderdale are able to remain independent and to do the things they love for as long as possible. 

"It's now 12-months since we made this commitment official with our pledge to become an Age Friendly borough. Over this time, we've been living these values, listening to local people and learning how their experiences and insight can help us deliver our current services and also how they can help shape improvements and future opportunities.   

"We know that people want to be able to continue having active social lives as they get older and we are supporting local groups with grants to host special activities for this year's International Day of Older Persons. This is part of a wider multi-agency Ageing Well plan to ensure that older residents play a key role in shaping local services both now and in future."
Calderdale Council's Cabinet Member for Towns, Engagement and Public Health, Cllr Sarah Courtney, said:
"Over the next three decades, the number of older persons worldwide is projected to more than double and in Calderdale there are now more than 40,000 people aged over 65. This is forecast to grow by 27% or more than 14,500 by the year 2040.

"As an Age Friendly borough, we want to ensure that Calderdale is a great place to live and grow older, a place where people have the support to enjoy good physical health and mental wellbeing and a place where older people continue to make valuable contributions to their community.

"The International Day of Older Persons is an opportunity to highlight this commitment and we're proud to support for this important awareness day."
Creating vibrant and well-connected communities in which older people can live a larger life is a priority in Calderdale's Wellbeing Strategy and supports the Vision 2024 for Calderdale.
The theme for this year's International Day of Older Persons reflects the resilience theme of our Vision 2024 for Calderdale – 'Resilience of Older Persons in a Changing World'. Our priority to build resilience across the borough, and in individuals through good health, wellbeing and empowerment, will be highlighted during our resilience-themed social media 'takeover' week starting on Monday 3 October.
The year 2024 marks Calderdale's 50th birthday. Where do we want to be by 2024? What's our ambition and what will be different? Find out more at www.calderdale.gov.uk/vision