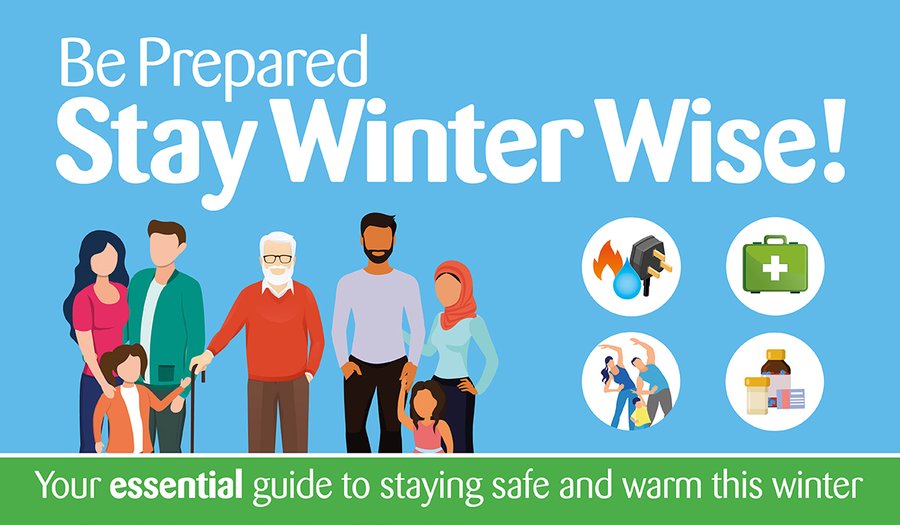 Residents in Calderdale will soon receive important advice to support them to stay warm, safe and well throughout this winter.
The latest version of the Winter Wise guide is being sent to all households in Calderdale, with updated advice on a range of topics to help support residents through the winter period.
The guide has been created by Calderdale Council in partnership with the Calderdale Clinical Commissioning Group (CCG) and is also available to view at www.calderdale.gov.uk/winter. It contains important advice to help with issues that we may have during winter months, such as preparing for extreme weather events, energy saving tips and how to boost mental wellbeing.
This year's guide also includes extra information about how we can boost our immunity this winter, with specific guidance on the COVID-19 booster campaign and flu jabs and the importance of getting these vaccines. There's also a section providing further advice for those with health conditions such as diabetes and those who are clinically extremely vulnerable.
To support local health and care services and reduce pressures on these services, the guide also signposts people to the right care, in the right place, at the right time. This includes support on self-care and the use of local pharmacies, as well as advice about contacting GP surgeries or seeking urgent emergency care. More information is also available at https://togetherwe-can.com/(external link)
The Leader of Calderdale Council, Cllr Tim Swift, said:
"Winter can be a difficult time of year for people of all ages as well as for our vital public services. However, this year we're likely to experience additional challenges, especially with the impacts of the Omicron variant. It's important we all do everything we can to stay safe and well and prepared for the unpredictability of the winter season.

"The Winter Wise guide contains some fantastic advice, compiled by local experts to ensure it's accurate, timely and can be trusted. It covers a wide range of topics from household energy to driving safely and staying active, but this year's guide has a particular focus on staying well and protecting others, as we continue to live with COVID-19 and other seasonal viruses.

"Thanks to CCG funding we've been able to ensure that every home in Calderdale will receive this important guide. I encourage everyone to read the information and keep the booklet to refer to throughout the winter season."
Dr Steven Cleasby, Clinical Chair of NHS Calderdale CCG and a GP in Halifax, said:
"This booklet contains valuable advice on how people can take care of themselves and their loved ones and is our way of reminding people how they can be prepared for winter.

"This time of year can be tough for many of us so it's important not to take good health for granted and make sure we have everything we need at home to stay warm and well over the colder months, including self-care and prescription medication. It's also vital that people boost their immunity by getting up to date with their COVID-19 and flu vaccinations, particularly those people with existing health conditions.

"And if you do need help or advice from a local health professional the NHS is still here to help, and you'll find information on accessing the service you need in the Winter Wise guide."
The guide has been collated by Calderdale Council and the CCG and is being distributed thanks to grant support from NHS England via the CCG.
ENDS