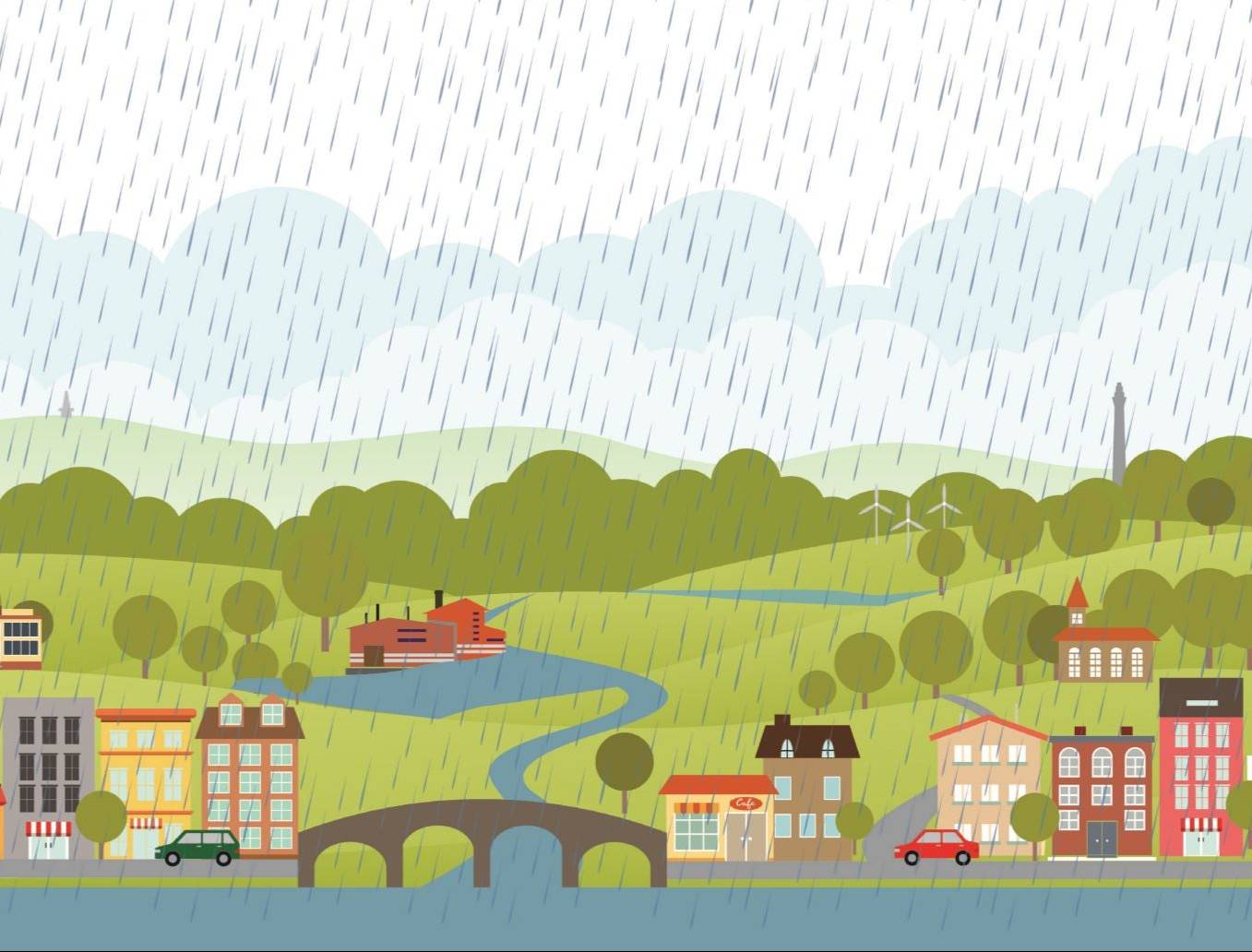 An innovative plan to reduce the impact of flooding and climate change in West Yorkshire over the next six years is being launched during national Flood Action Week.
Spearheaded by five local Lead Flood Authorities across the region, the West Yorkshire Flood Innovation Programme (FLIP) has just been achieved a successful bid for £160k local levy funding from the Yorkshire Regional Flood and Coastal Committee to get it off the ground.
Learning from the programme will be shared across organisations to help others deliver similar projects successfully across the region, nationally and internationally.
Jonathan Moxon, Programme manager for West Yorkshire FLIP and Flood Risk Manager for Leeds City Council, said:
"We are delighted to have been awarded funding to kick-start this programme which will launch a long-term ambition of partners in West Yorkshire to be a leader in using innovation to better protect our residents and businesses at high risk of flooding, especially in places where traditional hard flood defences are simply not viable.

"Over the next two years we can launch our programme and attract more funding to develop it further to make a real difference to increasing resilience across our region."
Councillor Jane Scullion, Chair of the West Yorkshire Flood Risk Partnership and Deputy Leader of Calderdale Council, said:
"Our ambitious programme will explore new ways to help protect vulnerable communities from flooding, something which is urgently needed throughout our region, as climate change is increasing the frequency and scale of flooding events.

"Collaboration will be key – involving people in our programme who do not normally work together including representatives from the private sector, community groups, charities and volunteers.

"We are also keen to work with representatives outside of the flood risk and environment sectors including the finance and insurance sector, transport, education, technology and health to ensure a holistic approach and other benefits for our communities."
Yorkshire's Integrated Catchment and Solutions Programme (iCASP) funded by the National Council of Environmental Research based at University of Leeds will provide scientific lead for the programme and independent evaluation.
Professor Joseph Holden, Director of iCASP, said: Professor Joseph Holden, Director of iCASP, said:
"We need to predict the future potential for flooding and build resilience by combining many different approaches rather than rely on individual interventions. Our role will be to make sure that the latest scientific evidence is used to test new techniques and to develop innovative solutions that work.

"We will support the design of novel world-leading approaches to improving flood resilience suitable for different types of locations, risks, catchments and communities."
Watch a video of Prof Holden on YouTube  https://www.youtube.com/watch?v=b9rokiqL-i8(external link)
West Yorkshire's five lead Local Flood Authorities originally submitted a bid for funding from the Government's £200m Resilience Innovation Programme(external link) which although was unsuccessful, had support from the Environment Agency, academic partners, community based groups, Third Sector organisations and Yorkshire Water.
Since then, partners continued to pursue alternative sources of funding for their innovative proposals. There are five themes within the programme, which will work at catchment level and across administrative boundaries, and each one is led by one of the local authorities.
They are:
Integrated water management solutions including flooding caused by surface water
Nature based solutions or natural flood management
Property flood resilience – measures installed in homes or business premises to make them less vulnerable to flooding
Helping the community and voluntary sector to be better prepared and recover more quickly
Better systems to give early warning of flooding.
There are also four over-arching strands:
Empowering local communities
Developing education and skills across West Yorkshire communities living with floods
Sharing knowledge amongst networks and involving them in developing innovative solutions
Independent monitoring and evaluation of activities.
A Programme Board chaired by Leeds City Council is now being set up and the West Yorkshire Flood Risk Partnership will provide a strategic role, linking into the Yorkshire Regional Flood and Coastal Committee and Catchment Partnerships.
The national Flood Action Campaign 'Prepare. Act. Survive' led by the Environment Agency kicks off with flood action week Monday 22 – Sunday 28 November.
It aims to raise awareness amongst property owners of the importance of preparing for and knowing what to do in a flood(external link) as this helps to significantly reduce the damages to homes and businesses and reduces risk to life. The 'Prepare. Act. Survive.' flood plan(external link) can help people to take precautions and reduce the likelihood of suffering from mental health impacts of flooding in the future.
In England there are over 5 million homes and businesses at risk of flooding. The average cost of flooding to a home is around £30,000.