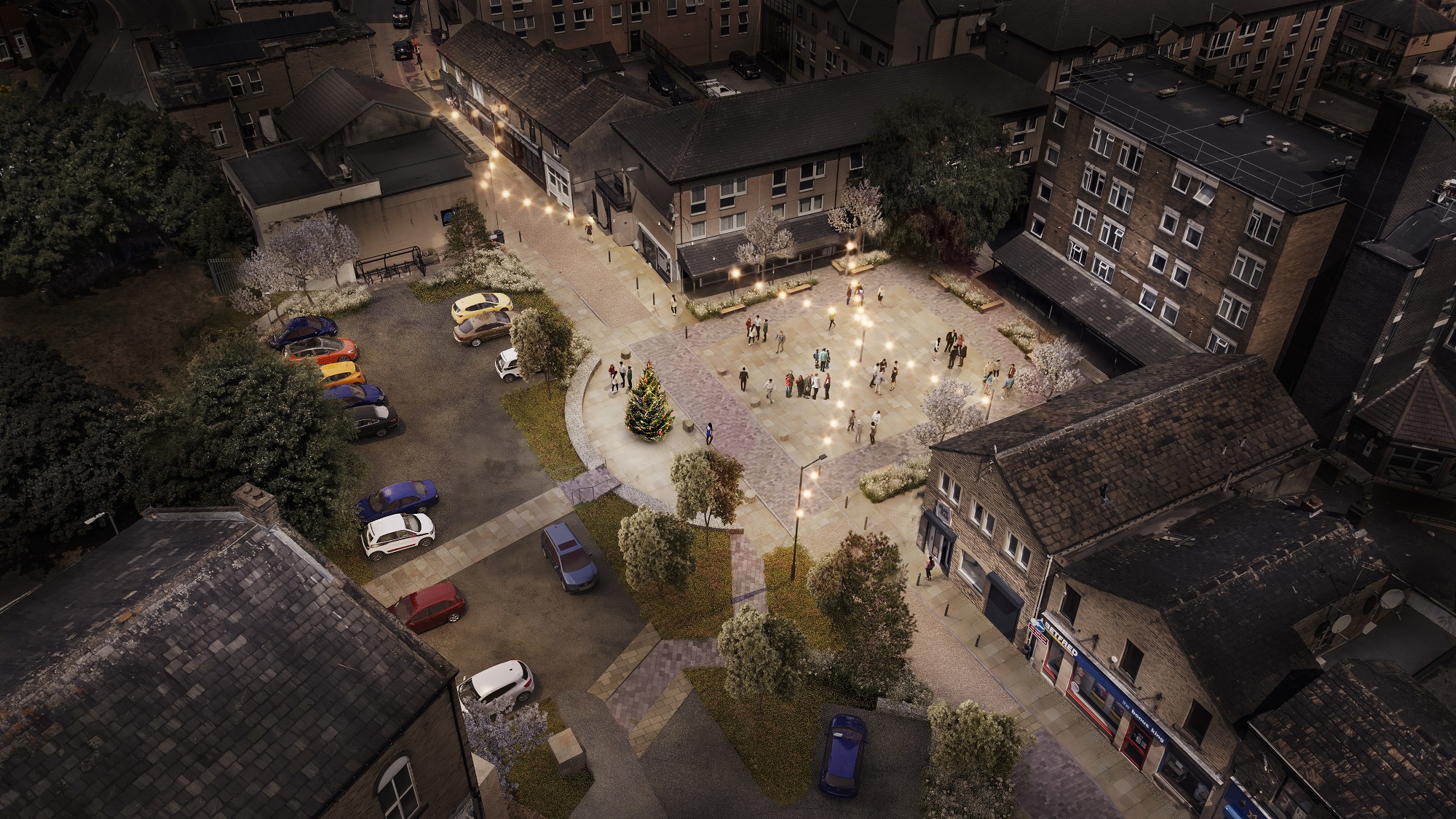 Work to transform Elland town centre has taken a major step forward, with Calderdale Council appointing the contractors to deliver the projects.
Over £6million of funding from the Future High Streets Fund is being invested in the centre of Elland, supporting improvements to public spaces, the main shopping areas around Southgate and the refurbishment of the community Cartwheel Club. This significant funding will help to create a thriving market town which is vibrant, safe and a great place to spend time, for the businesses, residents and visitors to Elland.
There are four parts to the work in the town, and following a thorough tender process, two contractors have been appointed to deliver different elements of the project.
Work to transform the look and feel of the town centre will be delivered by Eric Wright Civil Engineering. This work will include:
Improvements to the Market Square area – Over £1million of funding will enhance the area which hosts the market, recognising its long history. This will include surface improvements, as well as significant work to the adjacent Victoria Gardens and the lower part of Elizabeth Street.
Improvements to the Heart of the High Street – In response to local feedback, work is taking place to improve signage, lighting, and the street environment around the high street area, making it feel safer and look more attractive.
Improvements to Southgate – Southgate will be pedestrianised and a new seating area will complement the proposed improvements to Southgate Square, with planting and trees.
Additional works are also planned at the Cartwheel Club in Elland town centre, to upgrade it with new facilities. The work will be carried out by Code Building Solutions and will involve the complete refurbishment of the building to create a new community hub in the heart of Elland.
Contractors for Code Building Solutions are already on site, with work expected to be complete in early 2024.
Eric Wright Civil Engineering will begin works around the town centre this autumn, with survey work taking place in September and construction works beginning on site in October.
Works will be carried out in phases, and every effort is being taken to ensure disruption to businesses and residents is kept to a minimum whilst works are underway.
Calderdale Council's Cabinet Member for Towns, Tourism and Voluntary Sector, Cllr Sarah Courtney, said:
"These are exciting times for Elland, with Future High Streets funding being used to transform the town centre and bring significant benefits for those living, working or visiting the town.

"It's great news that we've now appointed the contractors to deliver the projects, which will support the Council's priority for thriving towns and places with new and improved services for local communities."
Diane Bourne, Managing Director of Eric Wright Civil Engineering commented:
'I'm thrilled that Eric Wright Civil Engineering has been appointed by Calderdale Council to deliver transformative works in Elland High Street, along with the creation of landscaped beds and planting trees around the town centre. We're looking forward to working collaboratively with everyone involved to deliver works that will not only harness the areas historical features but create thriving, safe places for local residents, businesses and visitors to enjoy.'
Paul O'Hare, Director at Code Building Solutions, said:
"It's great news for Code to participate in the regeneration of the Cartwheel Club. The refurbishment will allow the building to be fully utilised as a fantastic facility for the community in Elland. Coming so soon after our refurbishment of the town's library, it is clear to see there is a drive to ensure Elland is thriving in the coming decades."
Supporting strong and resilient, thriving towns is a priority for the Council and contributes to the Vision 2024 for the borough. In the year 2024, Calderdale will celebrate its 50th birthday. Where do we want to be by 2024? Join the conversation by following #VisionCdale2024 on social media and visit www.calderdale.gov.uk/vision
Think you know Elland? Think again(external link)
For more information about this and other investment projects around the borough, visit www.calderdalenextchapter.co.uk(external link)
ENDS