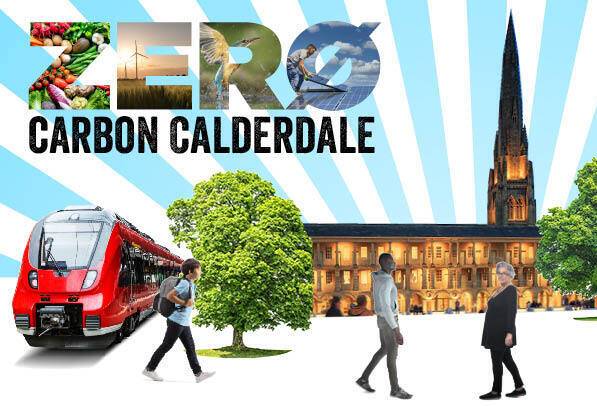 This Net Zero Week (1-7 July), Calderdale Council is progressing work on an innovative new project, which has been awarded funding from Innovate UK's Net Zero Living Programme(external link).
Calderdale Council is one of 21 authorities to receive a share of £6million funding to help accelerate innovation and support the country's journey to net zero.
The funding will support the Power Calderdale project, which looks at identifying solutions for retrofitting buildings in the borough, to make them more energy efficient. The project is being delivered in partnership with Carbon Co-op and Todmorden Learning Centre and Community Hub.
Finding solutions to successfully retrofit buildings is particularly important in Calderdale where around 50% of private sector housing was built before 1919, with many in stone terrace styles which are often described as particularly 'hard to treat'.
Calderdale's Emission Reduction Pathway shows that 51% of the borough's emissions come from its buildings. To reach net zero, it's estimated that around 69,000 homes need retrofitting work.
The project will explore options for area-based retrofit and identify solutions for local supply chain development. It will also look at raising awareness of the need for retrofit, helping people understand the benefits and find tailored solutions. This will also involve the creation of a new panel group or 'citizen's jury', which will be the first of its kind in the UK, and will involve working with local people to identify opportunities for new scheme development.
Two new Net Zero project officers are being recruited to help deliver the Power Calderdale project and support the ambition for transformative, positive climate action in the borough. Visit https://new.calderdale.gov.uk/jobs for more information on the roles.
Calderdale Council's Cabinet Member for Climate Action, Active Travel and Housing, Cllr Scott Patient, said:
"We're delighted to have been successful in our application for funding from Innovate UK to support our Power Calderdale project. The project has received £296k through the Fast Followers programme which supports projects which will accelerate progress towards net zero targets.

"The funding will help us develop our retrofit scheme, and we're pleased to be working in partnership with Carbon Co-op and Todmorden Learning Centre and Community Hub. The project  will reduce carbon emissions and support households by lowering energy bills and helping them become more resilient against future energy price rises.

"Climate action is a priority for the Council and projects like Power Calderdale will increase our resilience to events directly linked to climate change, like flooding, something we're all too familiar with in Calderdale."
Julie Thorpe, CEO and Centre Manager of Todmorden Learning Centre and Community Hub, said:
"We are delighted to be a partner in this project. We know there are lots of reasons why people may be put off raising the energy efficiency levels of their homes and we want to find ways of making this process easier. It will benefit our pockets and our planet in the long run."
Lorenza Casini, Carbon Co-op Project Manager, said:
"Carbon Coop is looking forward to working on this project with Calderdale Council and Todmorden Learning Centre and Community Hub partners. The project will help further the understanding of user-centred solutions to overcoming non-technical barriers around the delivery of building retrofit at scale, through an area-based approach. 

"Working together will support finding solutions and effective processes to unlock the potential of bringing about a just energy transition for the Calderdale borough which can also be replicated across the country and offer useful learning for other local authorities."
The Power Calderdale project will support delivery of the borough's draft Climate Action Plan, by creating warm and resilient buildings – one of the key themes of the plan, which sets out what we must do to meet our net zero target by 2038.
For regular updates, sign up to the Zero Carbon Calderdale e-newsletter at https://mailchi.mp/calderdale/zerocarbon(external link)
Building a sustainable and resilient future is a key part of the Vision2024 for Calderdale. The year 2024 marks Calderdale's 50th birthday. Where do we want to be by 2024? Get involved: www.calderdale.gov.uk/vision
ENDS