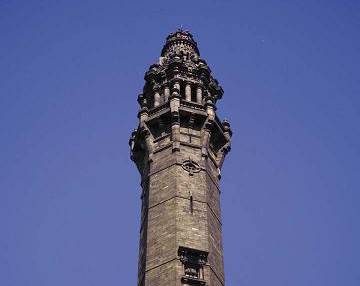 Wainhouse Tower in Halifax will light up orange from Monday 14 to Sunday 20 June to mark Calderdale's support for national Refugee Week.
Refugee Week is a UK-wide festival celebrating the contribution of refugees and asylum seekers across the country, and promoting understanding of why people seek sanctuary. This year's theme is 'We Cannot Walk Alone'.
Calderdale has a long history of welcoming refugees and asylum seekers from around the world and has developed a Valley Of Sanctuary(external link), a growing network of local organisations who come together to make the borough a welcoming place for all, especially for refugees seeking sanctuary from war and persecution.
Members of the Valley of Sanctuary will unite once again for the annual Refugee Week and are promoting this year's local events(external link) on their website, https://calderdale.cityofsanctuary.org(external link) and on Twitter @CalderdaleVoS. From walks to webinars, everyone is welcome to join in.
St Augustine's Centre(external link), a Valley of Sanctuary member, is running a 'We Cannot Walk Alone' mass walk on Sunday 20 June – World Refugee Day – in celebration of Refugee Week and in memory of Jo Cox. For more information, please visit their website(external link) and sign up for the event here(external link).
All year round, the Valley of Sanctuary celebrates the contribution of refugees and asylum seekers to Calderdale, highlighting the borough-wide kindness that is a key part of the Vision2024 for Calderdale. Members always welcome the opportunity to grow the network. Any organisation wanting to join can find out more at https://calderdale.cityofsanctuary.org/become-a-member(external link)
Cllr Tim Swift, Leader of Calderdale Council, said:
"Kindness, diversity and togetherness are just some of the things that make Calderdale such a special place. We embrace the contribution that refugees and asylum seekers make to Calderdale's story.

"The Council is a proud member of the Valley of Sanctuary and works with other organisations to maintain a welcoming and friendly borough for everyone, where kindness and inclusion are at the heart of everything we do.

"The importance of Refugee Week is being highlighted by lighting up the iconic Wainhouse Tower in orange as a symbol of our communities' support, and through a range of events that everyone can take part in."
Part of the Council's work to support refugees and asylum seekers is through its partnership with St Augustine's Centre in Halifax, which offers a warm welcome and safe space to people seeking support and sanctuary.
Work includes supporting refugees with housing, benefits claims, healthcare, language skills, employment, education and volunteering opportunities, and activities that build social connections.
Phoebe Hendy, a Caseworker at St Augustine's Centre, said:
"As Calderdale's specialist charity working with people seeking asylum and refugees, we are delighted to celebrate Refugee Week and the incredible contribution that refugees make to Calderdale.

"Come meet us and find out more about us at The Great Get Together at The Piece Hall on Saturday, or walk with us on Sunday 20 June from People's Park. There's so many fantastic events happening this week, we hope everyone makes the most of it."
Phoebe's lockdown story
"Throughout the pandemic I have continued my role as a Caseworker at St Augustine's Centre, as have all the staff here, in a COVID-secure way. It's important that we have been able to keep going to support people seeking sanctuary during lockdown. When the world stopped, our work continued.

"As part of the Support Team, I offer advice and assistance which is vitally important for our community. We help people make GP appointments, deal with housing issues, find solicitors and support people to access English lessons, donated clothes and volunteering opportunities, amongst other services.

"Centre Members are key contributors to our community and the centre supports everyone to work within COVID-19 guidelines. They are chefs, donation organisers, tailors, artists, carpenters, gardeners and tech whizzes."
Follow #RefugeeWeek2021 on Twitter.