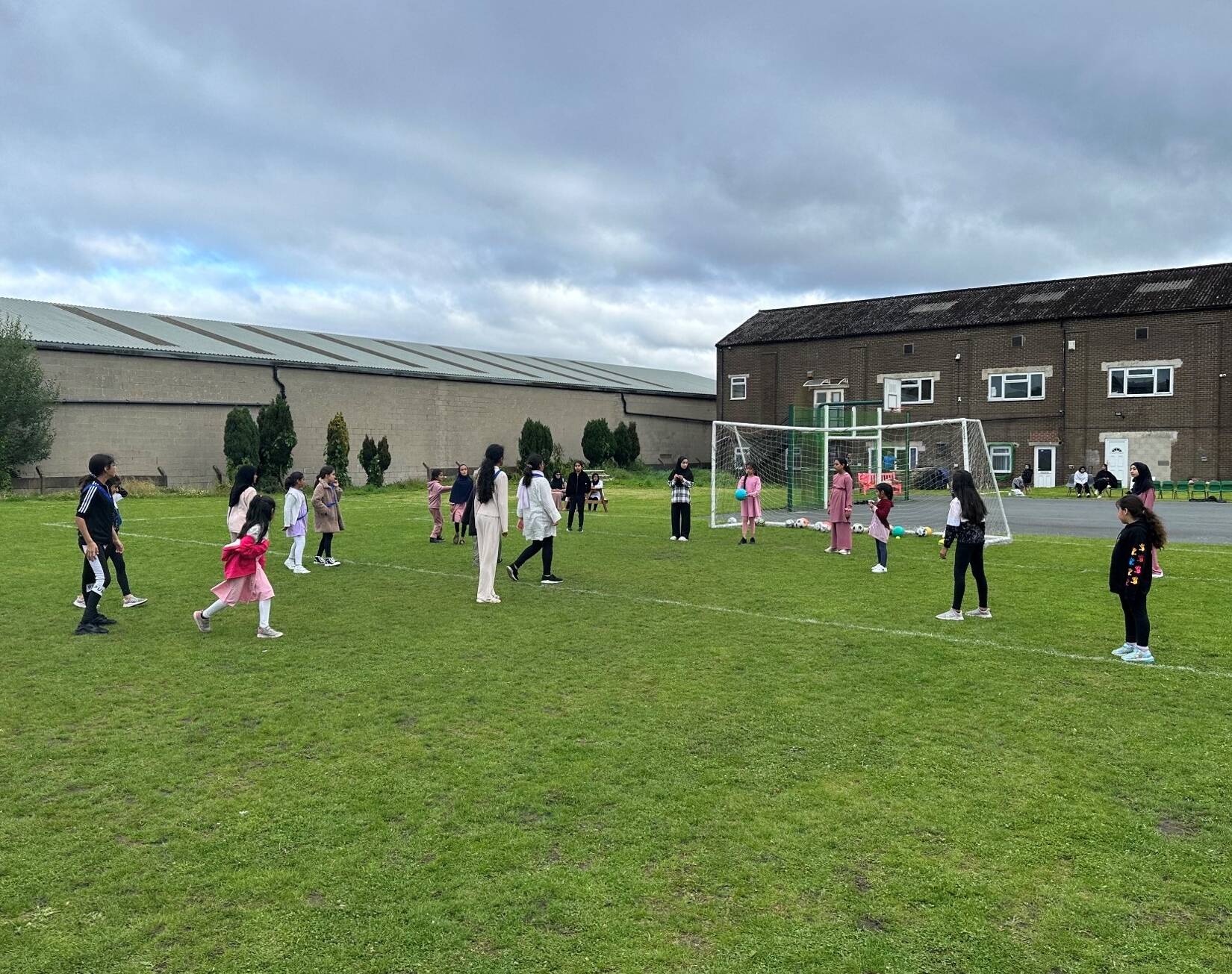 During the Women's World Cup, Calderdale Council is shining the spotlight on the borough's vibrant women's and girls' football and sports scene.
Alongside the amazing female football teams across Calderdale showcasing local talent, the Healthy Holidays Calderdale scheme is providing free access to football and other sports and activities for young people eligible for free school meals.
The Healthy Holidays summer programme is now underway, which is a partnership between Calderdale Council, the Community Foundation for Calderdale and local organisations, funded by the Government's Holiday Activities and Food Programme.
Unique Community Hub is a Healthy Holidays provider in the Park ward area of Halifax, and one of its key aims is to support young women from the South Asian community to continue taking part in physical activity outside of school.
Toyaba Ali has run the girls-only sessions at Unique Community Hub for a number of years, and is now working to boost women's and girls' participation in sports through the Empowering Women group. This offers a safe space for women and girls of all ages and backgrounds to come together, with the main purpose of enriching, engaging and empowering them to become the best versions of themselves. They play a mixture of sports, including football, as well as camping, doing arts and crafts, taking part in mental health workshops, and more: https://youtu.be/44s0rI_85A8(external link)
Toyaba says:
"For the girls at the Hub, the chance to meet up and be physically active outside of school has been beneficial to their stress levels, and has increased motivation to carry on sports after they've moved on from education. Many elders from the community are now reaching out to find out when it's their turn to give it a go! There's diversity and so much talent, we just need to expose it."
Toyaba talks more about the benefits in this short film: www.youtube.com/watch?v=LH_L-fEapmo(external link)
Jess Heald works for Calderdale Council as its Healthy Holidays Coordinator, and in her spare time she plays and coaches football. Jess says:
"I started playing football at the age of eight. There were no girls' football teams around, so I joined the local all-boys team for a season. My dad decided to start up a girls' under-9s team, which I joined and we won lots of league and cup titles all the way up to age 16. I then progressed into the women's game and have continued to play ever since.

"I knew I wanted to give the same opportunities to young girls aspiring to have a career in football, so I went into coaching. Following the success of the Lionesses winning the Euros, I now coach 50 girls aged under 11. It's fantastic to see so many girls wanting to play football. The most rewarding feeling is seeing the players stepping out onto the pitch and having the time of their life whilst forming new friendships.

"Women's and girls' football has seen a huge level of growth in recent years and with the right focus, structures and facilities in place, there is every reason to believe that it can continue to grow to match the numbers on the male teams, which would be a huge achievement. To keep filtering those players through and keep inspiring them is amazing. The more girls that play, it's only going to improve the sport."
To celebrate the Women's World Cup, the Council's Sports Service is running World Cup fun swims. Up until Sunday 20 August 2023, anyone wearing a football shirt on arrival at Brighouse, Sowerby Bridge or Todmorden pools can join a fun swim free of charge.
Brighouse – sessions are running on Sunday 13 and 20 August between 1.15pm and 2.15pm
Sowerby Bridge – sessions are taking place on Wednesday 9 and 16 August from 1.10pm to 2.45pm
Todmorden – sessions are on Thursday 10 and 17 August between 12.30pm and 1.45pm
There is a football shirt colouring competition with free swims as prizes. The Council also held free 'have a go' football sessions at Todmorden Sports Centre on Wednesday 2 August, encouraging children aged 5+ to join the football coaching scheme.
Cllr Jenny Lynn, Calderdale Council's Cabinet Member for Public Services and Communities, said:
"It's inspiring to see the Women's World Cup, and women and girls of all ages, levels and backgrounds playing football and getting physically active in Calderdale. There are many great teams across the borough, and our Healthy Holidays scheme adds to these by giving young people the opportunity to take part in sports and build their fitness, confidence and wellbeing.

"Seeing the success of local groups such as Empowering Women is really encouraging, and we back their work to help everyone reach their potential regardless of their starting point – a key part of our Vision 2024 for Calderdale – and to increase diversity and inclusion in sport and physical activity, which is in line with the Council's priority to reduce inequalities."
The Active Calderdale movement aims to address existing inequalities in Calderdale and work with partner organisations to create a place where everyone can live happier and healthier lives. Following the success of the Lionesses in the UEFA Women's Euro 2022, it was clear just how much potential sport and physical activity have to transform the lives of women and girls. Active Calderdale wants this progress to continue, to ensure that opportunities are in place for women and girls to access. Can you #PlayYourPart to inspire, encourage and support others to move more in any way they choose?
More information: