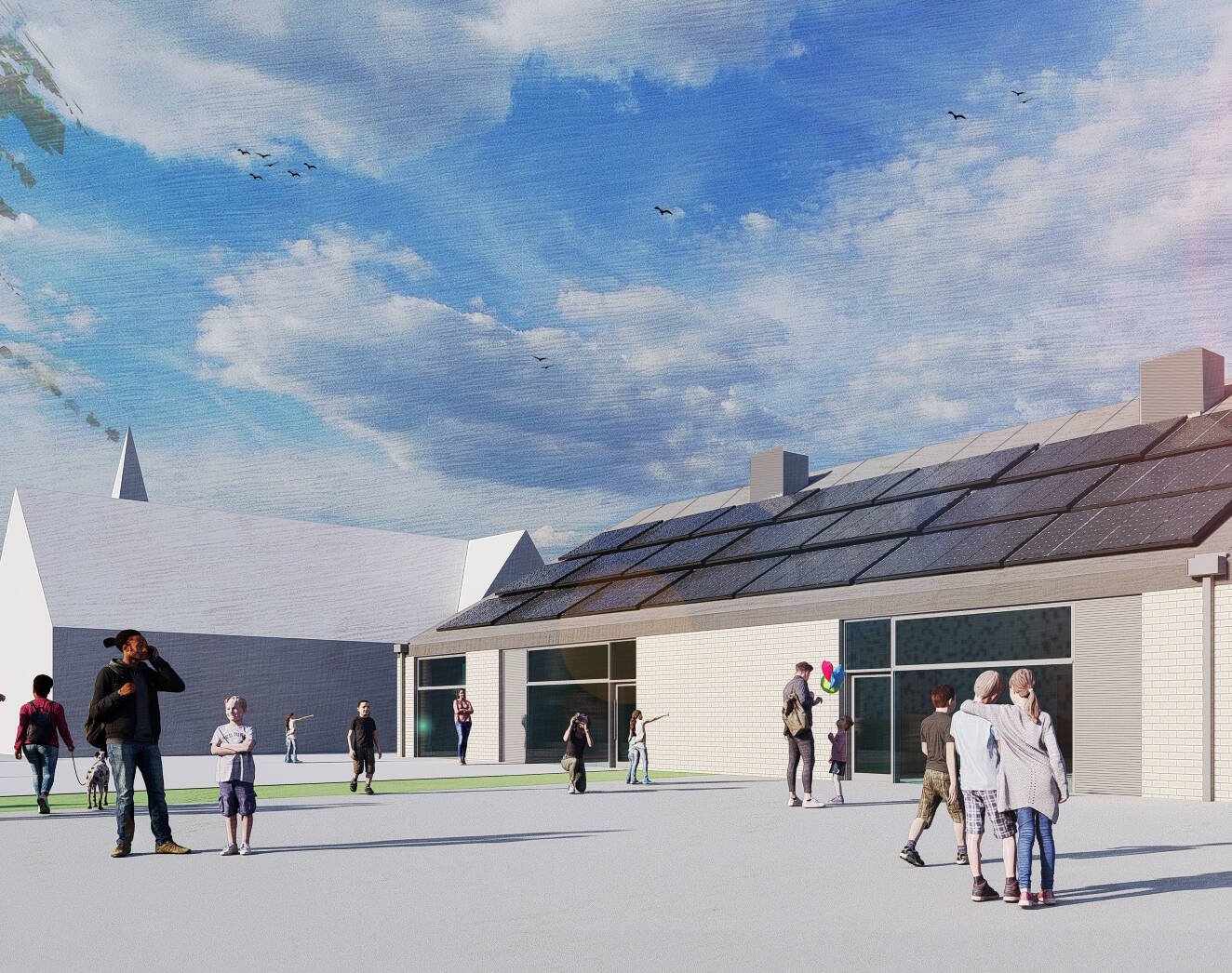 Work is beginning this September to rebuild a fire-damaged Calderdale school.
On 1 February 2022, an arson attack at Ash Green Community Primary School in Mixenden, near Halifax, caused a huge fire, destroying four classrooms and other areas in the upper site of the school.
The damage was so extensive that Calderdale Council had to demolish the affected building, to make sure the site was safe. The rest of the school was also smoke damaged, so a big clean-up was needed for the school to stay open. This was supported by Calderdale communities, with £20,000 donated through a Community Foundation for Calderdale fundraiser and £8000 through a crowdfunding campaign as well as other donations.
Work is now due to begin on a new-build facility connecting to the existing school, The new building, which is being funded by the Department for Education Risk Protection Arrangement (RPA), will include improved facilities to boost the learning experience for pupils. There will be bigger classrooms, with level floors throughout with ramps to make the building safer and easier to use for people with mobility issues. A new all-year-round outdoor play area / Multi-Use Games Area is also being created.
The new school building has been designed with sustainable features including solar panels and air source heat pumps to enable the building to generate its own energy – contributing to the Council's priority for climate action and Calderdale's ambitious target to be a carbon-neutral place by 2038.
The work has been carefully planned to ensure learning can continue throughout the construction phase.
The Leader of Calderdale Council, Cllr Jane Scullion, said:
"Eighteen months on from the devastating arson attack at Ash Green Community Primary School, I'm delighted that work is due to start on a new top-quality building to replace the fire-damaged part of the school.

"An awful lot of hard work has gone into ensuring that the project could progress as quickly as possible, with the new building including fantastic facilities to support a great learning environment, where children can achieve their best. The work has also been carefully planned around school activities to minimise any further disruption.

"The whole school community has shown incredible resilience since the fire and the local kindness shown in the immediate aftermath of the blaze was truly heart-warming, with people offering to help with the clean-up and supporting fundraising efforts. I'm pleased that we'll soon be able to provide the area with this great new facility."
Mungo Sheppard, Headteacher of Ash Green Community Primary School, added:
"Since the night of February 1st 2022, our school and community has worked tirelessly to 'build back better' and reinstate a fantastic learning centre for Ash Green. We have been magnificently supported by the DfE, Calderdale Council, architects and other stakeholders in planning, procuring and now starting the rebuild. The next few months are very exciting as we look to get our children back where they belong in 2024."
The investment at Ash Green school is part of the wider package of improvements within the Strategic Plan for North Halifax, which aims to develop and deliver actions to support long-lasting regeneration in this area of Calderdale. This also includes the priority work taking place at nearby Mixenden Hub, to create a community facility where residents can go to access community healthcare services, to relax, socialise or be active in the community garden, and to learn, get advice and use IT and other services at the new Mixenden library.
The investment in north Halifax is part of the Next Chapter for Calderdale to enable economic growth, reduce inequalities and build a sustainable future. For more information about major developments in Calderdale, visit www.calderdalenextchapter.co.uk(external link) and follow #CdaleNextChapter on Twitter.
The year 2024 marks Calderdale's 50th birthday. Where do we want to be by 2024? Get involved on Twitter with #VisionCdale2024 and find out more at www.calderdale.gov.uk/vision