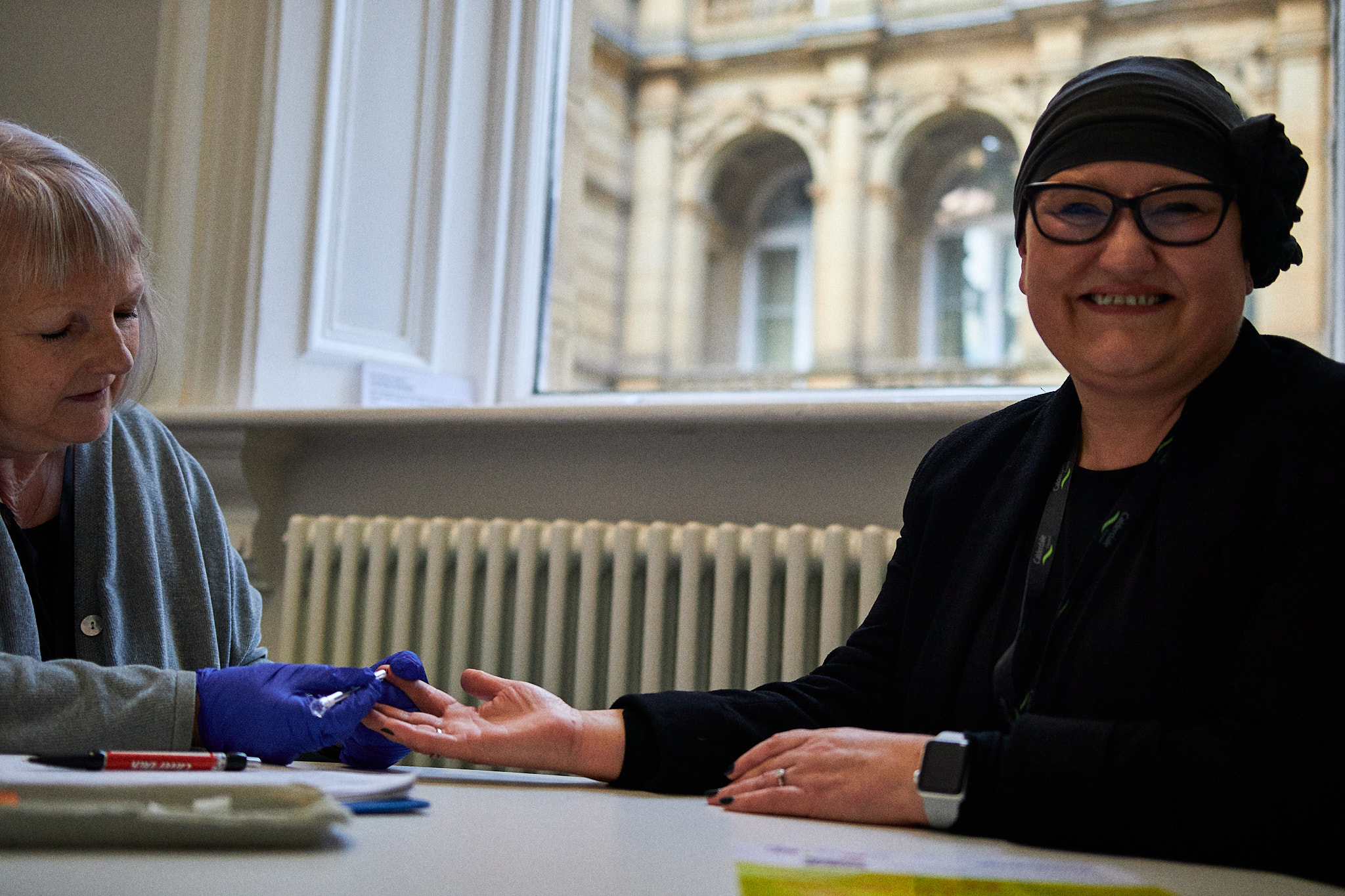 As part of HIV Testing Week (6-12 February), Calderdale Council's Director for Public Health, Deborah Harkins has taken a test, in support of the local 'I've tested for HIV, have you?' campaign.
One in 20 people living with HIV are unaware they have it. People can live with HIV for a long time without any symptoms. Treatment for HIV is highly effective and people with HIV can live a normal lifespan, if they are diagnosed and get treatment early. National HIV Testing Week is a campaign to promote regular testing among the most-affected population groups in England.
Testing for HIV is free, confidential and fast and there are lots of ways to get tested, including at the local sexual health services at Broad Street Plaza in Halifax (https://sexualhealth.cht.nhs.uk/think-sexual-health(external link) ); at GP surgeries; using online home testing at www.freetesting.hiv(external link); or through the Council's commissioned service, the Brunswick Centre .
The Brunswick Centre provides prevention and support services for people living with HIV in Calderdale, as well as regular testing sessions.
During HIV Testing Week and throughout February, it's promoting the 'I've tested for HIV, have you?' campaign. This includes members of the community and well-known faces sharing this key message. The centre is also offering extra opportunities for people to get tested locally. Much more information is available at https://www.thebrunswickcentre.org.uk(external link) and on Facebook at https://en-gb.facebook.com/BrunswickCentre/(external link) and @_thebrunswick_(external link) on twitter. Messages will also be shared on the Council's social media.
To support the campaign, the Council's Director for Public Health, Deborah Harkins, attended the Brunswick Centre's session on Tuesday 7 February to take the quick finger-prick test, the results of which are available in just 10 minutes.
Debs said of the experience:
"I'm happy to support the 'I've tested for HIV, have you?' campaign. Taking an HIV test is so easy, painless and quick and the team at the Brunswick Centre are so friendly and professional.

"During HIV Testing Week, we're raising awareness of the many different ways people can take a test. Testing is the only way to know if you have HIV, so regardless of sexual orientation, age or background, it's a good idea to test once a year for HIV. This ensures you can stay in control of your own health and can start treatment quickly if you are diagnosed."
John McKernaghan, Chief Officer of the Brunswick Centre said:
"National HIV Testing week is a great opportunity to encourage people from across Calderdale to get tested and to know their status. We know transmission happens when people don't know they have the virus. We also know that those diagnosed with HIV and on effective treatment will not pass it on."
Calderdale Council's Cabinet Member for Towns, Engagement and Public Health, Cllr Sarah Courtney, said:
"I'm supporting the campaign for HIV Testing Week and encourage people to get in touch with the friendly team at the Brunswick Centre and find out more about HIV prevention and testing options. There are regular drop-in sessions and home testing options available all year around, so there is every opportunity for you to take control of your own health and get tested."
For further information about HIV support, prevention and testing, visit https://www.thebrunswickcentre.org.uk/(external link). To book an appointment, or for further information, contact Anne at the Brunswick Centre on 07703187976 or email anne@thebrunswickcentre.org.uk
ENDS