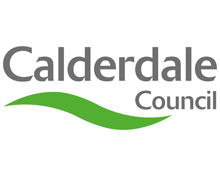 It's official – Calderdale Council provides top-quality support for children and young people with autism.
The Council has achieved accreditation through the National Autistic Society, giving families peace of mind that young people are receiving a high standard of help to achieve their full potential.  
The Autistic Spectrum Disorder (ASD) team has been working towards the national accreditation for two years, and received its certificate from Robert Pritchett, the Director of Autism Accreditation, at an event last Thursday at Heath Training and Development Centre, Halifax. Parents and young people who benefit from the service also attended.  
The team, made up of specialist teachers, outreach workers and support staff, helps over 280 children and young people who have ASD in Calderdale. It provides training and advice to primary and secondary schools and other settings such as children's centres. The aim is to make sure youngsters can learn and take part in social activities to their full potential, and work towards independence. 
The award recognises that the team meets a number of standards set by the National Autistic Society, including: 
·

         Having specialised knowledge and understanding of autism

·

         Using that knowledge to consistently inform all aspects of practice

·

         Shaping assessment and support plans for people with ASD, based on a thorough understanding of their needs
 Calderdale Council's Cabinet Member for Children and Young People's Services, Cllr Megan Swift, said: 
"It's great news that we are now an accredited provider of support for young people with ASD and their families. It's recognition of the great work that our ASD team continues to put in, and assurance for families that their children are receiving the best possible support and education. 

"ASD is a lifelong condition that affects how a person communicates with and relates to others. Our services give valuable information and advice to help young people achieve what they want to in life. We're keen to raise awareness of ASD, so we work closely with Calderdale schools and other services to make sure they have the knowledge and skills they need to provide effective support.  

"But we're not complacent – a key part of the accreditation, and a top priority for us, is continuous improvement."  
To contact the Council's ASD team, please email tracie.morley@calderdale.gov.uk or call 01422 394114. 
About National Autistic Society accreditation
The National Autistic Society autism accreditation programme provides an autism-specific quality assurance programme for hundreds of organisations throughout the UK and across the world. By providing a unified standard of excellence and a systematic framework for continuous self-examination and development, it aims to continuously improve the quality of service provision for people with autism and Asperger syndrome.
 To find out more, head to www.autism.org.uk(external link)