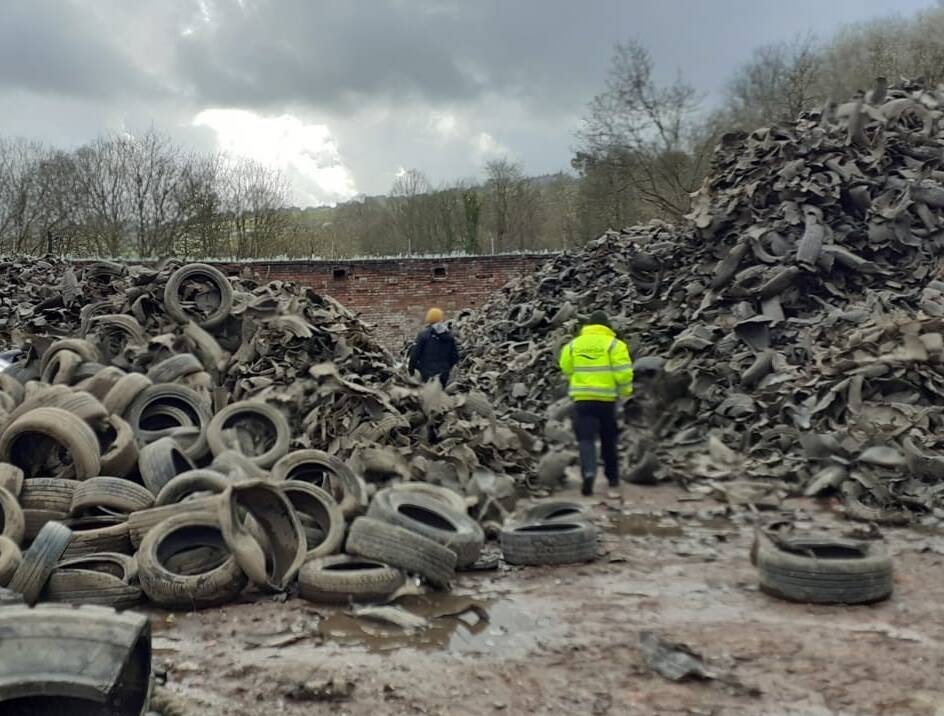 The Community Protection Team is at the heart of Calderdale Council's commitment to protecting local people and the environment, and recently moved a step closer to boosting its enforcement and education work.
At their meeting on Monday 10 July 2023, Cabinet Members recommended to Full Council to introduce a new way of dealing with poor-quality housing, which comes after more staff were appointed to the Community Protection Team to work with landlords and drive up standards. Cabinet is also recommending to Full Council an increase in fines for environmental crimes like littering, waste disposal and graffiti, and to introduce a new higher fine for fly-tipping offences.
This is just one of many things the team does to tackle issues that blight communities and put people at risk – from preventing anti-social behaviour and keeping Calderdale clean and tidy, to holding businesses to account and taking action when they fail to uphold their responsibility to protect the public and the environment, such as in the recent legal cases for environmental crimes at the Fairlea Mills site in Luddendenfoot.
In 2020, Calderdale Council, the Environment Agency, West Yorkshire Fire and Rescue Service and other partner organisations launched a joint operation against the illegal storage of tyre and other waste on the Luddendenfoot site. Major investigation and enforcement activities were needed due to the serious fire risk at the site and the distress being caused to local residents.
In 2022, the Council prosecuted Fairlea Auto Salvage and Spares Ltd for breaching the Community Protection Notice that the Community Protection Team had served on the business to prohibit use of the site and to require the business to remove the waste, to mitigate the risk of fire and harm to public health and the environment. This prompt action, alongside the work of the Environment Agency and West Yorkshire Fire and Rescue Service, reduced the risks significantly.
The Court granted fines for each breach of the Community Protection Notice, with a total cost to the company of £64,738. This case paved the way for the Environment Agency to also prosecute three individuals for their involvement with the site, all being sentenced on Wednesday 12 July 2023 with suspended imprisonment, 250 hours of unpaid work and the payment of £2,500 in costs.
Sam Pearson has been a Senior Response Officer in the Council's Community Protection Team since 2019, and was a key part of the joint effort to bring the illegal operations at the Fairlea site to an end.
Sam says:
"My role in the Community Protection Team is about dealing with environmental health and community safety issues through education, engagement and importantly, enforcement. It's about stopping things that have detrimental impacts on the public and our environment, and ensuring that the place where people live, work, do business and visit is safe. No two days are the same, and the team can be dealing with anything from anti-social behaviour, fly-tipping and noise nuisance, to highways issues, food hygiene and Health & Safety.

"One of the biggest enforcement cases I've been involved in relates to the environmental crimes at Fairlea Mills in Luddendenfoot. Alongside the work of our partner organisations, the Community Protection Team's intensive role included daily site visits, even at night, to check the safety of the site and gather evidence of activities taking place; regular partnership meetings; serving a Community Protection Warning to try to control the site operations, improve site security and reduce the fire risk; taking further action with a Community Protection Notice when the Warning wasn't acted upon; and taking the business to court in 2022 when the Community Protection Notice was breached in multiple ways."
Cllr Jenny Lynn, Calderdale Council's Cabinet Member for Public Services and Communities, added:
"The Council has a priority to keep our communities safe and to protect our environment. Anything that puts local people in danger, or blights our thriving towns and places during the ongoing climate emergency, will be taken very seriously.

"Our Community Protection Team is at the heart of our work to engage with communities and enforce where necessary. We are proud of its wide-ranging work, especially in the Fairlea case where its careful but robust approach was exemplary in a very challenging situation.

"This case highlights the extent of the tools that the team, alongside partner organisations, has at its disposal to tackle wrongdoing in Calderdale. Legal action is always a last resort, and we always try to educate and engage with people and businesses first, but our zero-tolerance approach means that we won't hesitate to take action where it's needed."