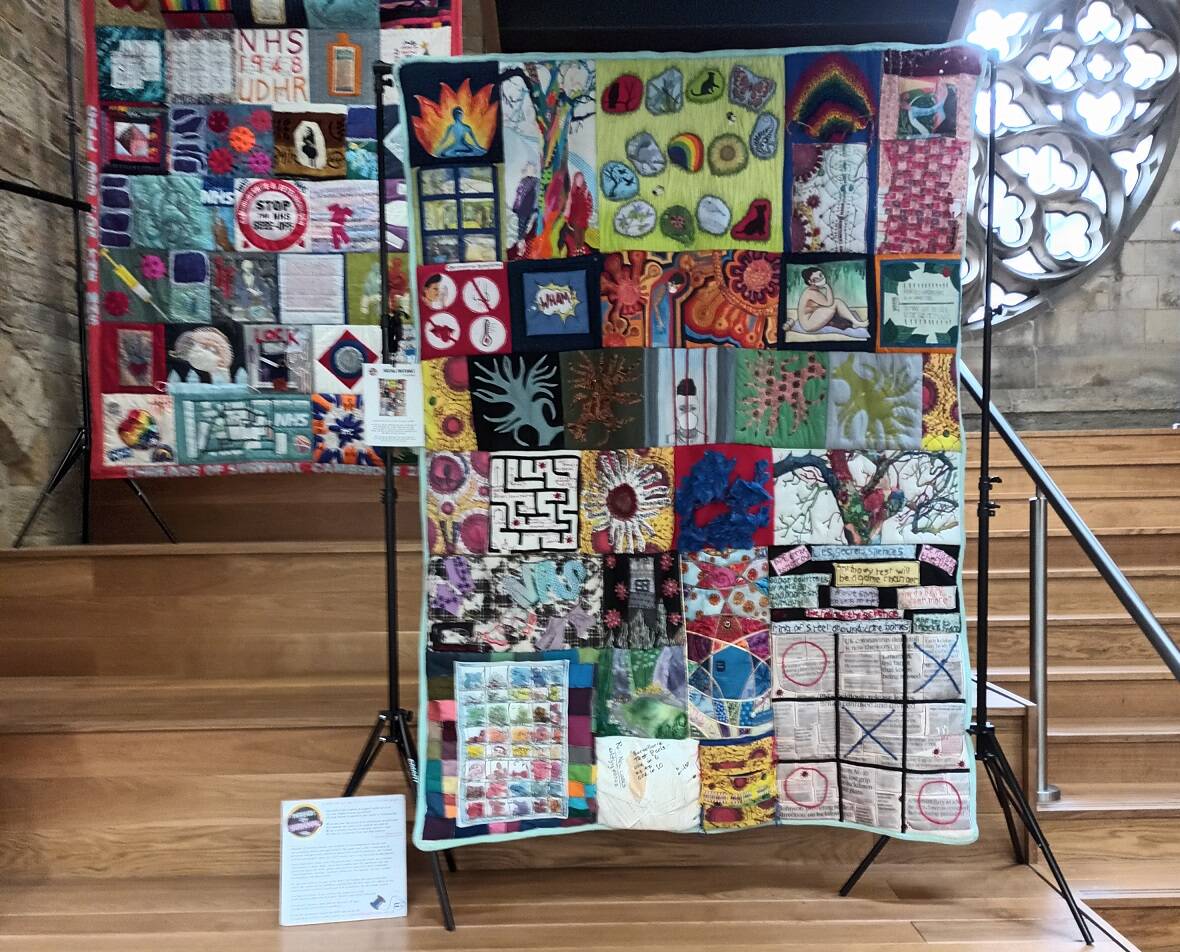 A powerful and moving collection of textiles and handmade quilts documenting the COVID-19 pandemic, is now on display at Halifax Central Library.
The Threads of Survival exhibition features a selection of quilts and textile pieces produced during the COVID lockdowns of 2020 and 2021.
The project began in August 2020, where people were invited to sew their stories and experiences of pandemic life and to reflect on the importance of the NHS in our lives. In the true tradition of community quilting the exhibition features work from both professional artists and first-time quilters.
The project is led by national campaign organisation, 999 Call for the NHS, and features 28 quilts made by 140 people from West and South Yorkshire, as well as Birmingham, County Durham, East Anglia, Lancashire, Lincolnshire, Liverpool, London, Manchester, Somerset and Surrey.
The exhibition comes to Halifax as part of a nationwide tour that has seen the quilts visiting locations across the country, including Gawthorpe Hall in Burnley, the Royal Museum in Truro and Dewsbury Minster. After Halifax it will be moving to Rotherham Minster, in April.
More than two years after the start of the Threads of Survival project, 999 Call for the NHS is still facilitating the creation of powerful textile pieces and quilts which tell people's stories of life during COVID and their feelings about the NHS. The latest quilts respond to the question, "Where are we at now?"'
Threads of Survival is available to view during library opening hours: Monday to Friday from 10am to 5.30pm and Saturday from 10am to 4pm. It will be on display until Friday 14 April 2023.
Calderdale Council's Cabinet Member for Public Services and Communities, Cllr Jenny Lynn, said:
"The COVID pandemic and associated lockdowns affected everyone in different ways, and this innovative project documents the experiences of people around the country during this moment in history.

"We're pleased to be able to bring the exhibition to the Central Library in Halifax. Each panel of the colourful quilts tells a different story and it's fascinating to view the artwork and technical skills which are contained in the quilts."
Steven Carne, Chair of 999 Call for the NHS who led the development of the project said:
"We've had a fantastic response from our first exhibitions and the collection is growing every month. We think people will be blown away with the diverse themes and images. Our month at the British Textile Biennial in 2021 resulted in tears, laughter and even arguments in front of the quilts. It's not for the faint-hearted."
For more information about how to view the quilts, call Halifax Central Library on 01422 392633.
ENDS