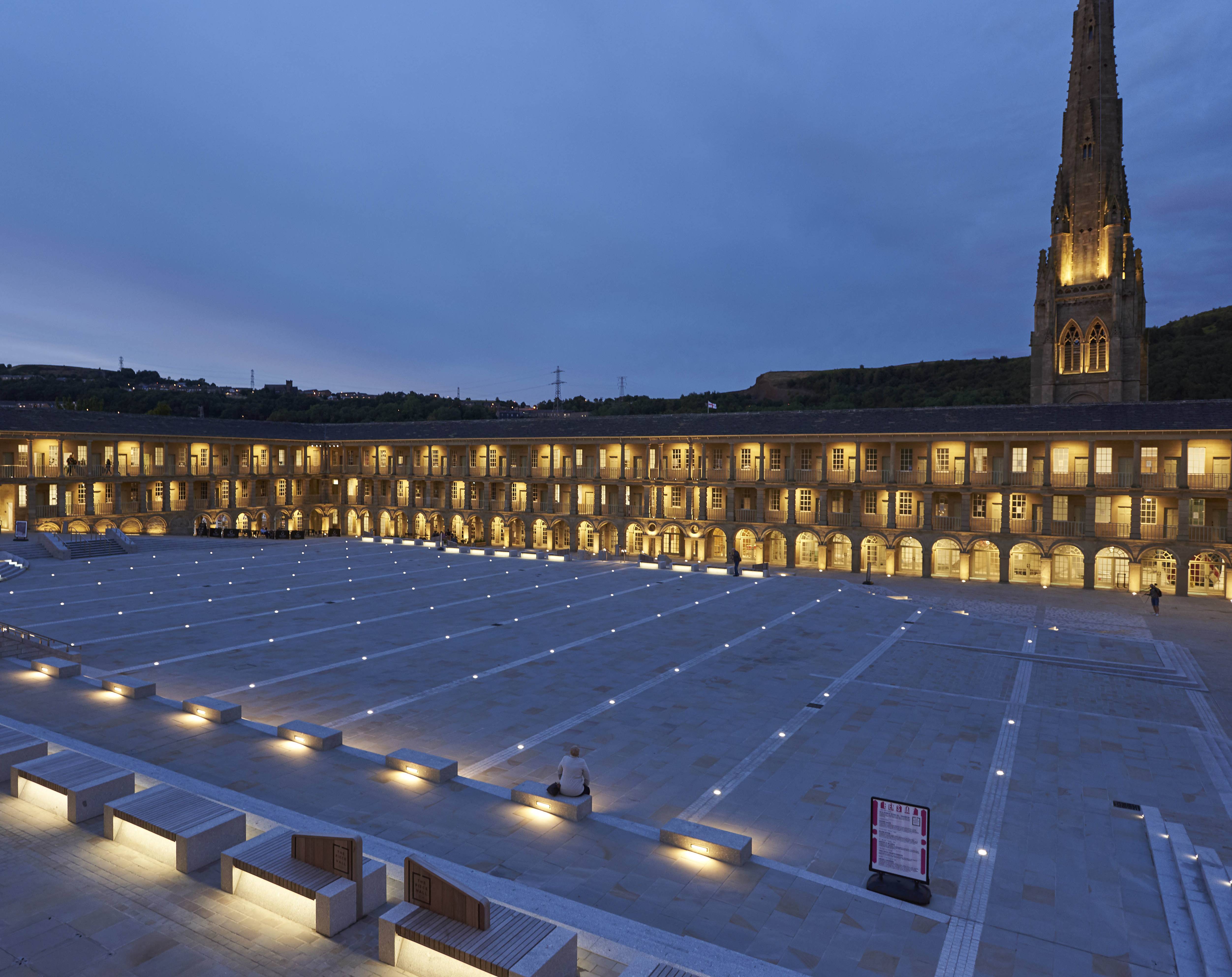 Thirteen buildings have been shortlisted for RIBA Yorkshire (Royal Institute of British Architects) 2018 Awards; the winners will be announced at an Awards evening at The Museum Gardens, York on Thursday 24 May.
The buildings that have been shortlisted are:
Albert Works, Sheffield by Cartwright Pickard Architects
Leeds College of Music, Leeds by Group Ginger Architects
National College for High Speed Rail, Doncaster by Bond Bryan Architects
Nelson's Yard, York by Mesh Architects
Oastler Building, Huddersfield by AHR
Old Shed New House, North Yorkshire by Tonkin Liu
Scarborough Market Hall and Vaults, Scarborough by Group Ginger Architects
SHU Institute of Education, Sheffield by Bond Bryan Architects
Square Chapel Arts Centre, Halifax by Evans Vettori
The Hide, Driffield by Group Ginger Architects
The Piece Hall and Calderdale Central Library and Archives, Halifax by LDN Architects
Vita Student York, York by Fuse and Reform. (In addition, Purcell was the Conservation Architect during the Planning stage of the project)
York Mansion House, York by De Matos Ryan
Roger Hawkins, Chair of the Yorkshire Judging Panel said:

"The RIBA awards are the most rigorously judged awards for architectural excellence. In Yorkshire we are at the start of this journey for 2018 considering a wide range of projects from throughout the Region. On offer were buildings and places, both large and small, public and private, including new construction and conservation work that demonstrated innovation in architecture. All members of the jury were impressed at the quality of submissions and detailed information provided. This year has been a new focus on sustainability, both economic and environmental as well as the capacity to stimulate, engage or delight. Our lively debate resulted in an exciting shortlist for jury visits next month."
All shortlisted buildings will be assessed by a regional jury and the winning buildings will be announced at the RIBA Yorkshire and North East Awards evening and reception on Thursday 24 May at The Museum Gardens, York. The event will be hosted by Harry Gration who presents 'Look North' on BBC One, Yorkshire.
Regional Award winners will be considered for a highly-coveted RIBA National Award in recognition of their architectural excellence, the results of which will be announced in June. The shortlist for the RIBA Stirling Prize for the best building of the year will be drawn from the RIBA National Award-winning buildings later in the year.
RIBA Yorkshire Awards Shortlist:
The Piece Hall and Calderdale Central Library and Archives, Halifax

The Piece Hall is a unique and iconic Cloth Hall of the late 18th Century that illustrates the international scale of the Yorkshire textile industry and the great wealth, pride and ambition of the 18th century cloth manufacturers. The building has had a number of uses throughout its history but had been in decline for a number of years and in the early 2000s its future was in doubt. LDN, working for Calderdale Metropolitan Borough Council, have since then helped to revitalise the Piece Hall as the cultural, creative and community focus for Halifax and Calderdale. Its fabric has been conserved and restored; essential infrastructure and building services have been installed; and it has been sympathetically altered to deliver high quality commercial space for shops and cafes, and state of the art learning and heritage interpretation spaces. Architect: LDN Architects
Albert Works, Sheffield
Albert Works is the conversion of four disused red-brick industrial warehouses with the integration of a new central open plan infill to create approximately 1,600sqm GIA // 1,500sqm NIA of flexible workspace for Jaywing, a Sheffield based creative marketing agency. This scheme is the first stage of a larger regeneration project, known as Alsop Fields, within the Cultural Industries Quarter conservation area of Sheffield.
Architect: Cartwright Pickard Architects
Leeds College of Music, Leeds
Leeds College of Music is the largest conservatoire in the UK. The College wanted to create an inspiring welcome to all visitors to one of the city's most important concert venues. The 350 capacity auditorium is located above the
BBC in an adjacent building to the main college and accessed via a bridge link. The design competition, sought ideas to improve the visitor experience by providing new foyer facilities, to accommodate the venue's audience and extend the college's out-reach programme with conferencing and teaching space.
Architect: Group Ginger Architects
National College for High Speed Rail, Doncaster
The Project brings a contemporary design to a commercial teaching environment and was heavily influenced by the clients' vision to create a world class facility and landmark building. The brief was delivered by designing a mixture of
external and internal engineering teaching areas along with flexible project spaces and traditional teaching rooms providing a dynamic learning environment for engineering and digital learning. Architect: Bond Bryan Architects
Nelson's Yard, York
Located in a Conservation Area in York City Centre, Nelson's Yard was purchased as a pair of vacant properties with a disused rear yard and outbuilding. The scheme is a sensitive conversion of the former Nelson's Public House into two unique houses, with a new build terrace of six contemporary townhouses in the former yard. The scheme provides contemporary living in the historic context.
Architect: Mesh Architects
Oastler Building, Huddersfield
The design competition brief was to provide an inspirational place to study and work within a professional and commercial setting that provides a high degree of flexible
and adaptable learning space. The brief called for a contemporary statement building that could become a symbol for the University, showcasing the activity occurring
within it in order to express it's transparent and open nature. By meeting this criteria through form and fenestration, we were able to significantly enhance how the University engages with its community in an openly transparent manner.
Architect: AHR
Old Shed New House, North Yorkshire 'Old Shed New House' is a home nestled within the agricultural landscape of North Yorkshire. The client sought a high quality, energy-efficient and low-cost building to
serve as a house, library and gallery. An existing agricultural shed on the site – once a container for tools and tractors – is now a container for a lifetime collection of books and art. The steel frame and ground slab have been reused and enlarged, retaining the original form of the shed. Architect: Tonkin Liu
Scarborough Market Hall and Vaults, Scarborough
Scarborough Council were looking to revitalise the original Victorian Market Hall, retaining the use of the grade two listed structure as a market and add new life and activity to the area through the investment in local independent business. The market had deteriorated through a lack of vision and investment. The project needed to repair the building fabric, add new space with the introduction of a mezzanine and improve accessibility with the inclusion of a lift and new level entrance.
Architect: Group Ginger Architects
SHU Institute of Education, Sheffield

Housing the majority of the University's Department for Teacher Education, the solution maximises the opportunity to deliver stimulating learning spaces. The
project is located within an extremely complex set of planning and conservation issues due to the nature of its tight city centre site within a conservation area adjacent a Grade II * listed building. The Cultural Industries Quarter forms a key heritage asset of the city and a key contextual issue to respond to. Two flexible teaching blocks are positioned either side of Brown lane, clad in transparent and translucent glass panels, they allow natural daylightinto the teaching and office spaces whilst providing an iconic visual identity to the building.
Architect: Bond Bryan Architects
Square Chapel Arts Centre, Halifax 
Square Chapel organised a national competition in 2005 to design a major extension to a thriving but cramped community arts centre, based in a Grade II* listed chapel. The project was halted numerous times due to lack of funding, works to the adjoining Grade I listed Piece Hall, and finally, the discovery of unknown graves. It was finally handed over on time and within the £4.75m budget in June 2017, the culmination of 30 years of 'passion, grit and determination'. Clients Brief • Large foyer space • Multiuse performance and workshop space • Improvements to allow level access to all areas • Re-ordering of the existing
chapel, and link to Piece Hall. • Reinforcement of the unique character of Square Chapel Design. The centrepiece of the design is a bold triangular 'prism',
linking Square Chapel to Piece Hall by reconciling the geometry between them.
Architect: Evans Vettori
The Hide, Driffield
Yorkshire Water operates a large reservoir and nature reserve which attracts significant numbers of migratory birds. The reservoir and surrounding reserve are
recognised as a SSSI, Site of Special Scientific Interest. Yorkshire Water were keen to improve the visitor experience and broaden visitor diversity by providing a new reception Bird Hide as a centre piece to the reserve offering spectacular views over the main reservoir and opportunities for interpretation and education. The hide combines classroom facilities, overlooking the new dipping pond, a public viewing gallery with large picture windows to view the extensive reservoir and a twenty-four hour twitcher's hide for the dedicated bird watchers wanting to catch migratory birds on their last stop in the country before departing to warmer climes.
Architect: Group Ginger Architects
Vita Student York, York

Select Property purchased the former convent site, following an open-market bid process. The 6.5 acres site presented a unique challenge: enclosed by a 5 metres high grade II listed brick wall, contains a nationally registered orchard, numerous tree preservation orders, listed buildings/structures and slopes approximately 7 metres from north to south. Fuse collaborated with Re-form
Landscape Architects in the creation of a masterplan concept which responded to and respected the site topography and existing landscape features.
Architect: Fuse Studios Ltd
York Mansion House, York
The 'Opening Doors' project delivers the most comprehensive restoration of the first purpose-built house for a Lord Mayor in the country since its completion in
1732 and develops a new, unique and dynamic visitor experience designed to reveal the past, present and future significance of the house, its collections and the stories they hold to a wider and more extensive audience than ever before. For the first time, the Mansion House opens its doors permanently to the public and in so doing, this £2.4 million project, made possible with a £1.2 million grant from the Heritage Lottery Fund, enables the conditions for this historic building to develop a sustainable resilient financial future. Architecturally, the project completed an extensive external and internal refurbishment of works which stripped out decades of intrusive additions to the Grade 1 Listed fabric.
Architect: De Matos Ryan