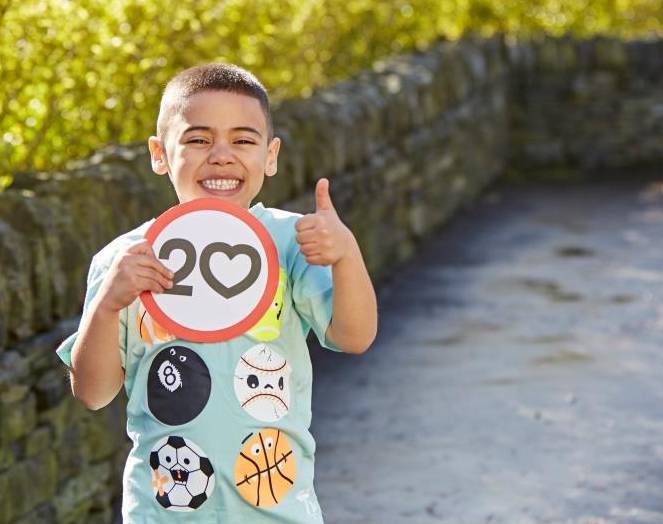 A new 20mph speed limit came into force in Siddal yesterday (Wednesday 10 June) as part of the Love our Streets campaign, which aims to help make our streets safe and pleasant wherever we live and however we travel.
The 20mph speed limit is coming to residential streets throughout Calderdale by 2017. Siddal joins seven other areas that already have the 20mph limit. Southowram will be next later this month, and the rollout will continue in seven further phases for the next three years.  
Cllr Simon Young, Calderdale Council's Cabinet Member for Public Health, Wellbeing and Engagement, said:
"It's great that more people in Calderdale will now benefit from 20mph speed limits as the latest phase launches in Siddal. Through the Love our Streets campaign we want to help make our streets safe for everyone, enable people to walk or cycle shorter journeys, and help create more pleasant communities for us all to enjoy.

"Last year, 91 people were killed or seriously injured on our local roads – 10 were children. The lower, safer speed limit in Siddal and other areas is an important step towards tackling these worrying statistics. I'm pleased that in our recent survey with over 2000 residents across Calderdale, 89% told us they backed the introduction of 20mph speed limits in residential areas in the borough."
Parents can access information on how to teach their children about road safety on the Love our Streets(external link) website. You can also find out more about the campaign and the benefits of driving at 20mph, and take part in a short quiz that gets you to think about how you drive and tests your knowledge – you could win a CCTV for your car, worth up to £50.
Schools can book road safety training with Calderdale Council and see other offers at Love our Streets(external link).
For a list and map of the streets adopting 20mph in Siddal, head to 20mph speed limit. You can also find details of other phases of the 20mph rollout, including the areas and start dates.
Get involved in the chat at:
Facebook: Love our Streets. Show your love – could you be our 1000th liker?
Join over 300 other followers on Twitter @loveourstreets