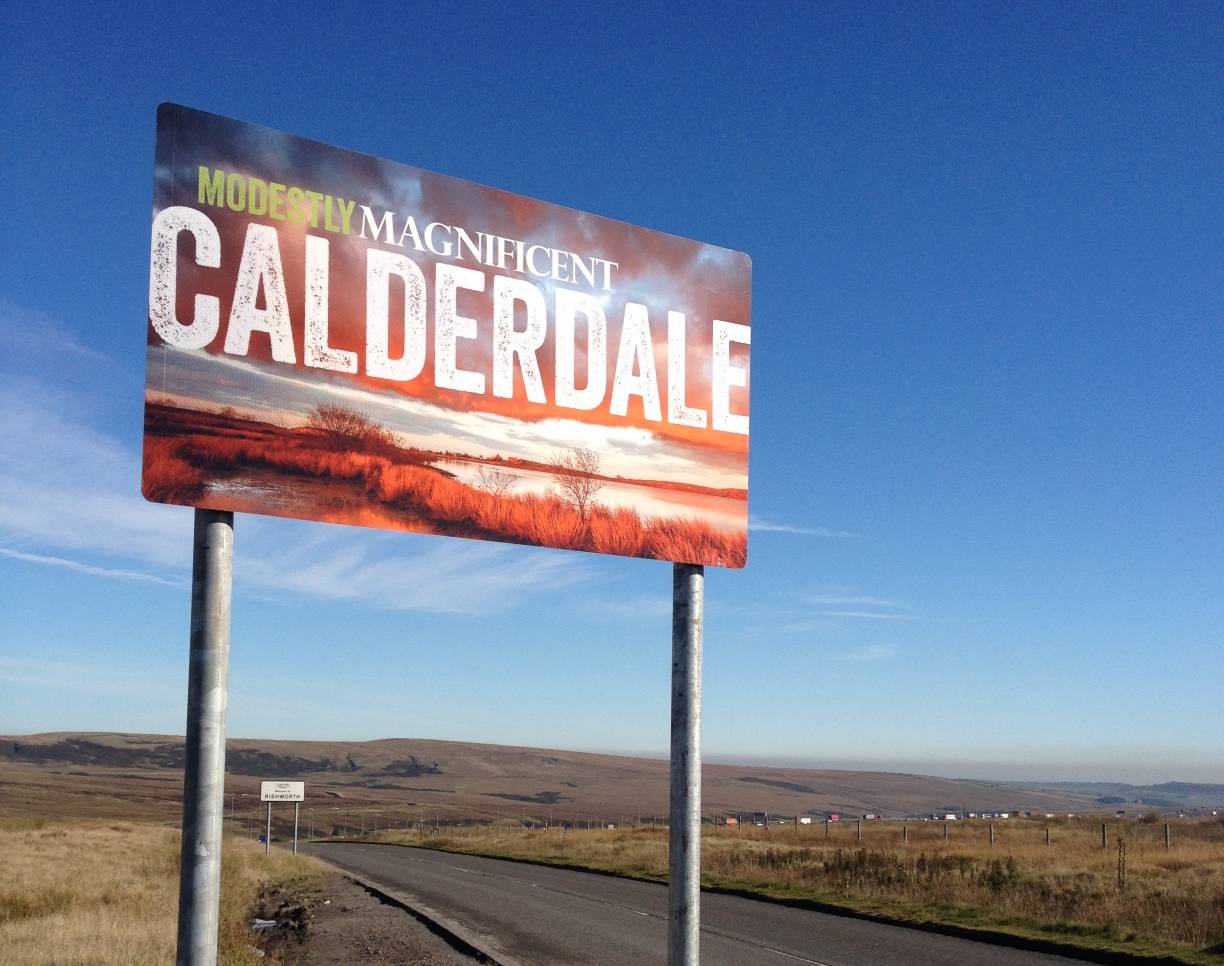 You may have noticed some new additions to Calderdale's roads in the last week, as eye-catching new boundary signs have been popping up across the borough.
Six new signs have been installed featuring photographs of Calderdale, giving visitors a taste of the beautiful landscape that the area has to offer. The signs have been designed using Calderdale's pretty gritty branding, and feature phrases like 'ruggedly sophisticated' and 'modestly magnificent', reflecting the contrasts that exist within Calderdale.
Boundary signage is important, not only to promote a place but also to ensure that people know where they are or where they've been. Signage needs to be reviewed regularly to make sure it meets safety and presentation standards and some of the signs that have been replaced were nearly 20 years old and looking tired and dated. A number of them have also been damaged by vehicles and the Council has received complaints about the condition of some of the signs.
There are 27 boundary signs across Calderdale. The six new signs have been installed on some of the busier entrance routes into Calderdale and the intention is ultimately to replace all 27 signs with those featuring the new design.
Calderdale Council's Cabinet Member for Regeneration and Economic Development, Cllr Barry Collins, said:
"Boundary signs are the first things that people see when they enter the borough and they offer a real opportunity to show off the very best of Calderdale.

"I've seen some of the new signs on my travels and like our borough they are very distinctive. The images showcase some of the special qualities of Calderdale's landscape.

"Some of the old signs were very old and looking rather dated. The new ones are made of a very robust material, meaning they'll look good for many years to come." 
If you want to see the new signs, they are located on Queensbury Road in Boothtown, Keighley Road in Ogden, Calderdale Way from Huddersfield, Oldham Road in Ripponden, Burnley Road in Todmorden and Whitehall Road in Hipperholme.