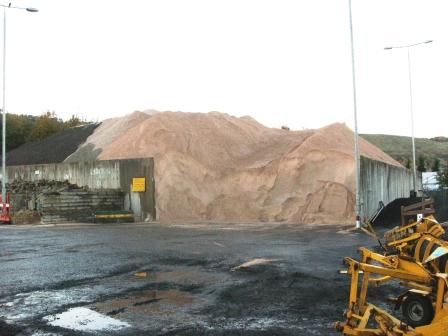 Residents across Calderdale will soon have all the information they need to be winter wise.
 The temperature is dropping and we saw our first frost a couple of weeks ago. The Council is busy getting prepared for winter and is advising residents to do the same.
 During the snowy weather, the Council receives hundreds of calls about bins not being emptied or asking if/ when their road will be gritted. Snow is unpredictable and we're not able to give out information about individual roads, but Council services will be there when they can. Residents can also check the areas we grit and find out about any closures by visiting Winter services
 Calderdale Council's leader, Cllr Tim Swift, said:
"Calderdale Council is getting ready for the winter weather. We've stocked up on salt for gritting and have already done our first precautionary grit a couple of weeks ago. There are lots of things people can do to prepare themselves, including stocking up on non perishable food and checking the weather forecast before making long journeys."
 Calderdale Council's Highways team has already started its winter service. From October to April, officers from the winter service team are on call 24 hours a day.  They monitor the weather closely to ensure our roads are treated with salt before temperatures drop and icy patches form.
 As it's not possible to grit all of the 1,100 km of roads in Calderdale, resources are concentrated initially on the main routes used for getting in and out of Calderdale to help keep traffic moving.
 From October 2012 to April 2013, the Council used 16,250 tonnes of salt and gritted main access routes a total of 91 times. This year, we have access to 20,000 tonnes of salt and have filled 600 grit bins to ensure main routes are gritted. If a grit bin needs to be refilled, you can request this on line by visiting www.calderdale.gov.uk/transport/roads/winter-service, by emailing highwaysandengineering@calderdale.gov.uk or by calling 0845 245 7000
 The Council has produced a guide to remind people how they can prepare which will be distributed to households throughout Calderdale. Keep an eye out for your copy by the end of November. Copies will also be available in libraries.
 Be prepared this winter; be winter wise!