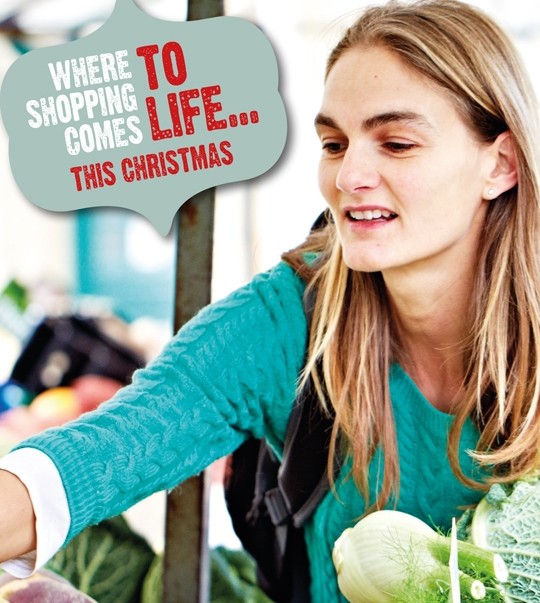 A wise person said that you can't buy happiness, but you can buy local, and that's kind of the same thing. 
It's 'Small Business Saturday' this weekend so all Calderdalians are being encouraged to shop locally. It will be one of the busiest shopping days of the year and Calderdale Council is backing the government initiative. 
Small Business Saturday was first launched in the United States last year and created a whopping £3.5 billion in sales to small businesses. The UK's small businesses provide almost two thirds of private sector employment and almost half of private sector turnover.
 Keep it local this weekend by doing all or most of your shopping with independent small businesses. Why not buy your meat for the Sunday roast from your local butcher and vegetables from the greengrocer, go for a coffee with your friends at your local café, treat yourself and your family to a meal out at your local restaurant and buy your Christmas cards and gifts from your local independent shop or market! 
Calderdale Council's Cabinet Member for Economy and Environment, Cllr Barry Collins said:
"In Calderdale we're focussing attention on small businesses and our local markets. Markets are vitally important to residents and our economy. Not only do they provide unique products, they also provide a livelihood for many market traders who live in Calderdale and surrounding areas. Calderdale is also home to many successful small independent businesses so let's all shop locally and show our support." 
There's lots going on at your local market this weekend: 
Halifax – Saturday 7 December, local produce market
Sowerby Bridge – Saturday 7 December, evening local arts and craft market
Hebden Bridge – Sunday 8 December, local craft market
Ripponden – Sunday 8 December, special festive shopping Sunday from 10 am – 3pm, plus local community market and Santa's grotto, with carols and festive cheer
 In addition, regular markets will be open on Saturday 7 December 2013 at Halifax, Todmorden and Sowerby Bridge as well as a Christmas event at Southgate, Elland and a Victorian Christmas event at Warley Town School.
If you're a budding entrepreneur, the council is giving new small businesses the opportunity to get a taste of trading from just £7 for the day at Todmorden and Sowerby Bridge Markets. Anyone who can bring a unique craft to the markets or add a new and interesting commodity to the range of products already on offer is eligible to apply. This offer is limited to one pitch or stall per applicant (subject to availability) on Saturday 7 December 2013. If you're not a new Market trader or you have products to sell that are already available at our markets, you can still apply for a stall (general rental charges will apply from £11 to £14) by calling the Markets Service on 01422 393584.
The Small Business Saturday campaign can be supported and followed by liking the facebook page 'Small Business Saturday' and following @SmallBizSatUK on twitter. If you're a small business in Calderdale and you'd like to be included in the campaign, contact:
John Walker for Calderdale market tenants on telephone number (01422) 393584, email john.walker@calderdale.gov.uk or John Hodgson for all other businesses on (01422) 392235, email john.hodgson@calderdale.gov.uk
 For further information about your local markets and Small Business Saturday, visit www.calderdale.gov.uk/business/markets