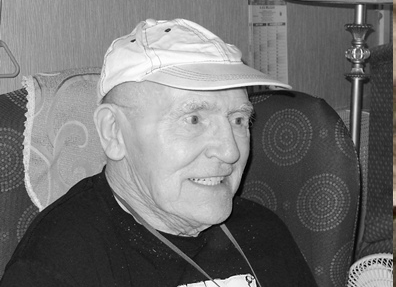 Press release from VAC
No-one was more surprised than Bill O'Neill to discover who his maternal grandfather was and, better still, to have a photograph of him as he had never seen him before.  There can be no denying, genes will out – Bill is the spitting image of his mother's father! 
Bill, who resides at Calderdale Council's Ferney Lee Care Home in Todmorden, has been taking part in 'Molly and Bill', a pilot project to develop a programme of creative activities across six care settings in Calderdale. Molly and Bill is managed by VAC with funding from Calderdale Council, National Lottery and the Calderdale Clinical Commissioning Group.  
As part of the project, volunteer, Jan Bridget has been working with Bill and other residents to develop their family trees. Jan founded the Todmorden Family History Group in 2013 and both she and fellow volunteer Judith Quigley have helped many members search their family trees. She has been visiting Bill on a regular basis and researching his family history with him. Jan said of her visits:
"We haven't had much luck tracing his father's side yet, but on his mother's side we have found her birth in Donegal and she is also in the 1901 and 1911 census."
Through these records, Bill's maternal grandmother was discovered; she was called Friel before she married Bill's grandfather; this has meant Bill's great grandfather has been identified as well as his mother's grandmother was called Anne Hamilton.  His great grandad was a marine dealer.   
Jan has also been able to locate one of Bill's distant cousins who has done a lot of work on the family tree (and provided the photograph of Bill's grandfather) and she is hoping to be able to put them in touch with Bill. 
Working with another resident, Tom, Jan has so far been able to get back to his maternal great, grandmother and father and also found a photograph of his grandma!  It is thanks to other family members who have worked on their trees and made them available to access that the photographs have been uncovered. 
Liz North, Project Co-ordinator for the Molly and Bill Project, said:
"Jan's family history work with the residents at Ferney Lee is just one example of some of the amazing activities that volunteers and creative providers are delivering across the different settings to make a difference to the residents that live or are staying there." 
Calderdale Council's Cabinet Member for Adults, Health and Social Care, Cllr Bob Metcalfe, said: 
"Projects like Molly and Bill have a really positive impact on the health and wellbeing of individual residents. The work of volunteers like Jan makes a real difference and creates a happy environment in our care settings." 
Todmorden Family History group meets the first Wednesday of every month at Todmorden Library from 1-4 pm 
For more information about the Molly and Bill project Liz North, Project Co-ordinator can be contacted on 01422 348777.