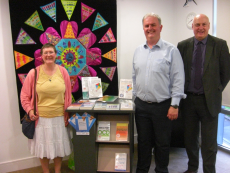 One in four people will suffer from a mental health problem at some point in their lives.
As part of Mental Health Awareness Week, King Cross Library near Halifax held a free 'Books on Prescription' event, on Thursday 15 May, from 7pm until 8pm, called Overcoming Anxiety and Depression.
At the event, award winning author Dr Chris Williams, Professor of Psychiatry and Honorary Consultant Psychiatrist at the University of Glasgow, spoke about practical ways to manage anxiety and depression, helping people feel better and cope more successfully with life. Dr Williams is the author of a number of books available through the Books on Prescription scheme.
Reading Well Books on Prescription is a national scheme which provides self-help books (expert endorsed and supported by the Department of Health) for a range of common mild/moderate mental health conditions such as depression, anxiety, anger and some eating disorders.
The Books on Prescription scheme comprises of 30 titles which are all based on Cognitive Behavioural Therapy (CBT). CBT is about finding out what keeps a person 'stuck' and how making changes in our thoughts and behaviours can lead to improvements in how we feel.
The King Cross event was a great success. As well as attracting a full to capacity crowd, practitioners from Calderdale IAPT (Improving Access to Psychological Therapies) and Insight Talking Therapies also came along to listen to Dr Williams. Both of these services provide help for people in Calderdale who are experiencing anxiety, depression and other similar difficulties.
One local resident, Carol Morley, came along and shared her own experiences with the audience. She said of the evening:
"The Overcoming Anxiety and Depression author talk was excellent, informative and really well-presented.  It was fun the way it was done"
Calderdale Council's Library Services Manager, Carole Knowles, said:
"The Books on Prescription scheme is another service that Calderdale libraries offer.
"The talk by Dr Williams at King Cross helped us spread the word about the scheme, as well as being informative and educational."
GPs and other health professionals can prescribe the self-help books which are available to borrow at no charge from Calderdale Libraries.  For more information about the scheme, visit http://www.booksonprescription.org.uk/(external link)