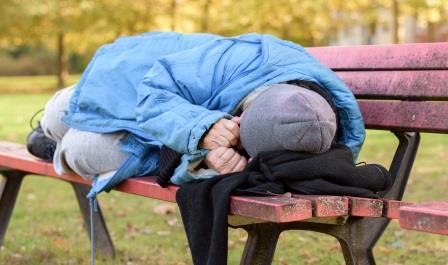 Calderdale Council's new three-year strategy to end rough sleeping, prevent homelessness and support people in need will be discussed at its Cabinet meeting on Monday 7 June.
The Council understands the impact that rough sleeping and homelessness can have on individuals, families and communities. It does all it can, working with local partner organisations, to offer people hope and a stronger future through support, advice and accommodation.
The Calderdale Homelessness and Rough Sleeping Strategy 2021 – 2024 builds on the continued work across the borough and aims to:
Prevent homelessness and rough sleeping.
Improve and expand the help available when people become homeless or are living a street-based lifestyle.
Continue to develop effective support for people to move on from homelessness or rough sleeping and rebuild their lives.
Cllr Scott Patient, Calderdale Council's Cabinet Member for Climate Change and Resilience, said:
"There can be many reasons why people sleep rough or become homeless. Everyone has their own story and the circumstances can be very complex and distressing.

"Teams across the Council and other organisations work extremely hard to help those affected, from providing access to safe and warm accommodation to supporting people to recover and rebuild their lives.

"We are committed to doing everything we can to end rough sleeping and homelessness, and to give everyone the opportunity to achieve their full potential through our Vision2024 for Calderdale. Our new Homelessness and Rough Sleeping Strategy will drive us closer to achieving this ambition over the next three years."
From 2016, the number of people rough sleeping in Calderdale started to increase, and there was a significant rise in the number of people street begging in Calderdale's larger towns in winter 2017/18.
To address this, the Council launched a dedicated service to support rough sleepers and people who were street begging to help them leave the streets; funded the extended opening of the Night Shelter operated by Christians Together Calderdale; launched a campaign to promote the help available for people with street-based lifestyles; and introduced extra support for people with multiple and complex needs and former rough sleepers who had moved into accommodation.
Support for rough sleepers and homeless people has continued throughout the pandemic. Between April and August 2020, the Council supported 128 rough sleepers and people at risk of sleeping rough into temporary accommodation. The Council secured a grant of over £800,000 from the Government's Next Steps Accommodation Programme in winter 2020 to provide long-term homes and support for some of Calderdale's most vulnerable residents.
To add to this, the new Homelessness and Rough Sleeping Strategy includes the planned development of an accommodation hub for people sleeping rough. Initial funding has been secured to run the multi-agency hub, which people could move into straight from rough sleeping and access on-site drug and alcohol recovery services.
Other key actions in the strategy include:
Developing a system for early identification of people, including young people, at risk of homelessness, and developing a housing pathway for people who have a history of rough sleeping or have complex needs.
Strengthening partnership working with other organisations and establishing a coordinated approach to working with homeless and potentially homeless people.
Strengthening landlord liaison work within homelessness services to prevent evictions and improve access to privately rented accommodation.
Securing funding to continue outreach services for people sleeping rough.
Ensuring that all homeless people in temporary, refuge or hub accommodation receive health and wellbeing assessments.
Establishing personal budgets for homeless people to facilitate a move into settled accommodation.
If you believe you are at risk of rough sleeping or homelessness, or are concerned about someone else, please visit www.calderdale.gov.uk/homeless
ENDS