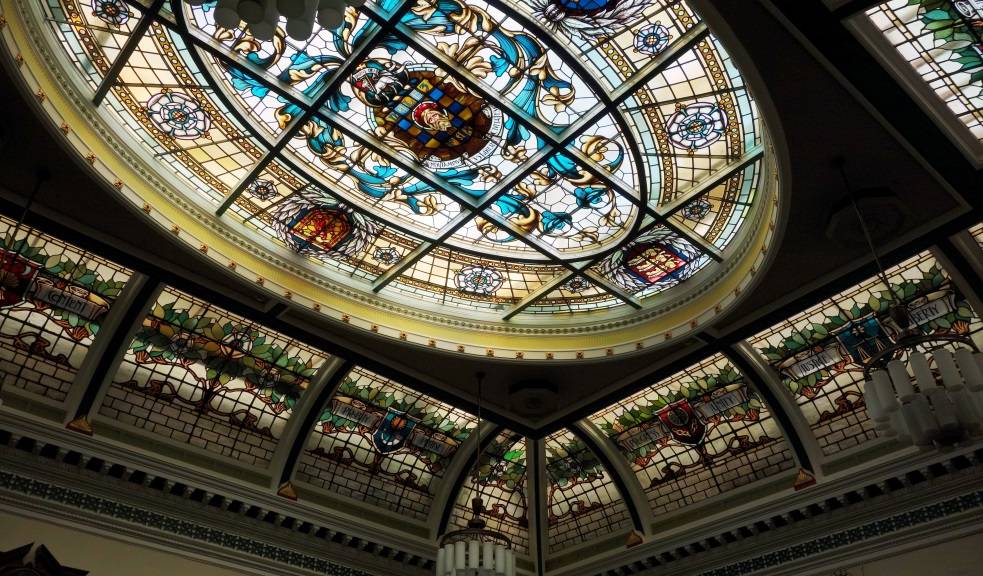 The ornate ceiling in Halifax Town Hall's Council chamber has been restored to its original splendour.  
Specialist repairs, intricate painting and thorough cleaning have conserved the stained glass and plasterwork in the ceiling for generations to come. Natural light is now pouring into the much-loved chamber, which houses many of Calderdale Council's key meetings.
Last year some of the ceiling's plasterwork started to crack and was at risk of becoming unstable, so the Council began repair works and installed scaffolding to allow access and keep the chamber up and running during the project.
When the project team looked closely at the glazed roof above the decorative plasterwork and stained glass ceiling, they found that it was damaged in several places, causing water to leak through and crack the plaster.
New glazing and repairs to the outside of the building, including the walls and chimneys, have stopped the leaking, and the plasterwork has been fully checked and strengthened. 
The team also took the opportunity to inspect, repair and clean the splendid stained glass ceiling, removing 50 to 100 years' worth of dirt and allowing significantly more natural light into the chamber.
Calderdale Council's Director of Economy and Environment, Ian Gray, said:
"The Council and contractor teams have done a marvellous job and the chamber ceiling looks fantastic. It's a real gem, and thanks to the essential repairs and valuable restoration, the historic design of the chamber has been preserved for many years to come. We can also save on lighting costs now that the chamber is a lot brighter."
The work was highly specialised, and the Council worked with three contractors to carry out different parts of the project.
With over 140 years' experience of historical restoration, Hodkin & Jones repaired the plasterwork using plaster of Paris and hessian – a technique that has been used for hundreds of years.
Martin Johnson Glass, a company experienced in stained glass conservation, carried out the repairs to the damaged stained glass. This involved workers delicately painting sections by hand and doing most of the cleaning lying on their fronts on special scaffolding.
Local family-run Haven Building & Maintenance replaced the glazed roof, carried out the external repairs and installed the scaffolding. The scaffolding had to be altered three times to ensure a safe working platform for the different specialist trades.
For information about the history of Halifax Town Hall, visit From Weaver to Web – online visual archive of Calderdale history.