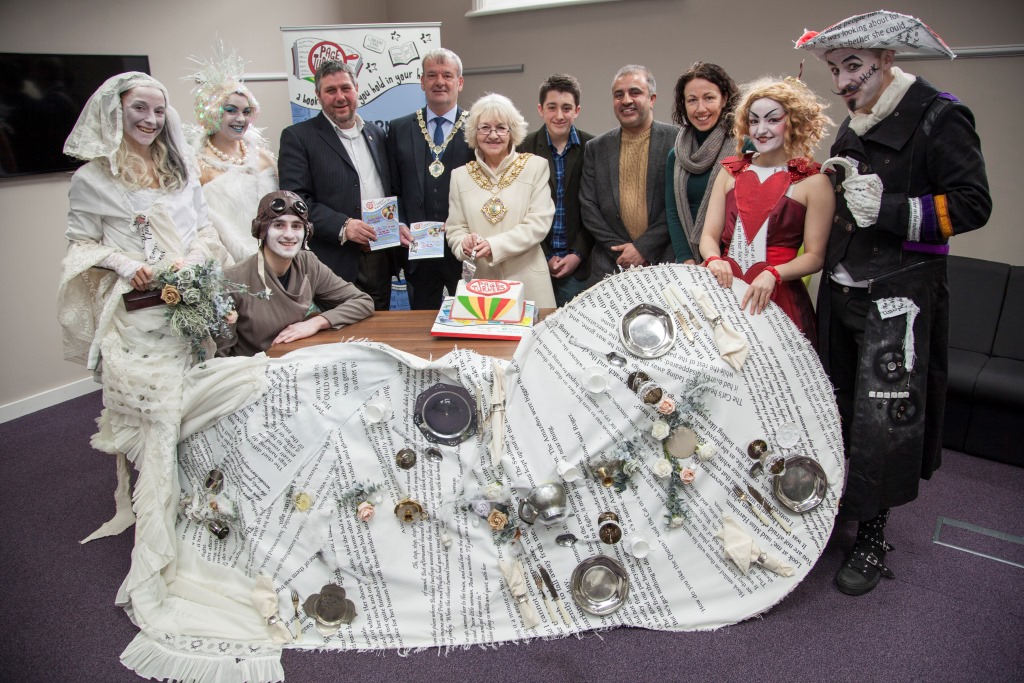 The Pageturners Children's Reading Festival will live long in the minds of those who attended events like the fantastically colourful launch and the thrilling finale. 
The Festival launch saw Miss Haversham from Charles Dickens' Great Expectations and Hans Christian Anderson's Snow Queen descend on Huddersfield Railway Station, much to the bemusement of rail travellers. The launch was attended by the Mayor of Calderdale, Cllr Pat Allen and her Consort Robert Weeks, who saw performances by Highly Sprung Off the Page Theatre Group dressed as various book characters,  followed by a writing workshop run by authors Henrietta Bond and Martin Rothery. 
Schools were heavily involved in the Festival. Author Kate Pankhurst brought her Ghostly Guinea Pigs to Warley Road Primary School and Penny Dolan, Hilary Robinson and Chris Mould and Gez Walsh visited a number of Calderdale schools throughout the week. Schools also took part in a World Book Day Quiz on the Friday where teams of primary school children were tested on their knowledge of children's books past and present. 
The Festival's Grand Finale took place on Saturday 14 March at the University of Huddersfield, where families had the chance to meet some of the best authors, illustrators, poets and story tellers in the country. Nick Sharratt headlined the event and led a fantastic draw along event. Families with little ones heard Susanna Meese weave thrilling tales on her story wheel and sing songs and rhymes with Calderdale's very own Early Years Librarian Ben Lawrence. There were also stalls with displays from Imagination Gaming and Crafty Praxis. 
Calderdale Council's Cabinet Member for Communities, Cllr Marcus Thompson, said: 
"The Pageturners Festival was a great success and I've heard so many good things about the events that took place. 

"It's so exciting for young people to meet their favourite authors, inspiring a love of reading. Some may even be encouraged to write their own stories or become illustrators themselves! 

"I'm sure that the Pageturners Festival will go from strength to strength, and children will already be looking forward to the events next year!" 
Pageturners was jointly organised by Calderdale's Discover Children's Library Service and Kirklees Children's Library Service. 
For more information visit http://www.pageturnersfestival.co.uk/(external link)