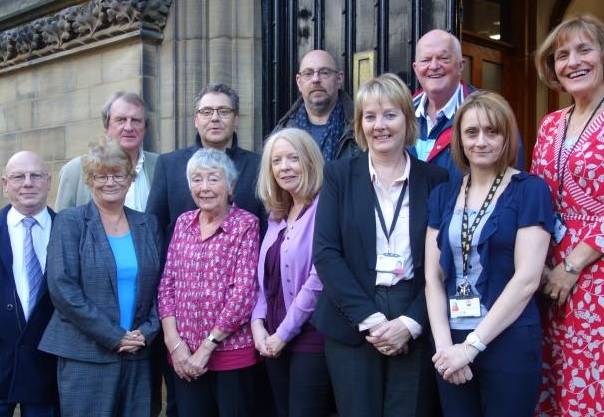 A Grade II listed building in Halifax has been given a new lease of life as a state-of-the-art centre for learning for children and adults.  
The impressive Heath Campus, in the Skircoat area, is now fully occupied after undergoing a £3.5 million makeover funded by a range of organisations.  
The building, which is owned by the Heath Trust, has been transformed inside into a modern, first-class learning facility. The tenants are Savile Park Primary School, Calderdale Music Trust and the Council-run Calderdale Adult Learning, Discover Library Service for schools and Specialist Inclusion Service.  
Plans for the refurbishment started in summer 2014, and funding from Calderdale Council, the Heath Trust and external grants made it possible.  
Calderdale Adult Learning moved to Heath Campus from Horton Street in Halifax and Brighouse Adult Learning Centre in September 2015. Bigger classrooms, even better facilities and more courses are just some of the benefits for adult learners. Classes are also available at Brighouse Library. Learn a new skill, widen your career options or start a new hobby by visiting www.calderdale.gov.uk/adultlearning 
Savile Park Primary School is an outstanding (Ofsted 2013) primary school which offers first class education for the local community. The school is housed over two sites: one at Moorfield Street for children from 4 to 11, and the newly developed Savile Park at Heath site, which is taking children in Year 1 and Reception in 2015 – 2016, growing year on year after that. The expansion was part of the Council's plans to address growing demand for primary school places in Calderdale. 
Savile Park at Heath has seven large, airy classrooms, a magnificent hall, a studio, meeting rooms, outdoor classrooms and a training room which is available for hire to educational organisations. The environment helps to fulfil the school's aim of 'nurturing a love for learning, life and one another'. 
Calderdale Music Trust offers a wide range of musical activities including one-to one and small group instrumental tuition in all specialisms, ensemble rehearsals and a variety of musical workshops. The facilities at Heath Campus include teaching and rehearsal rooms and a workshop for the maintenance of instruments. 
The Discover Library Service at Heath is expected to open in February 2016. It covers the Children's Public Library Service – which provides resources and activities for young people in all Calderdale libraries, including Bookstart – and the Schools Library and Resource Service, which lends schools a range of high-quality books to support the curriculum; fiction for reading for pleasure; and a wide range of artefacts to use in the classroom.  
The Specialist Inclusion Service is expected to open in early 2016 to provide a range of resources for schools and other places that support children and young people with disabilities including hearing, vision and multi-sensory impairments, and Autistic Spectrum Disorders.  
Before the new tenants arrived, Heath Campus was used as a training and development centre for hire, and offices for Calderdale Council staff. Tenants will soon be once again promoting their rooms for hire by local groups when they are not in use. 
The building was originally home to Heath Grammar School, from 1585 to 1985. The renovation work was sensitive to the building's listed status and incorporates some of the wonderful original features, like the wood-panelled walls. 
Cllr Megan Swift, Calderdale Council's Cabinet Member for Children and Young People's Services, said: 
"We invested in Heath Campus to help create a brand new, top-quality facility for a range of ages. It's a great learning environment and continues Heath's long history of education. Feedback from learners has been really positive." 
Paul Beevers, Chair of the Heath Trust, said: 
"I'm delighted that Heath Campus is now up and running. It's an excellent facility in the community, bringing exciting new learning opportunities for local people. It's wonderful to see this historic building being used to its full potential." 
For more information visit the Heath Campus web page.