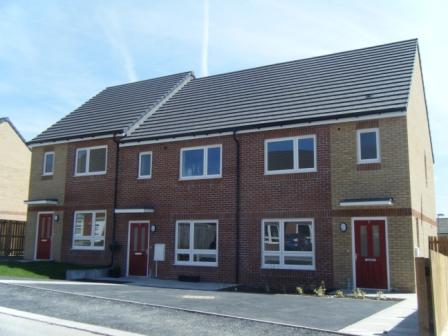 Getting a foot on the property ladder can be difficult, but Calderdale Council is working hard to boost the level of affordable housing in the borough.
 Working together with the Homes and Communities Agency, and Registered Provider partners (social housing providers), Calderdale saw a record 195 new affordable homes completed last year, almost double the previous year's total, despite the current challenging housing climate.
 Calderdale has benefitted from £25 million worth of investment, creating and protecting over 280 jobs in the housing industry. This included £9 million of grant funding from the Homes and Communities Agency, as well as Council funding to deliver the final phase of the regeneration of the Dudley's estate in Illingworth, north Halifax.
 Demand for affordable housing continues to exceed supply. There are around 4,500 active bidders with Keychoice – Calderdale's choice based lettings system, compared with around 1,300 social housing properties which become available for letting each year. The Council is working to address this shortfall, and continuing to supply affordable housing remains a Cabinet priority.
 Calderdale Council's Cabinet Member for Economy and Environment, Cllr Barry Collins, said:
 "I'm delighted to see the completion of such high quality affordable homes and investment in the borough.

 "This is fantastic news for Calderdale residents, and will mean a significant increase in the amount and choice of affordable housing on offer."
 A further £12 million worth of building work is already underway within Calderdale, with an additional 93 new affordable homes in Todmorden, Illingworth, Halifax, Ovenden and Sowerby Bridge due for completion this year.
 Calderdale is committed to working with the key housing partners, Registered Providers and developers to ensure that affordable homes continue to be delivered in the future.