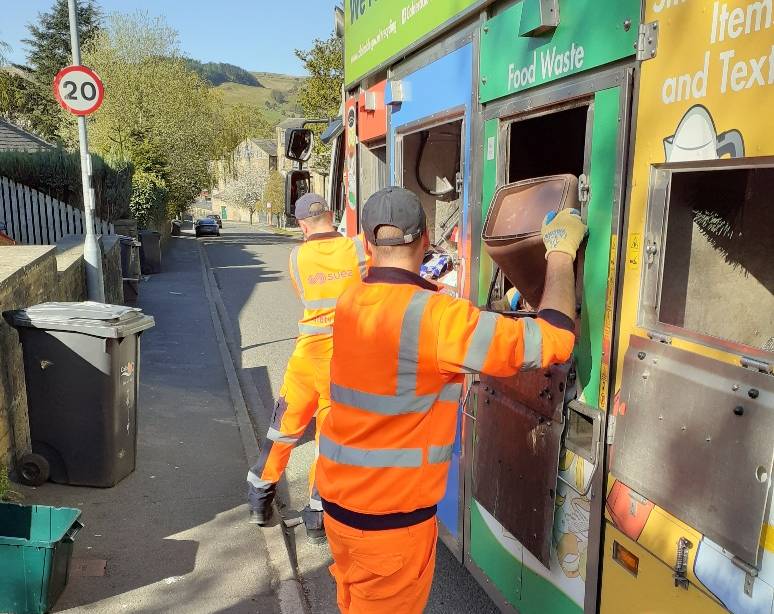 Calderdale Council's waste and recycling service has seen its busiest year ever, with the amount of waste collected at kerbside breaking previous records.
The last 12 months have been challenging for everyone and like other organisations, Calderdale Council has been working hard to deal with the varying impacts of the COVID pandemic – keeping residents as safe as possible and services running as smoothly as possible.
For the Council's waste and recycling service, in partnership with SUEZ recycling and recovery UK (SUEZ), this has involved a variety of challenges, including putting in place measures for staff to safely collect waste; managing any staff shortages due to illness or shielding requirements; handling 141,000 weekly collections across Calderdale and working extra hours to manage the huge increase in the amount of waste and recycling being collected. Further issues arose with streets becoming inaccessible to the collection vehicles due to the number of cars parked with so many residents working from home or on furlough.
Since April 2020 the service has collected over 20,000 tonnes of recycling, this has included:
Almost 6,000 tonnes of glass
Over 5,000 tonnes of food waste
4,700 tonnes of paper and cardboard
2,700 tonnes of cans and plastic
1,400 tonnes of garden waste
300 tonnes of mixed recycling from flats
The start of 2021 brought additional challenges for the service due to a prolonged spell of ice and heavy snow, meaning the service had to be suspended on two days for the first time in three years. SUEZ brought extra vehicles in to deal with the missed collections and the usual increase in the volume of material presented for collection after Christmas. As a result, the crews managed to collect a staggering 2000 tonnes of recycling in January alone.
When restrictions allowed, Household Waste and Recycling Centres (HWRC) have continued to operate, with additional safety measures in place. Brighouse and Halifax were the first to reopen, in May 2020, soon followed by Todmorden and lastly Elland and Sowerby Bridge. The sites have recently been inspected by the Health and Safety Executive and have been praised for their safe work practices.
Calderdale Council's Cabinet Member for Public Services and Communities, Cllr Jenny Lynn, said:
"Council staff and SUEZ teams have put in an amazing effort to maintain waste and recycling collections and manage our HWRC sites over the past 12 months. They had to quickly adapt to COVID measures last March and have since dealt with a huge increase in materials for collection due to residents spending more time at home.

"I'd also like to thank residents for their patience during particularly challenging periods and their extra efforts to keep crews working on the front line safe. I know staff have been very grateful for the kind messages and drawings displayed in windows and on recycling containers.

"As always, residents have also done a brilliant job to support and maintain our high recycling rate, helping divert waste away from landfill sites. The borough consistently outperforms other areas regionally and nationally for recycling and this contributes to the great joint work being done locally to address the climate emergency."
Nick Browning, General Manager, from SUEZ said:
"It has certainly been an exceptional twelve months as we have had to respond to such a wide variety of challenges that were completely outside of our control. Working in close partnership with the council, we have flexed and adapted our processes in order to ensure we kept everyone safe and essential services running.

"Our crews have risen time and again to the challenges and have been heartened by the appreciation shown to them by residents. We in turn would like to take this opportunity to thank residents for their patience and understanding throughout this period." 
For all the latest guidance and information about waste collections visit https://www.calderdale.gov.uk/v2/coronavirus/service-updates#waste(external link)
ENDS