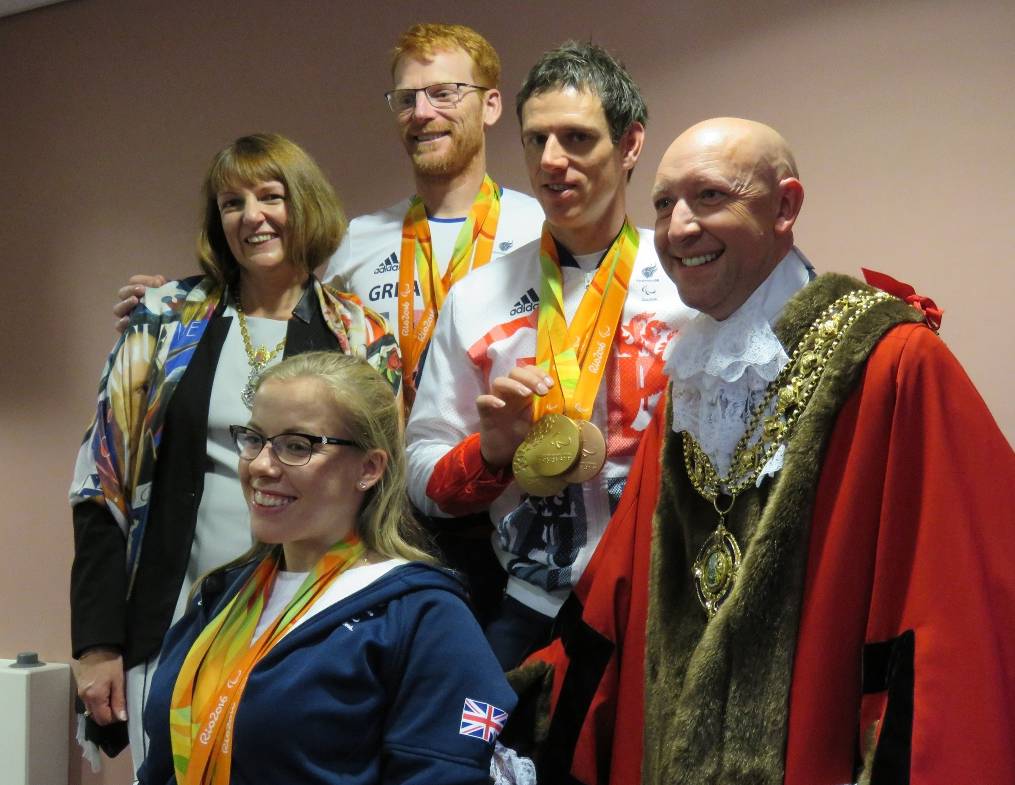 Calderdale's sporting heroes will be attending Yorkshire's Olympic and Paralympic homecoming event at the Leeds first direct arena on Sunday 10 October.
Olympians and Paralympians will take to the stage to talk about their achievements in an event hosted by 2016 Olympic medallist Nile Wilson and sports broadcaster Tanya Arnold.
Athletes attending include Calderdale's Hannah Cockroft MBE, Steve Bates and Adam Duggleby, as well as athletes from across the Yorkshire region including Jess Learmonth, Jonny Brownlee, Georgia Taylor-Brown and Jack Laugher MBE among many others. The fantastic achievements of local Calderdale athletes, Harry Brown and Megan Shackleton will also be celebrated at the event, although they're unable to attend due to other commitments.
Tickets are on sale now for just £5 per ticket which includes a donation to charity SportsAid, an organisation that has supported so many of the Yorkshire athletes. The event will include live entertainment including headline Yorkshire act, The Skylights, along with Phoenix Dance, Yorkshire Prose live poetry and others. Tickets have been priced as affordably as possible to give thousands of people the chance to be part of this historic event to celebrate our county's athletes under one roof, together.
In addition to the public tickets, Calderdale's free tickets are being distributed to individuals who have supported the athletes and also those that have made a significant contribution to supporting Calderdale residents to lead active lives as part of our Active Calderdale mission.
The Leader of Calderdale Council, Cllr Tim Swift, said:
"It's wonderful that we're able to celebrate our Yorkshire-based athletes who did the county and country proud at the Tokyo Olympics and Paralympics. I'm delighted that inspirational athletes from the Calderdale area will be attending, as well as some of the local people who helped them achieve their dreams.

"Our Olympians and Paralympians may not have had crowds in Tokyo, due to the pandemic, but we're sure to give them an incredible Yorkshire reception to welcome them home."
Calderdale's Hannah Cockroft MBE, seven times Paralympic champion, said:
"I feel so lucky to be a Yorkshire athlete as we always get the best support and the best welcome homes! It was difficult being out in Tokyo without any of our family and friends, so to be able to come home and have the celebration we missed whilst out there is so exciting.

"We had a lot of Calderdale representation out in Japan, and in the past, we have been welcomed home to the Piece Hall and the Shay and it has always been an incredible turn out, so to even begin thinking about filling the First Direct Arena is crazy. Massive thank you to everyone who watches and supports what we do, we can't wait to be there with you!"
Channel 4, who have just opened their new National HQ in Leeds, is backing the event – which will take place from 3-5pm – as headline partner. Sinead Rocks, Channel 4 MD Nations and Regions, said:
"Channel 4 is delighted to join the celebrations welcoming back Yorkshire's athletes from the Tokyo 2020 Paralympic and Olympic Games. Having just opened our new national HQ at the Majestic in Leeds, we're thrilled to be able to join the party giving our athletes a rousing welcome home."
Tickets are £5 plus booking fee and can be purchased via the arena. For more information, visit www.firstdirectarena.com(external link)