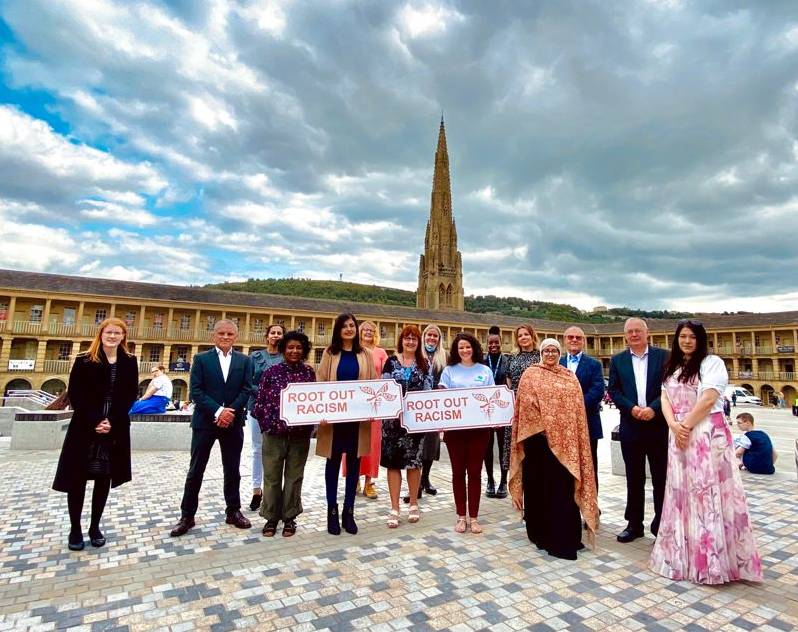 Calderdale Council is one of nearly 500 organisations to join the Root Out Racism movement being launched by West Yorkshire and Harrogate Health and Care Partnership (WY&H HCP) and the West Yorkshire Violence Reduction Unit (VRU).
Kindness and togetherness are just some of the things that make Calderdale special. Since launching the Vision2024 for Calderdale over two years ago, the Council has stepped up its work to tackle inequality. The Vision aims to realise the potential to make the borough's five key qualities (enterprising, talented, kind, resilient and distinctive) mean something for all communities, regardless of who they are.
To emphasise its commitment to equality, diversity, inclusion and the regional anti-racism movement, the Council has announced today (Friday 20 August) that it will launch a new mentoring scheme for its staff, to share the perspectives and challenges of diverse individuals and to hear from often unheard voices.
'Reciprocal mentoring' will help to increase the Council's commitment to recruit, train and promote talented people from under-represented groups, and specifically Black, Asian and Minority Ethnic (BAME) colleagues. The aim is to develop trust and enable honest conversations, to increase the Council's understanding of the challenges colleagues face within and outside the workplace, and to provide access to professional networks.
The new mentoring scheme is the latest step forward in the Council's work to provide an inclusive place to live and work. The Council is also launching a film including interviews with organisations across Calderdale which have signed up to the anti-racism movement, showing the borough-wide commitment to equality.
The Council's other action includes creating the BAME Network; launching the Inclusion Plan; teaming up with the voluntary and community sector to become a Valley of Sanctuary; improving access to skills and jobs; and helping to address health inequalities by supporting BAME communities to be more active and building resilience in response to COVID-19.
Co-created by over 100 WY&H HCP ethnic minority colleagues to proactively challenge racism across all aspects of society, the West Yorkshire Root Out Racism movement is part of an ongoing commitment to tackle structural and institutionalised racism, as well as addressing health and social inequalities across the area.
Calderdale Council and a range of other organisations across the borough join other supporters including the NHS, West Yorkshire Police, housing associations, the voluntary and community sector, Yorkshire Sports Foundation and Halifax Panthers Rugby League club, to name a few.
The Root Out Racism movement, a recommendation from the WY&H HCP review(external link) in October 2020 into the impact of COVID-19 on health inequalities, spotlights the experiences of ethnic minority staff and allies from across WY&H HCP and illustrates their views and experiences of racism. Imagery from the campaign will be displayed outdoors and on buses, as well as across social media with the hashtag #WYHRootOutRacism.
Comments include:
"Racism started before I was even born. It's always been there, having to work twice as hard, always working harder to be seen, to feel visible; not as valued as your White colleagues and that just became a standard."
"I'm getting way more stares, people looking at you just because of your skin tone. I'm being faced with racism from kids who are 5-6 years old. Of all the racism I've encountered, that's probably the most shocking, the racism coming from kids."

"Stereotypes, assumptions that are made about me as a Black man, professionally or socially. Simple things like when I go on a bus, being the last person to be sat next to, or when the cashier puts the change into people's hands but when it comes to you, she puts it on the counter."
Cllr Tim Swift, Calderdale Council's Leader, said:
"Calderdale has a long history of being a safe and welcoming area. We are proud of our diverse and vibrant communities and oppose any discrimination or racially motivated activity. That's why we're backing the West Yorkshire Root Out Racism movement and making our own pledge to become a more inclusive employer.
"Positive steps are being taken across the borough and the region to tackle adversity, but we know more can be done. Through the anti-racism movement, we will hear the stories of people living in West Yorkshire who have sadly experienced racism first-hand. Through our new mentoring scheme, we will have open and honest conversations to understand the challenges people face, and we remain committed to addressing under-representation in our workforce and communities."
Alison Lowe, West Yorkshire's Deputy Mayor for Policing and Crime, and the joint national APCC Lead for Race Disparity said:
"The support generated across West Yorkshire for this anti-racism movement represents yet another step toward meaningful and real change. As a Black woman, I can tell you that I have been on the receiving end of racism over the years, which has left me feeling scared and disengaged from society. This unified approach to rejecting such behaviours and practices, however, means that we are pushing open the door yet another notch, confronting the negative stereotypes and perceptions that exist."
Rob Webster (CBE), CEO Lead for WY&H HCP said:
"To change people's behaviours, we must change people's minds. This movement aims to make people stop and think, to try to better understand what is going on beneath the surface for people, and in response, act on these feelings to make a real change in their community. This movement is part of a range of interventions and builds on our awarding winning system leadership work and fellowship programmes. We can all make a difference and eliminate racism from our places of work, community spaces and homes. Together we can root out racism."
You can register to join the movement at http://ow.ly/lWB250FBmYt(external link). To find out more, including how to access the free resources, visit  https://www.wyhpartnership.co.uk/rootoutracism(external link) or follow us on twitter at WYHRootOutRacism