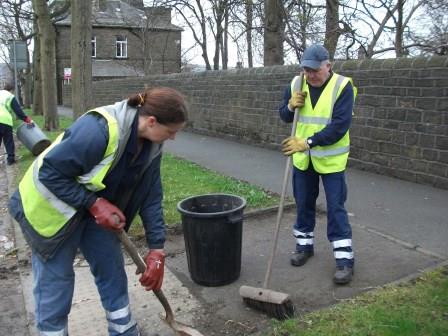 Autumn is definitely in the air, and with bonfire night just around the corner, Calderdale Council is working alongside the West Yorkshire Fire Service to make the borough a clean and safe place to enjoy.
The Council and partner agencies are preparing for the Big Tidy Up, which will start on Monday 2 November. Staff teams will take to areas in and around Halifax and the Lower and Upper Valley, aiming to target spots in need of a clean up, or areas of debris identified by the Fire Service as being a potential fire risk.
Staff will target sites that are owned and managed by Calderdale Council, ensuring the borough looks its best. If it is privately owned land, then Environmental Health teams will take steps to encourage the land owner to clean up or face the possibility of enforcement action.  
Teams will be working all week, but community groups and volunteers are welcome to help out with the clean up at a number of sites on Monday 2 November. Equipment and bags will be provided, and the Council will help with the removal of anything collected at the end of the day. 
Volunteers will need to dress for the occasion. Strong, comfortable boots or shoes will be needed and perhaps warm, waterproof clothing and headgear. Gloves are essential if litter picking by hand.  
The targeted Big Tidy Ups will be starting at 9am in each area, and will take place as follows: 
Lower Valley – Monday 2 November
Rastrick– Targeting the area around Gooder Lane down to Bramston Street and into the Oaklands Estate. Meeting at 9am at the Globe Public House, Rastrick Common.  
Halifax North & East and Halifax Central – Monday 2 November
Ovenden – Meeting with the Halifax Central Team at North Bridge Leisure Centre at 9am and targeting Old Lane from North Bridge through to Keighley Road. This area has been the target for substantial amounts of flytipping and the Council is working with private land owners to take responsibility for cleaning up their sites.
Upper Valley– Monday 2 November
Ryburn – Working with Pennine Housing 2000 and the Beechwood Tenants and Residents Association meeting at the Pennine Housing Garage Site off Whiteley Avenue at 9am. The clean up will target all the connecting roads and footpaths throughout the estate from Bates Avenue through to Priestley Place.
Calderdale Council's Cabinet Member for Communities, Cllr Steve Sweeney, said:
"Council teams work hard all year round to keep areas looking as clean and tidy as possible, but sometimes it helps to have a targeted effort at sites that are in need of a little more TLC.

"It's also a particularly important time of year to focus our clean up efforts, and by working with West Yorkshire Fire Service we can try and prevent any identified fire risks becoming a problem around bonfire night." 
Toby May, District Prevention Manager for Calderdale, said:
 "Any accumulation of discarded rubbish or fly-tipping can become a target for arsonists, especially at this time of year. We would urge people to do a quick spot check around their premises or businesses to tidy-up any refuse ahead of the Bonfire period. Likewise make sure any big refuse containers or skips are emptied and if possible ensure they are not accessible and not stored against a building.

"We fully support the Big Tidy Up event and urge volunteers to get involved. We wish everyone a safe and enjoyable bonfire period."
For more information and times, or for groups/and or businesses that would like to be involved and carry out their own local clean up, please contact samantha.ward@calderdale.gov.uk for advice and assistance.