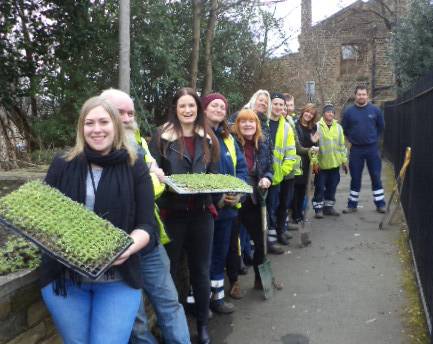 Hundreds of colourful wild flowers will be springing up across Calderdale thanks to a project to inspire people to transform their communities by sowing seeds.
Calderdale Council is giving away free native wild flower seeds for people to plant at home and in their local area. A massive 40kg of seeds – enough to sow half a full-sized football pitch – have been collected so far. There are plenty more available – head down to the Jungle Experience in Manor Heath Park, Halifax.
The aim is to add even more colour and beauty to Calderdale; revamp flood-affected areas; help people learn more about nature; boost local wildlife; protect the environment and save money – for example, more wild flowers means there isn't the need to use fuel-powered mowers as often, cutting down on emissions and saving money.
There are lots of wild flowers that are native to the UK but 97% of wild flower meadows have been lost since the 1930s. This not only affects our beautiful green spaces, but also impacts on populations of butterflies, bees, pollinating bugs and birds.
The Council's new sowing scheme to tackle this feeds into the national 'Grow Wild' campaign by the Royal Botanic Gardens, Kew, which is supported by the Big Lottery Fund and aims to bring people together to transform local spaces by planting native species like poppies, marigolds, buttercups and daisies.
The seeds that the Council is giving away were harvested by apprentices in the Council's Safer, Cleaner, Greener team last year as part of one of their learning projects. If the seeds had been paid for they would be worth over £1,200.
As well as members of the public, schools, youth clubs and community groups have been collecting the seeds to grow in various places, and the Council is making sure that parks and grass verges will benefit too – especially in areas that have become overgrown or unused.
The Boxing Day floods destroyed many flower beds across Calderdale. The Council is making use of the sediment that the floodwater left behind, as it provides good growing conditions for wild flowers.
Alongside the seed giveaway, the Council is holding free workshops to help people learn the basics of sowing and to tell them about the reasons for the project and how everyone can get involved in making Calderdale an even more colourful place. The next free workshop is on Tuesday 29 March at the MBi Shay Stadium, Halifax, from 8.30am to 12.30pm. Everyone is welcome.
Apprentices have also been busy with a project to transform a piece of overgrown land in Wellholme Park, Brighouse. With support from Incredible Edible, they are working to create a wild flower orchard with information boards, and to brighten up an old shipping container which local young people will be invited to paint with pictures of flowers and wildlife. A £500 grant from Grow Wild has helped to make this happen.
Cllr Steve Sweeney, Calderdale Council's Cabinet Member for Communities, said:
"This project will bring a real splash of colour into Calderdale for people to enjoy and connect with nature. And as more and more flowers start appearing throughout Calderdale, it's yet another sign that we're open for business and a vibrant place to visit."
Mid-April is the best time to sow seeds, when soil starts to warm up. Anyone can sow and grow wild flowers – it's quick, easy and fun. You don't need to be a gardener or have a garden – anything that holds soil, water and seeds can be transformed into a colourful display. 
To pick up your free seeds, head to the Jungle Experience at Manor Heath Park, Manor Heath Road, Halifax. It's open seven days a week from 10am to 4pm.
For more information about Grow Wild visit: www.growwilduk.com(external link)