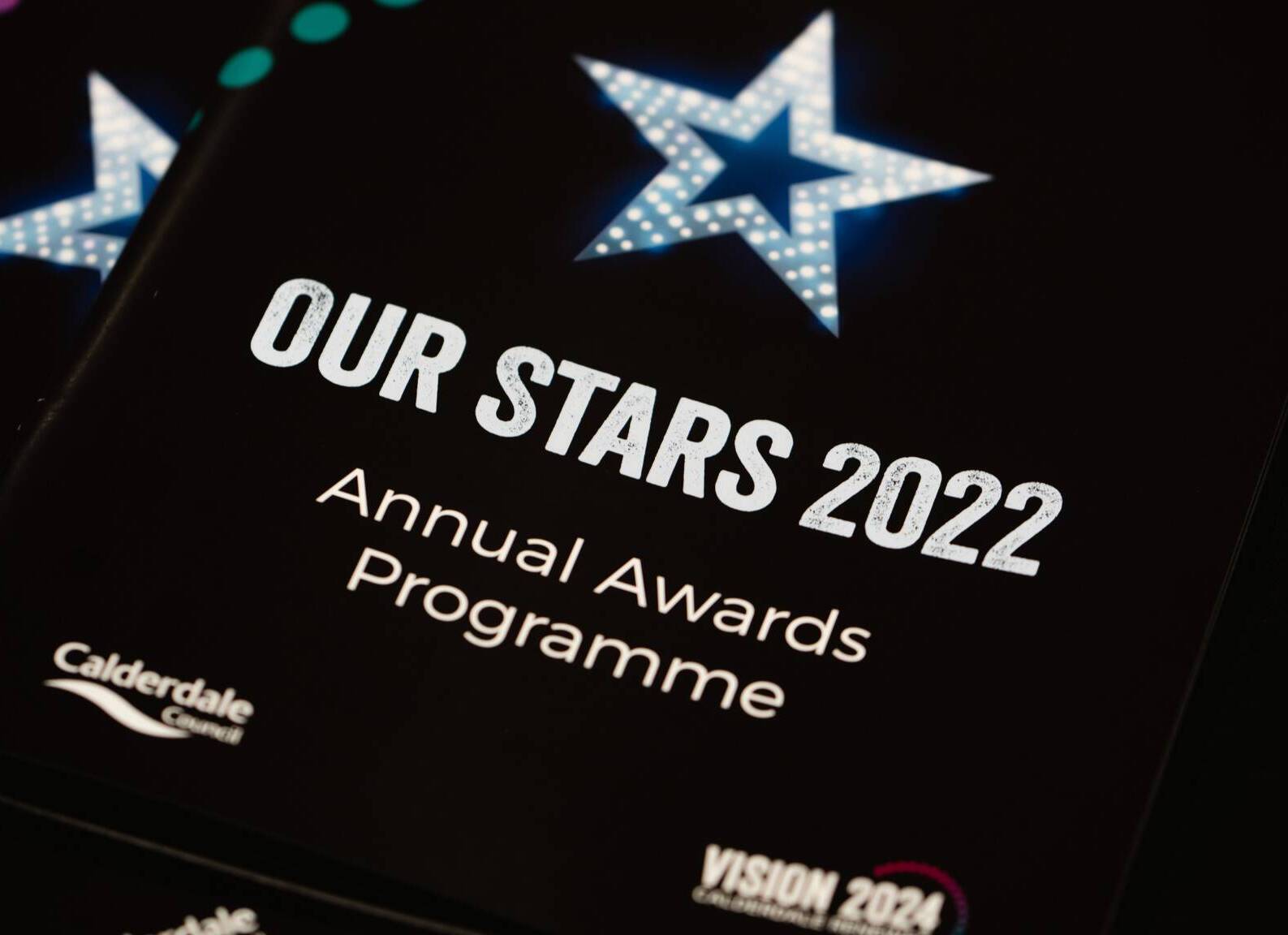 The hard work and dedication of Calderdale Council staff, volunteers and local partner organisations was celebrated at the annual Our Stars awards ceremony on Thursday 11 August.
The event, at the Shay Stadium in Halifax, was last held in 2019, offering an opportunity to celebrate staff achievements, talent, resilience and kindness for the first time since the COVID pandemic.
The award categories followed the Vision2024 themes of Distinctiveness; Kindness and Resilience; and Enterprising and Talented.
The event was attended by staff across the Council, with awards presented by senior leadership and councillors, including the Mayor of Calderdale, Cllr Angie Gallagher, who presented the Leadership Award.
A record number of nominations were received this year, from services across the Council. The entries were judged and shortlisted by a panel including the Council's senior leadership team and representatives from Human Resources and Organisational Development. The winners were selected by the Council's Chief Executive, Robin Tuddenham and the Leader of the Council, Cllr Tim Swift.
Unsurprisingly, the work carried out by services throughout the pandemic featured predominantly in the awards, with a large number of winners recognised for their contributions as part of the borough's response to COVID.
The Leader of the Council, Cllr Tim Swift, said:
"The Our Stars awards are about celebrating the achievements of Council employees and volunteers and highlighting the varied and vast amount of work that goes on each and every day to support the people and places of Calderdale.

"This is the first time we've been able to get together and host the awards since the COVID pandemic and I'm delighted we were finally able to recognise the incredible work that took place during the pandemic, with staff going above and beyond to deal with the unprecedented challenges faced by COVID. The stories of kindness and resilience demonstrated by so many were both heart-warming and inspirational.

"Choosing the winners was not an easy task, with a record number of nominations and an incredibly strong shortlist. Each entry reflected the hard work that goes in to demonstrating the values of the Council and the Vision for the borough."
The award winners are as follows:
Distinctive
Distinctive Borough Award
Winner – John Catanach, Technical Lead, Corporate Asset and Facilities Management
Calderdale's distinctive built environment is part of our heritage and what makes the borough unique. As the 'go to' person for building solutions, John is passionate about ensuring buildings are sustainable. He takes care to ensure that their heritage is protected whilst remaining functional for current and future generations. His work has included a number of high-profile refurbishment programmes, including Todmorden Town Hall and Halifax Borough Market, and he has also come up with innovative solutions to protect buildings and respond to the climate emergency.
Collaborative Working Award – sponsored by AHR Building Consultancy
Winner – Public Health, the Homelessness Service and Christians Together Calderdale
In response to the first national COVID lockdown, the Council's Homelessness Service and Public Health teams worked with Christian's Together Calderdale to extend the Winter Shelter beyond the end of March 2020, to bring all those who were homeless or rough sleeping off the streets. They created the Gathering Place Homelessness Hub, which brought support services under one roof, including drug and alcohol support and access to GP services, district nursing and mental health support for just over a year. The Hub helped many vulnerable to stay safe and to move onto more permanent accommodation, and its legacy is a brand new service showing how collaborative working can support those with multiple and complex needs.

Enterprising and Talented
Apprentice of the Year Award – sponsored by Calderdale College
Winner – Kimberley Wadsworth, Project Manager
Kimberley joined the Council's Major Projects team in 2018 as a Project Assistant. She successfully established herself within the team and her enormous ability to adapt, learn and apply new skills led to her being offered the opportunity to undertake an apprenticeship in Project Management and gain an Association for Project Management qualification. This enabled her to progress to Assistant Project Manager in 2020 and more recently she has been appointed to a Project Manager role. Kimberley is a shining example of the opportunities given to Calderdale Council employees to 'grow' and flourish in other roles.
Enterprising Award – sponsored by Lattitude7
Winner – Lennox Cadore – YOT sessional worker
Lennox has been a sessional worker for the Youth Justice Service for over 10 years. He has worked with hundreds of vulnerable young people and families across Calderdale. His patience, kindness and thoughtfulness underpin everything he does, including weekend and out of hours work. Lennox organised and facilitates the Youth Justice Allotment, where he supports young people to prepare and grow their own fruit and vegetables. Not only do young people learn new skills linked to horticulture, they gain confidence and support communities.

Climate Action Award
Winner – Mark Jennens, Carbon and Utilities Officer
Mark goes above and beyond every day. He drives the reduction of utilities usage in all Council buildings and has helped to deliver significant savings. He helped deliver energy improvement in 23 buildings; he has been the driving force in providing increased electrical supplies to support Electric Vehicle charging points; and is now the key technical person in the delivery of the £2.3 million public sector decarbonisation fund, supporting the reduction in carbon emissions across the Council's estate in response to the climate emergency.
Leadership Award
Winner – Tracey Proctor, Community Services Manager
Tracey works in the Council's Reablement Service, a community team of support assistants in Adults Social Care. One of the few face-to-face services still operating during the COVID lockdown, Tracey remained by her teams' side throughout the pandemic, working tirelessly to help them ensure that the most vulnerable adults in Calderdale remained safe. Her staff shared glowing endorsements of how she showed great leadership and ensured they felt reassured and supported at one of the most challenging times.
Kind and Resilient
Volunteer Team of the Year Award
Winner – Calderdale Countryside service 
Calderdale's Countryside Service is a volunteer group that helps manage the borough's distinctive public spaces and keeps them looking outstanding. They help the Council to manage over 70 sites, including 10 local nature reserves. Their ongoing efforts were particularly evident during COVID lockdowns when the countryside became a vital escape for people. Without all the work undertaken by volunteers over the previous years, Calderdale's natural landscapes would not have been able to cope with the massive increase in footfall at countryside sites.
Wellbeing Award – sponsored by Dean Clough Ltd
Winner – Julia Caldwell, Safeguarding Partnership Manager
Julia was nominated by her own staff who felt that she demonstrates exceptional kindness, compassion and consideration, with a strong focus on staff wellbeing. During the COVID lockdowns, Julia maintained wellbeing as a priority and has encouraged flexible working to fit in with staff having to adapt to additional personal demands brought about because of COVID, whilst keeping focused on workload demands and ensuring the service was not compromised. She has emphasised her availability to staff in times of need.
Excellence in Diversity and Inclusion Award – sponsored by Forbes Solicitors
Winner – Halifax Central Initiative – Janice Dawson, Waseem Hussain, Sarah Dyer, Shebana Sadiq, Jonny Cato, Mohamed Zameer Akhtar, Graham Gibbons
Leading the first COVID engagement hub at Queens Road, Halifax, the Halifax Central Initiative team co-ordinated and were part of the teams talking to residents and businesses most affected by the pandemic about how to be safe and follow COVID-secure measures. Their conversations with local people helped shape the local response to the pandemic, which led to reduced infection rates and increasing vaccination take-up in our most diverse and challenged communities. Their tireless kindness, energy and enthusiasm to do their best for communities continues.

Team of the Year Award – sponsored by Code Building Solutions
Winner – Adult Day Care Services
The day services team has shown great community spirit and resilience throughout the pandemic. Many staff were redeployed into the private care sector, covered outreach in people's homes or supported staff from their own homes, managing rotas and teams to ensure older people and adults with learning disabilities had the support they needed. This involved working with residents and staff with whom they were not familiar, but they integrated into the community and then returned to their usual roles with professionalism and determination.
Outstanding Act of Kindness Recognition Award – sponsored by YPO
13 nominations were received for this category, each illustrated how the nominee went above and beyond to show incredible kindness to others. It was too difficult to pick one winner, as all of the nominations were equally as amazing. Therefore, everyone who had been nominated for this award was recognised, with each congratulated on stage and receiving a certificate.
Winners:
Mick Hall, Community Safety Warden
Clement Court Care Team
Jane Holmes, Receptionist
Welfare Benefits Team
Ruth Mitchell and Yvonne Marshall – Shared Lives Officers
Heidi Wilson, Nicola Kyser-Forest, Sarah Goldthorpe, Carole Horner and Loretta Cooper – Housing Team
Reablement Team Leaders
Reablement Service
Personalised Long-Term Support Staff Teams
Danielle Wilson, Temporary Accommodation and Support Service Team Leader
Sam Pearson, Senior Highways Enforcement Officer
The Support In Mind Team
Ayesha Shakil, Social Worker
Vison 2024
COVID Hero Award
Two winners – Naomi Marquis, Health Improvement Specialist and Lynne Dignam, Vocational Instructor
During the pandemic, Naomi supported schools and other education settings to prevent and manage outbreaks of COVID-19 – a completely new role for her. She quickly developed new health protection skills, showing her amazing talent.
Naomi recognised that each school and its community is distinctive and worked with them to support their response to COVID in ways that worked for them – contributing to the borough having relatively fewer school outbreaks than other areas.
Lynne works in the café at Higgins Close, supporting adults with learning disabilities to develop kitchen and food preparation skills. When the pandemic hit and the day services closed, Lynne provided care and support in several Calderdale care homes that were experiencing staff shortages. She worked night and day shifts, sometimes at short notice and always with a 'happy to help' attitude.
Chief Executive's Award
Winner – Toni Kershaw, Customer Access Manager
Toni manages the Council's Customer First team and has been recognised for the work that she has done over many years to improve the customer experience at Calderdale, supporting and developing her team to achieve their very best.
As the first Council in the country to introduce a Live Chat facility for customers, Toni has travelled across the country, sharing her experience and insight with other organisations.
She also deals with the many challenges faced by the service. As the first point of contact for many customers, Toni's team responds to a vast array of issues and has been a key part of the Council's response to emergency situations, such as flooding.
In choosing the winner, the Council's Chief Executive, Robin Tuddenham spoke of Toni being the "embodiment of the very essence of the Council's values" and praised the way she has dealt with challenges with grit, humour and style, adapting and also being a pioneer in her field, looking for new and efficient ways to support residents.
Leader of the Council's Award
Winners – Mary Maguire, Team Leader, Transport services and Kate Richardson, Driver.
Mary and Kate work within the transport services team and have both had a crucial role in keeping people using the service safe throughout the pandemic. They were both recognised for the outstanding service they give to the young people of our borough and in gratitude for the way that they reacted to a sensitive situation.
Their continued efforts under immense pressure and the kindness they've demonstrated, encapsulate the spirit of Calderdale.
ENDS