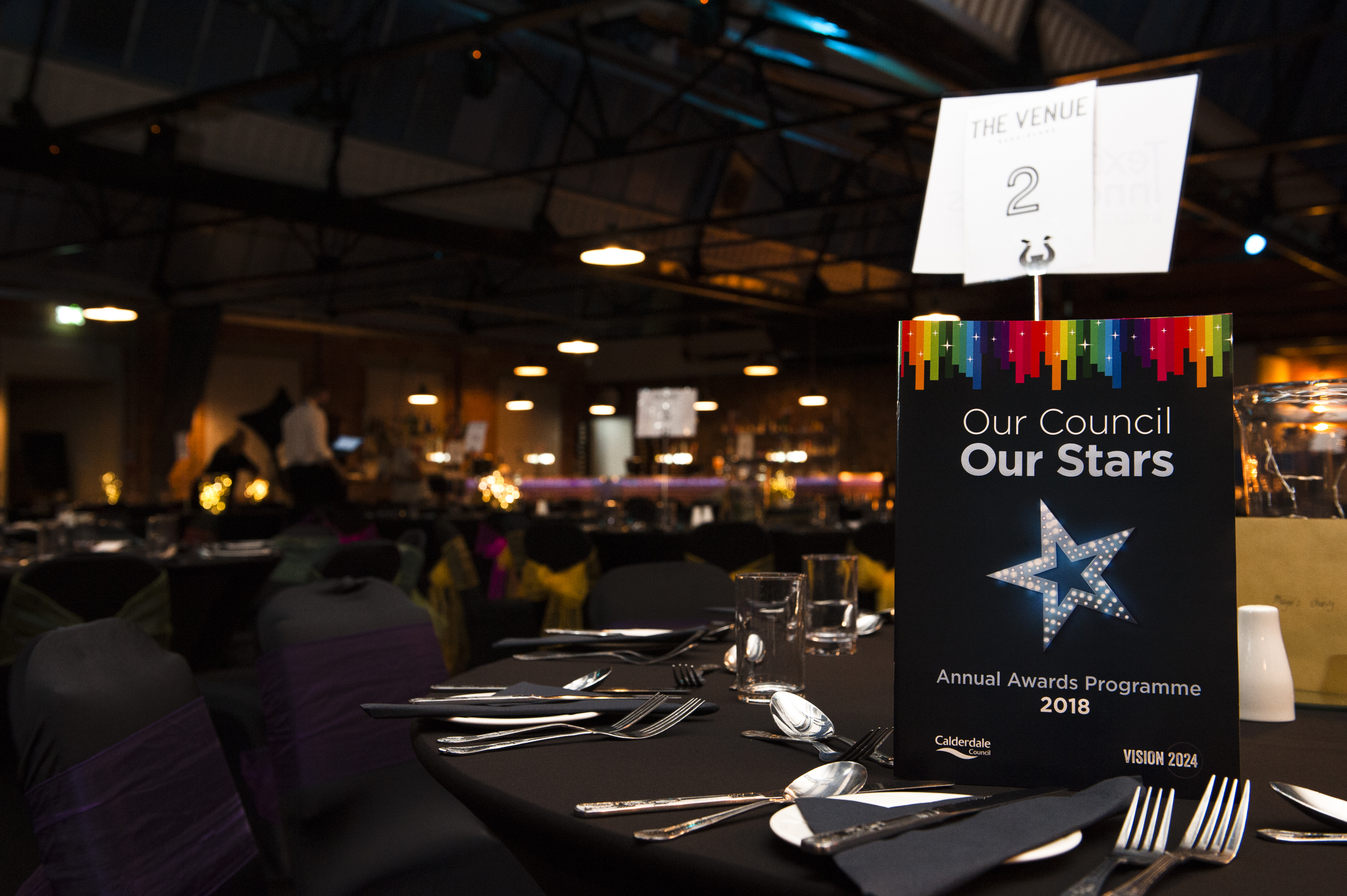 The hard work and dedication of Calderdale Council staff, volunteers and local organisations was celebrated at an awards ceremony on Thursday 8 November.
The Council held its annual Our Stars awards event at The Venue in Barkisland, to recognise the amazing efforts of Calderdale staff and partners over the last year.
The winners were picked by a panel including the Council's Chief Executive, Robin Tuddenham, Jackie Addison and Dale Hipperson from the HR and Organisational Development team, plus two volunteers from the Young People's service.
The Leader of Calderdale Council, Cllr Tim Swift, said:
"It's always wonderful to celebrate the hard work of our staff, partners and volunteers and we heard stories from really deserving winners.

"From those who'd really gone the extra mile, to stories of incredible fundraising achievements and potentially life-saving work, it truly was an uplifting evening that made me incredibly proud."
Customer Service Excellence (Sponsored by The Piece Hall) – Customer Access Team
Volunteer of the Year (Sponsored by Covea Insurance) – Early Intervention Independent Visitors
Leader of the Year (Sponsored by Lattitude7) – Health and Safety Manager, Martin Allingham
Partnership Award (Sponsored by AHR) – Business/Economy Team and Leeds Beckett University
Oustanding Act of Kindness – Customer Service Apprentice, Matthew Gavan; Anti-Social Behaviour Officer, Brian Parker and the Public Health Team (joint winners)
Employee of the Year (Sponsored by YPO) – Accreditation Project Officer, Leoni Cragie. Housing Enabling and Projects Manager, Stephanie Furness – Highly Commended
Rising Star (Sponsored by Calderdale College) – Trainee Procurement Officer, Paul Davis
Enterprising Employee of the Year (Sponsored by Textile Innovations) – Post 18 Development Officer SEND, Glenn Swindell
Creating a Better Environment (Sponsored by Dean Clough) – Environmental Project Officer, Sam Saxby
Chief Executive's Award (Sponsored by Rex Group) –Building Control Manager, Mike Terry
The Leader's Award (Sponsored by Turner and Townsend)– Safer, Cleaner, Greener Supervisor, Jonathan Todd
Team of the Year (Sponsored by Code) – Information Governance Team
Team of the Year – Information Governance Team
The Information Governance team has had an incredibly busy 12 months, with the introduction of General Data Protection Regulations (GDPR) requiring a great deal of time and expertise. The small team has ensured that the Council is GDPR compliant, protecting the data protection and privacy rights of Calderdale's residents.  The team also deal with Freedom of information requests and in 2017 alone responded to over 1300 requests!
Partnership Award – Business/Economy Team and Leeds Beckett University
The Leeds Beckett University Business Centre officially opened in Halifax town centre in September this year, providing support for new businesses with potential for growth, particularly in the digital field.
The Council's Business and Economy Team have worked closely with the University since the initial talks about the idea of bringing the centre to Halifax. This successful working relationship is continuing with the partnership developing new apprenticeship programmes in Calderdale, collaborating on research and helping to bring inward investment into Calderdale. 
Chief Executive's Award – Building Control Manager, Mike Terry Mike leads and manages the Building Control Service, which is responsible for enforcing Building Regulations, enforcing safety at sports grounds, dealing with dangerous buildings and structures, controlling demolition and sealing empty properties.
Mike is also the Council's lead for fire safety. Since the devastating Grenfell Tower disaster in London, Mike has been instrumental in the review of fire safety in buildings across the borough, maintaining high levels of safety for all staff, visitors and local people who use them.
Mike is always happy to offer advice and support colleagues across the Council and is a worthy winner of the special award chosen by the Chief Executive, Robin Tuddenham.
ENDS