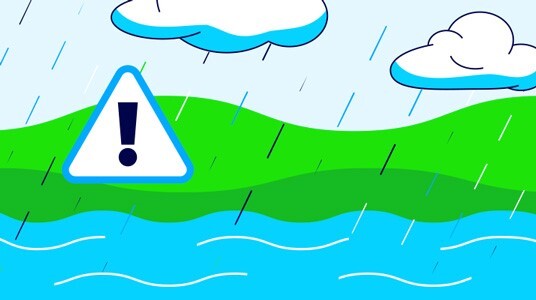 The Calderdale Flood Action Plan is six years old this October. To acknowledge this important milestone, Calderdale Council and its partners are reflecting on progress since 2016 as part of a resilience-themed social media takeover week.
The plan was created following the floods of Boxing Day 2015. It sets out the actions to support recovery from past floods, reduce the impact of flooding and build resilience for future events.
The plan is a 'living document' that is discussed, monitored and updated by the Calderdale Flood Programme Board. The programme board brings together a range of partners including Calderdale Council, the Environment Agency, Yorkshire Water, the Canal and River Trust, local flood groups, the voluntary sector and community groups.
Incredible progress has been made since the creation of the plan across the key themes of strengthening defences, natural flood management, resilient infrastructure, and community resilience.
Major accomplishments include the completion of the Mytholmroyd flood alleviation scheme, better protecting around 400 homes and businesses; the creation of hundreds of natural flood management measures in partnership with local groups; the relocation of vulnerable infrastructure, such as electricity substations; and ongoing support for local volunteer flood wardens.
The last 12 months have seen further actions completed, including:
The launch of the Climate Action Plan draft and consultation, outlining Calderdale's steps towards a zero-carbon future.
Redevelopment of the Eye on Calderdale website, to better support residents and businesses by providing comprehensive information about flooding, including real-time detail and access to flood warnings and alerts, as well as river level data.
The launch of additional rounds of the landowner grants scheme, supporting the installation of natural flood management measures.
Supporting countryside volunteers as part of the sphagnum moss project which aims to help protect and restore moorland by studying various methods of growing sphagnum moss.
The ongoing work to support flood resilience proved to be vital during the heavy rain associated with Storm Franklin early in 2022. Preparations were in place before the storm hit and flood defences and other resilience work held up well. Council teams, partner organisations, flood wardens and local residents showed their usual Calderdale kindness and community spirit, braving the bad weather and working around the clock to support each other, pass on vital information and respond to issues.
The anniversary of the Calderdale Flood Action plan is also being highlighted as part of a social media takeover week focusing on the Council's Vision2024 theme week of #resilience. From Monday 3 October, the Council will be sharing content around this theme and encouraging people and organisations to think about what makes Calderdale special and their ambitions for the area.
Each of the Vision's other key themes of distinctiveness, kindness, enterprise and talent will have its own social media 'takeover' week. Individuals and organisations are invited to support the content, comment and share their own messages and photos covering the themes.
Calderdale Council's Cabinet Member for Climate Change and Resilience, Cllr Scott Patient, said:
"We've come a long way since the creation of the Flood Action Plan in 2016 and a huge amount of progress has been made to help protect the borough from flooding and build resilience for future events.

"As we celebrate six years since the plan's creation, it's a good time to reflect on the hard work that's already taken place and look ahead to how we can continue to deal with the ongoing threat of flooding faced by many Calderdale communities.

"We're also celebrating the efforts of the Council, partners, community groups and volunteers by highlighting some of their valuable work as part of our #resilience social media takeover week. Follow our accounts for case studies on the incredible amount of work that goes on in the background by unsung heroes such as our amazing flood wardens and natural flood management groups." 
Jo Arnold, Calderdale Programme and Partnership Manager at the Environment Agency, said:
"A huge amount has been achieved already across the four themes since the Flood Action Plan was first published. Our partners and communities have worked brilliantly together to better protect the Calder Valley from the risk of flooding and we thank everyone for their endless efforts. 

"The continued work and dedication to deliver actions within the plan will ensure that flood-risk communities in Calderdale are more resilient and better prepared for future flooding incidents.

"However, climate change means that we can't always prevent or build our way out of an incident. There are simple steps people can do to prepare, such as check their flood risk online, sign up for flood warnings and prepare a flood plan."
To view the full Calderdale Flood Action plan, visit https://eyeoncalderdale.com/flood-action-plan/(external link). If you would like to make a suggestion or have an idea which you or your community think would support flood resilience in Calderdale please email CalderdaleFAS@environment-agency.gov.uk. It will then be discussed by the Calderdale Flood Programme Board.
Protecting communities from the effects of climate change and building strong and resilient communities is a key part of the Council's Vision2024 for Calderdale. Find out more about the Resilience Vision theme by following #VisionCdale2024 and #resilience on social media from Monday 3 October 2022.
ENDS