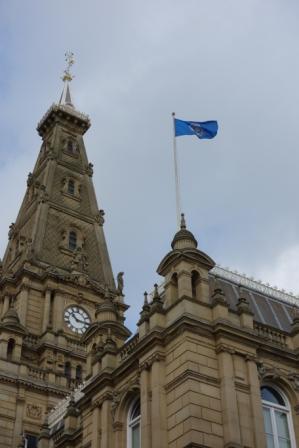 Thursday 1 August is Yorkshire Day – the opportunity to celebrate what's great about living, working or visiting Yorkshire – Britain's largest county.
Events are taking place all across the region, with Skipton hosting the Official Yorkshire Day celebrations and taking pride in all things Yorkshire!
Halifax Town Hall will be flying the Yorkshire flag on Thursday 1 August, and Calderdale Council is delighted to announce that Halifax will take the official lead on the day in 2016.
In three years time Calderdale will be hosting celebrations for the whole county – a fantastic opportunity to showcase the redeveloped town centre and most notably the transformed Piece Hall.
The Mayor of Calderdale, Cllr Ann Martin, said:
"Yorkshire people quite rightly have a lot of pride for their county, and Yorkshire Day gives everyone a chance to demonstrate this.
"It's also fantastic news that Calderdale will be leading the celebrations in 2016 – hosting events and showing off the work that will have been done in Halifax town centre.&quot
For more information about events taking place across the county visit Welcome to Yorkshire – Yorkshire Day(external link).