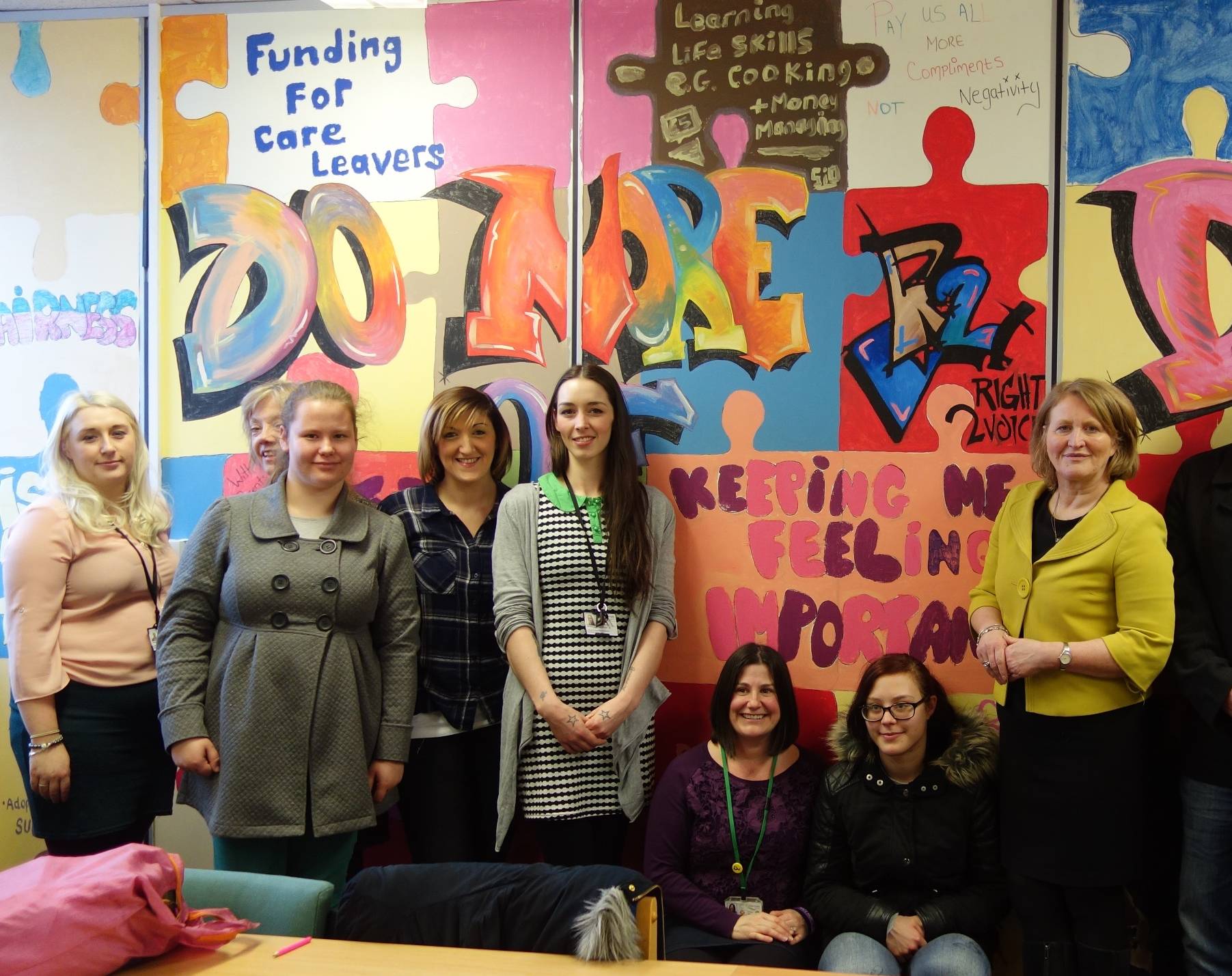 The Children's Commissioner for England talked to Calderdale youngsters about issues that matter to them most during a visit to see a project created by Calderdale Council to give children and young people a stronger voice.
Anne Longfield OBE came to Halifax today to find out more about what the Council is doing to help children and young people shape decisions that affect them and their communities.
The role of the Children's Commissioner is to promote and represent the views and rights of children and young people to the decision-makers who can make a difference to their lives.
The young people that she met were part of a wider group and had the chance to share their opinions on key topics, ask questions and demonstrate the project they are involved in – 'If Walls Could Talk'. The project sees groups working together to write messages and draw pictures on walls inside the Northgate House council offices. Those who found it difficult to get to Northgate House, like the pupils at Highbury School, sent their messages on picture canvasses to hang alongside the painted walls so everyone could be involved in the project.
They have one brief – to express their views on what the Council should do more and less of, what it should keep doing, and what it should change – the rest is up to them.
The aim is to produce powerful messages to inspire staff and visitors to take on board the voices of the younger generations who are at the heart of much of the Council's work. 
Examples of the messages include "Help us prepare for the real world", "Keep treating us fairly", "Change mental health" and "We want more work experience opportunities".
Cllr Megan Swift, Calderdale Council's Cabinet Member for Children and Young People's Services, said:
"We were delighted to welcome the Children's Commissioner to show her first-hand how our unique and successful project is engaging young people. Anne Longfield's role is to give children a voice, and we're proud that this is what 'If Walls Could Talk' is all about. It's important for us to make sure children have a say in decisions that affect them and their families, now and in the future."
Children's Commissioner for England, Anne Longfield OBE, said:
"I was very pleased to spend time with young people in Calderdale today. It was great to see the positive impacts that Calderdale Council's project is having, and I have taken on board the young people's views on issues that affect them."