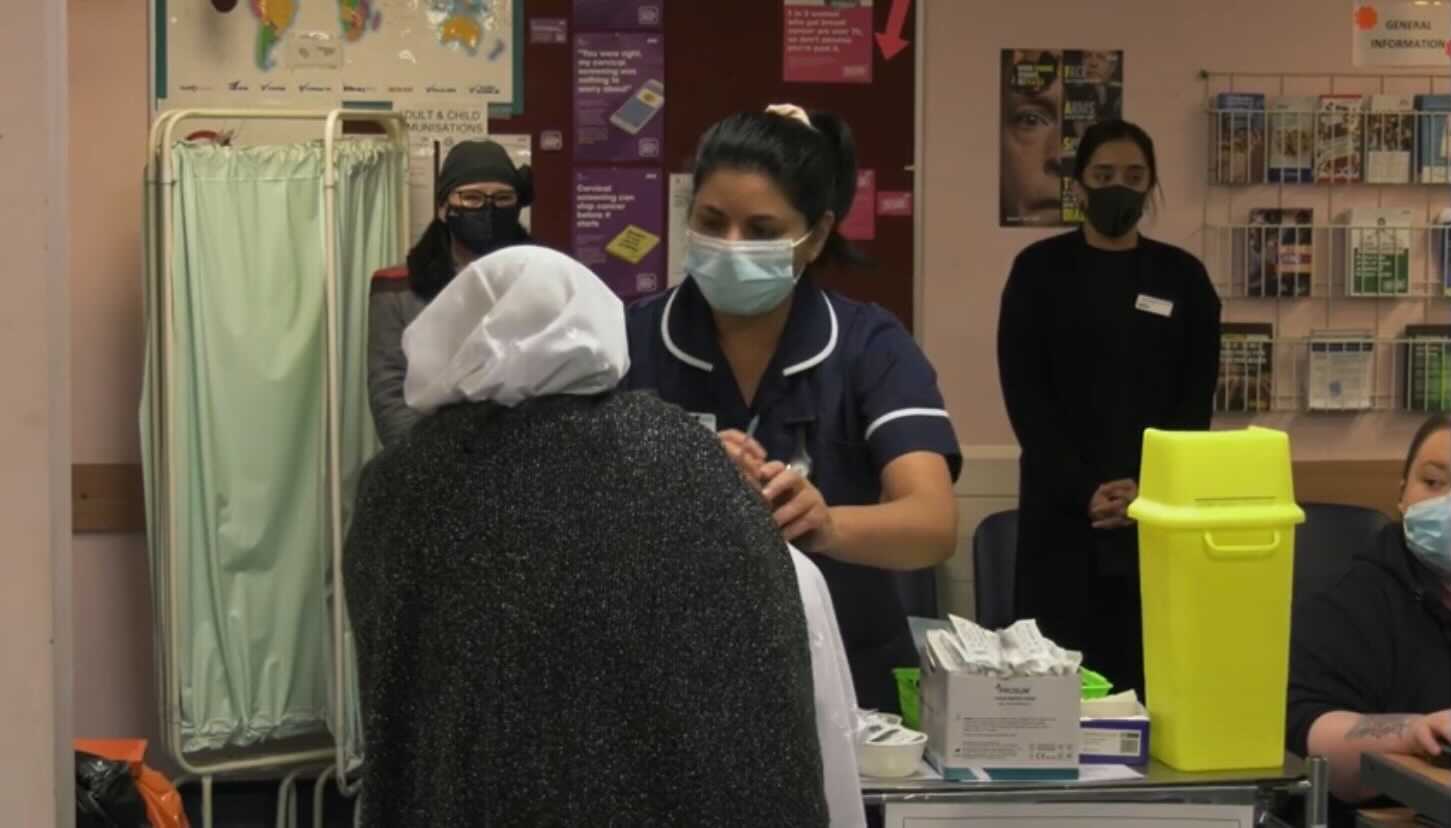 Joint press release with Calderdale CCG
Calderdale residents have today started to receive the first doses of the COVID-19 vaccine in the borough, as the rollout of the biggest vaccination programme in NHS history gains further momentum.
Resham Bi, aged 83 from Halifax,  became the first person in Calderdale to receive the PfizerBioNTech vaccine at a Calderdale GP practice this morning (Tuesday 15 December), with further residents booked in throughout the rest of the week.
After receiving the vaccine, Resham said:
"I encourage all my brothers and sisters to get this vaccine done, it's for our safety. I've had the injection and I'm absolutely fine.

"I couldn't feel any pain and I can't tell whether I've had the injection or not, it was painless."
Practices in more than 100 parts of the country are taking delivery of the vaccine this week. Nurses, paramedics, pharmacists and other NHS staff will work alongside GPs to vaccinate those aged 80 and over, as well as care home workers and residents, identified as priority groups for the life-saving vaccine.
The Chair of NHS Calderdale CCG, Dr Steven Cleasby, said:
"I'd like to thank all of the clinical and support staff working across Calderdale who are working so hard, at such a busy time of year for the NHS, to get this vaccine to those who are most at risk from this virus.

"We are working hard to keep people safe, and the NHS is very busy at the moment.  So, we are asking people to help us by not contacting their GP practice for information on the vaccine. We will  let you know when it's your turn. When we do contact you, please  make sure you attend your appointments. And most importantly, please keep following government advice: wash your hands regularly, wear a face covering in enclosed spaces and maintain social distancing wherever possible to protect yourself and your family from the coronavirus.

"Last, but not least, I'd like to thank you for the support you've shown, and continue to show the NHS. Coronavirus may have changed a lot of things, but the NHS is still here for you, your family and your community. If you need help contact your surgery or NHS 111 online or via telephone,  and if you're advised to go to hospital, please do so. "
The Leader of Calderdale Council, Cllr Tim Swift, said:
"This is fantastic news for Calderdale residents and represents a key moment in our fight against COVID-19 and a step towards getting life back to normal again.

"2020 has been one of the most challenging years in living memory, but the rollout of the vaccine is a light at the end of what has been a very dark period in our history.

"Although this is an incredibly important first step, it will be a very long journey as the task to vaccinate an entire population is a mammoth one. It's vital that everyone remains patient whilst waiting to be contacted for their vaccine and continues to follow the health guidelines that are in place."
Calderdale Council's Director of Public Health, Deborah Harkins, said:
"Vaccines are the most effective way of preventing people from getting serious infectious diseases I'm delighted that we're beginning to offer the COVID-19 vaccine to people in Calderdale.

"I'd urge everyone to take up the vaccine when it's offered – it's safe, effective and our best protection against COVID-19. The vaccine is initially being offered to priority groups and will be available more widely as soon as possible. It's important that people wait to be contacted, rather than contacting their local surgeries.

"The full rollout will take some time, so it's important we all continue to do all we can to reduce the spread of COVID-19. The three big things to protect ourselves and our loved ones are – limiting our contact with others, wearing a face covering and isolating when needed."
Staff at hospitals, GP practices and other healthcare settings are working hard to put in place safe processes to meet the tough logistical challenges of offering the vaccination.
The NHS will contact people in the priority groups when it is their turn to receive the vaccine.
For up-to-date and reliable information about COVID-19, use trusted sources such as:
www.gov.uk/coronavirus(external link)
www.nhs.uk/coronavirus(external link)
www.calderdale.gov.uk/coronavirus
Calderdale Clinical Commissioning Group, the NHS, Calderdale Council and the voluntary and community sector work in partnership as Calderdale Cares, bringing together organisations delivering health and care services in Calderdale.
The aim is to create strong collaboration across Calderdale where organisations share resources to deliver a range of support to meet each person's individual needs, within their own community. Follow @CalderdaleCares on social media for more information.
Calderdale Cares is one of the key mechanisms for delivering the Council's Vision 2024, helping to create a more resilient community. To find out more visit www.calderdale.gov.uk/vision.
Ends