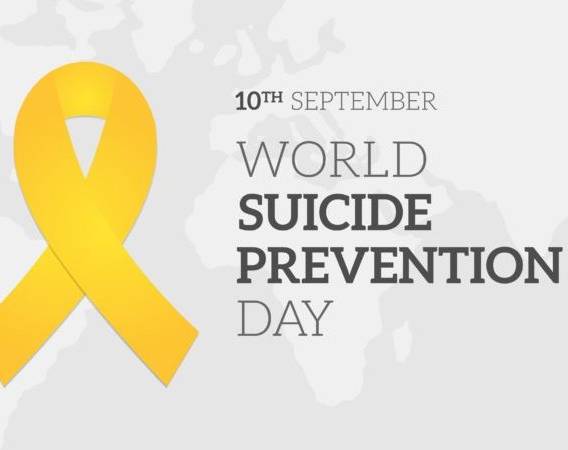 Calderdale Council is backing World Suicide Prevention Day(external link) (Friday 10 September 2021) to help share the message that suicide can be prevented.
One in every 100 deaths worldwide is the result of suicide, which has a deep and long-lasting impact on individuals, families and communities. In England in 2020, there were 4,912 registered deaths for suicide.
By supporting World Suicide Prevention Day, the Council wants to raise awareness of suicide, help remove the stigma and encourage well-informed action to try to reduce the number of suicides and suicide attempts.
The Council works in partnership with a range of organisations to help Calderdale to be a place without suicides; where people do not consider suicide as a solution to the difficulties they face; and a place that supports people at a time of personal crisis and builds individual and community resilience for improved lives.
The Calderdale Suicide Prevention Group's Suicide Prevention Plan details the action being taken to achieve this, including:
Reducing the risk of suicide in key high-risk groups, and tailored approaches to improve mental health in specific groups. Work is underway to join up services better so that people with multiple and complex needs get the right support at the right time.
Reducing access to the means of suicide. The Council continues to work with partner organisations to put measures in place which are shown to reduce suicides in public locations.
Providing better information and support to those bereaved or affected by suicide. The West Yorkshire Suicide Bereavement Service

(external link)

launched in 2019, offering one-to-one and group support to anyone who has lost a friend, family member or colleague to suicide.
This World Suicide Prevention Day, West Yorkshire and Harrogate Health and Care Partnership has launched a regional suicide prevention portal, which includes information on where to get support in Calderdale.
The new website, https://suicidepreventionwestyorkshire.co.uk/(external link), is dedicated to helping people with suicidal thoughts and those concerned for the mental wellbeing of anyone who lives in West Yorkshire.
Figures from the Office for National Statistics published this week show that the Yorkshire and Humber region has a suicide rate of 11.5 per 100,000 in 2020, which is a reduction from 2019, but still puts the region significantly higher than the England rate of 10 per 100,000. In Calderdale, the three-year rates for 2018 – 2020 have increased from 2017 – 2019 to 15.6 per 100,000, which is higher than the national and regional rates. The Council has joined hundreds of health and care organisations in a shared ambition to reduce the suicide rate by 10% across the region.
The theme of World Suicide Prevention Day is 'Creating hope through action'. Calderdale Suicide Prevention Group is encouraging people in the borough to learn more about suicide, and what action they can take, by doing the 20-minute Zero Suicide Alliance awareness training at www.relias.co.uk(external link). Anyone can use this training to understand more about how to help someone who may be considering suicide.
In February 2021, on 'Time to Talk' Day, West Yorkshire and Harrogate Health and Care Partnership launched the 'Check-in' campaign to get people in the workplace talking about mental health to prevent the risk of suicide. By spotting the signs in our work and personal lives, we can all play a part in preventing suicide and supporting each other to have good mental health. Visit https://staffcheck-in.co.uk/(external link)
Cllr Tim Swift, Calderdale Council's Leader, said:
"Every suicide is devastating and can have a profound impact on every one of us. The increase in people taking their own lives in Calderdale and across West Yorkshire is of great concern and we are taking this very seriously.

"Suicide can be prevented, with the right support. We will continue to work with other organisations, as part of the Suicide Prevention Group, to do all we can to reduce the rate in Calderdale.

"We know that opening up about mental health and other issues can be hard, but talking to others about suicidal feelings can really help. We want anyone who is struggling to know that they are not alone. This World Suicide Prevention Day, we are raising awareness of the support available for anyone with suicidal thoughts, and for those bereaved or affected by suicide."
For details of the support available in Calderdale, please visit the new regional website: https://suicidepreventionwestyorkshire.co.uk/support-your-area/calderdale(external link)
Join the conversation around World Suicide Prevention Day using #WSPD2021.
The Council is also supporting #mindyourhead, a campaign by Happy Valley Pride and the Brunswick Centre to promote better LGBTQ+ mental health and wellbeing in Calderdale and beyond. Find out more at www.happyvallypride.co.uk/mind-your-head(external link)