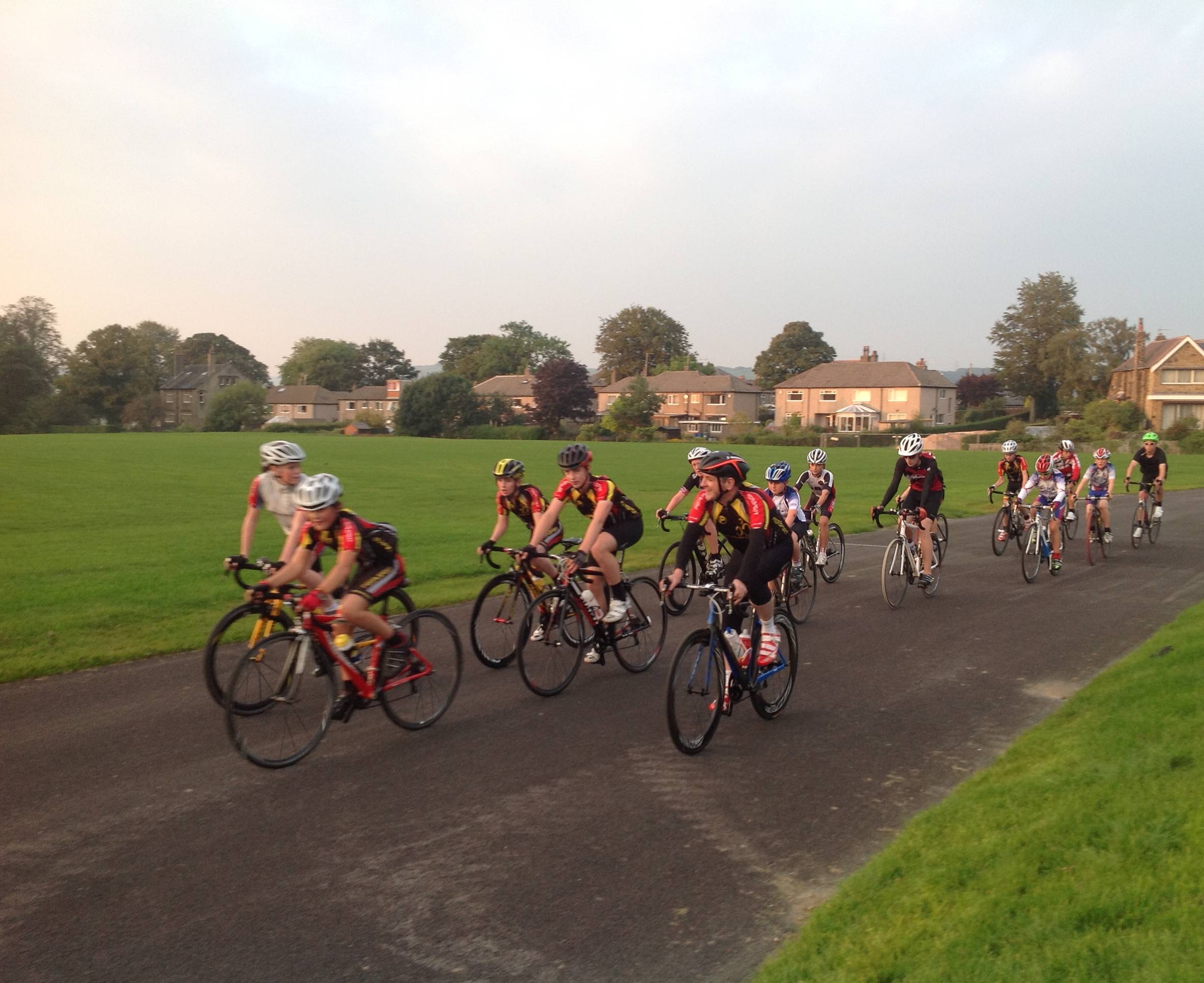 Students and their families are saddling up for a day of all things cycling, as Calderdale Council, Brooksbank School and Pedalsport Cycling Club host their first ever track party.
The family fun day, funded by the Council, will roll into action at Brooksbank School's cycle circuit in Elland on Sunday 19 April from 9am to 4.30pm, giving people of all ages and abilities the chance to enjoy track cycling, races, coaching sessions and a guided Sky Ride on part of the Calderdale route made famous by the Tour de France.
The 750-metre circuit, made of smooth tarmac and away from the roads, will be open for anyone to have a go at cycling at their own pace. If you don't have your own bike, why not test ride one of the latest models available on the day? And if you can't cycle, you can find out how to learn at the event.
Under-16s can release their inner competitor by taking part in a race around the circuit, and children and adults can test their skills in time trial sessions. Pedalsport coaches will be on hand throughout the day to answer questions and give advice on how to make the most of cycling.
There's something for everyone, with food and drink stalls, information stands, small funfair rides and a bouncy castle for the youngsters.  
Paul Butcher, Calderdale Council's Director of Public Health, said:
"With the Tour de Yorkshire just around the corner, we have teamed up with Brooksbank School and Pedalsport Cycling Club to inspire people of all ages and abilities to get on their bikes and enjoy a fun day out. We are delighted to support the event, which shows how cycling can make a real difference to people's lives. It's packed with health benefits, which people will be able to learn more about at the event."
Last year, Brooksbank School's sports fields at Hammerstones Road, Elland, were completely redeveloped as part of a Tour de France legacy project to add a brand new cycle circuit and changing rooms to the football and rugby pitches. The circuit provides a high-quality, traffic-free facility for cycle training, coaching and racing for schools and the community. To hire the track visit Brooksbank cycle circuit(external link).
Mark Ragan, Director of Community Sport at The Brooksbank School Sports College, said:
"We are so lucky to have this fantastic, safe cycling facility as part of our school facilities and want the whole community to have the opportunity to benefit from using it. We have already added cycling onto the curriculum and the cycling club is growing. The links with our feeder primaries and local cycling clubs have already introduced hundreds of young children to safe cycling on the circuit. Hopefully the rest of the community will find an opportunity to get involved – starting by visiting the circuit on Sunday 19 April at the open day."
Pedalsport Cycling Club, based in Halifax, is another way to access the circuit. Catering for all forms of cycling, the club offers a range of coached sessions every week for its members, who vary in age and ability. There is a thriving youth and under-12s section, with regular indoor and outdoor sessions. Summer sessions take place on the Brooksbank cycle circuit and other sessions are at Brooksbank School. Full details are on the club's website(external link).
Mark Rushby, Pedalsport Cycling Club Chairman, said:
"The Brooksbank circuit has provided an amazing facility for encouraging people of all ages to cycle with us in a safe environment. Since its completion our membership has doubled and we now have over 200 riders under 14 years of age that regularly ride with the club. We also have nearly 200 over-14s that ride and compete with us on a regular basis. We have members from 5 to 65 years old and from novice to national champions through all age ranges. The track has given us an amazing foundation to build on and we owe a huge thanks to Brooksbank School and Calderdale Council who supported this venture from day one."
For a detailed timetable of the track party activities on Sunday 19 April, head to the Cycle Calderdale(external link) website.
Join the event on Facebook(external link). 
Find out more about the Sky Ride Local(external link) taking place at the event.