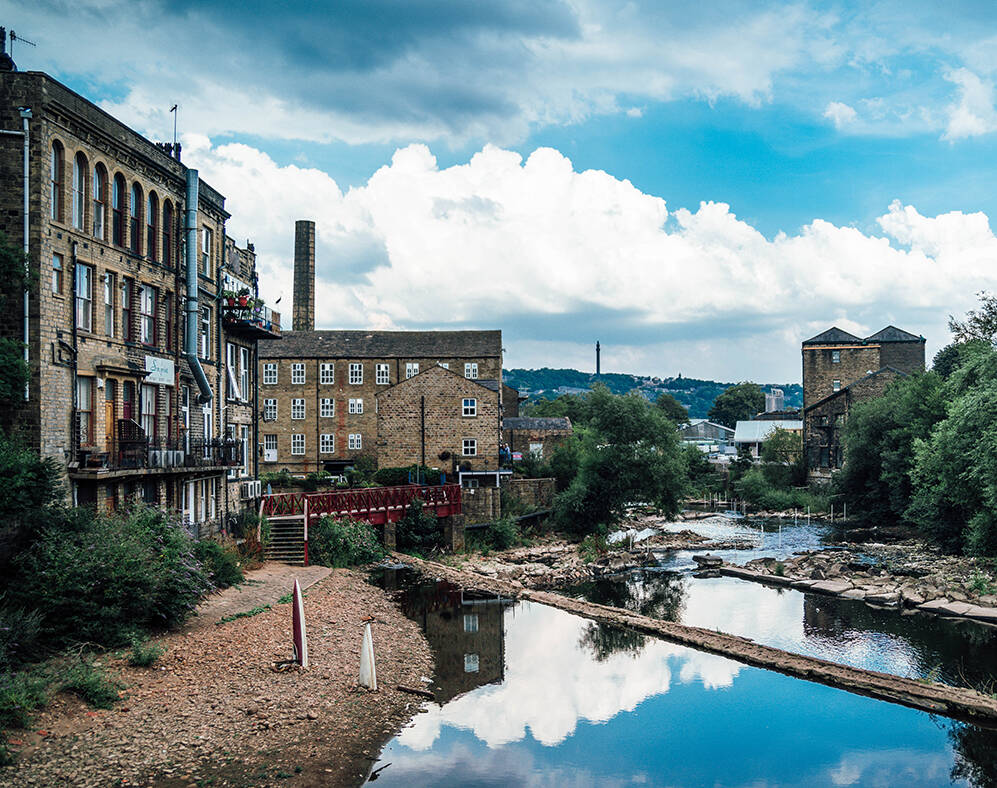 Business owners on Sowerby Bridge's historic high street can take advantage of a new funding scheme to support improvements to the look of their property.
Sowerby Bridge's high street is home to a number of buildings of unique heritage, recognised by Historic England through the Government's High Streets Heritage Action Zone (HAZ) programme. The town has been allocated £2million through the HAZ programme, which is being delivered in partnership with Calderdale Council.
The programme has seen the refurbishment of the Old Town Hall, and is supporting remedial works to the Fire & Water buildings. Now, Calderdale Council is further supporting local businesses, providing assistance to support improvements to the frontages of buildings along the high street.
The Sowerby Bridge Shop Front grant scheme can fund up to 80% of costs to improve signage, stonework or other heritage restoration works to business properties along Wharf Street / Town Hall Street, situated between the railway bridge and the junction with Tuel Lane.
Businesses and property owners interested in this scheme should contact nathan.canavan@calderdale.gov.uk to register their interest. The deadline for expressions of interest is 30 January 2023, but demand is likely to be high, so businesses are encouraged to get in touch as soon as possible.
Approved works will commence in April 2023, and must be completed by December 2023. Calderdale Council will manage the works, working closely with business owners and contractors.
Calderdale Council's Cabinet Member for Towns, Engagement and Public Health, Cllr Sarah Courtney, said:
"The high street in Sowerby Bridge has many beautiful heritage buildings in varied architectural styles. In some cases, these historic features are being obscured by signage or other poor-quality alterations which are detracting from the building's original heritage.

"Using Heritage Action Zone funding, with support from Historic England, we are pleased to be able to offer help to business owners to revitalise the look of their building. The shop front improvement scheme will provide a significant financial contribution to support improvements to shop fronts, not only enhancing the value and appeal of each individual business, but also having a collective positive impact on the appearance of Wharf Street and Town Hall Street."
Craig Broadwith from Historic England said:
"The Sowerby Bridge Shop Front Scheme is a great opportunity for local businesses to raise their profile and improve their image, using the heritage of Sowerby Bridge as a boost for economic growth."
The Government's High Streets Heritage Action Zone (HAZ) programme is a £95 million Government-funded national initiative led by Historic England and designed to secure lasting improvements to historic high streets, fuelling economic, social and cultural recovery and breathing new life into them for future generations.
Preserving the unique heritage features in Sowerby Bridge supports the Vision 2024 for Calderdale to be distinctive and resilient. In the year 2024, Calderdale will celebrate its 50th birthday. Where do we want to be by 2024? Join the conversation by following #VisionCdale2024 on social media and visit www.calderdale.gov.uk/vision