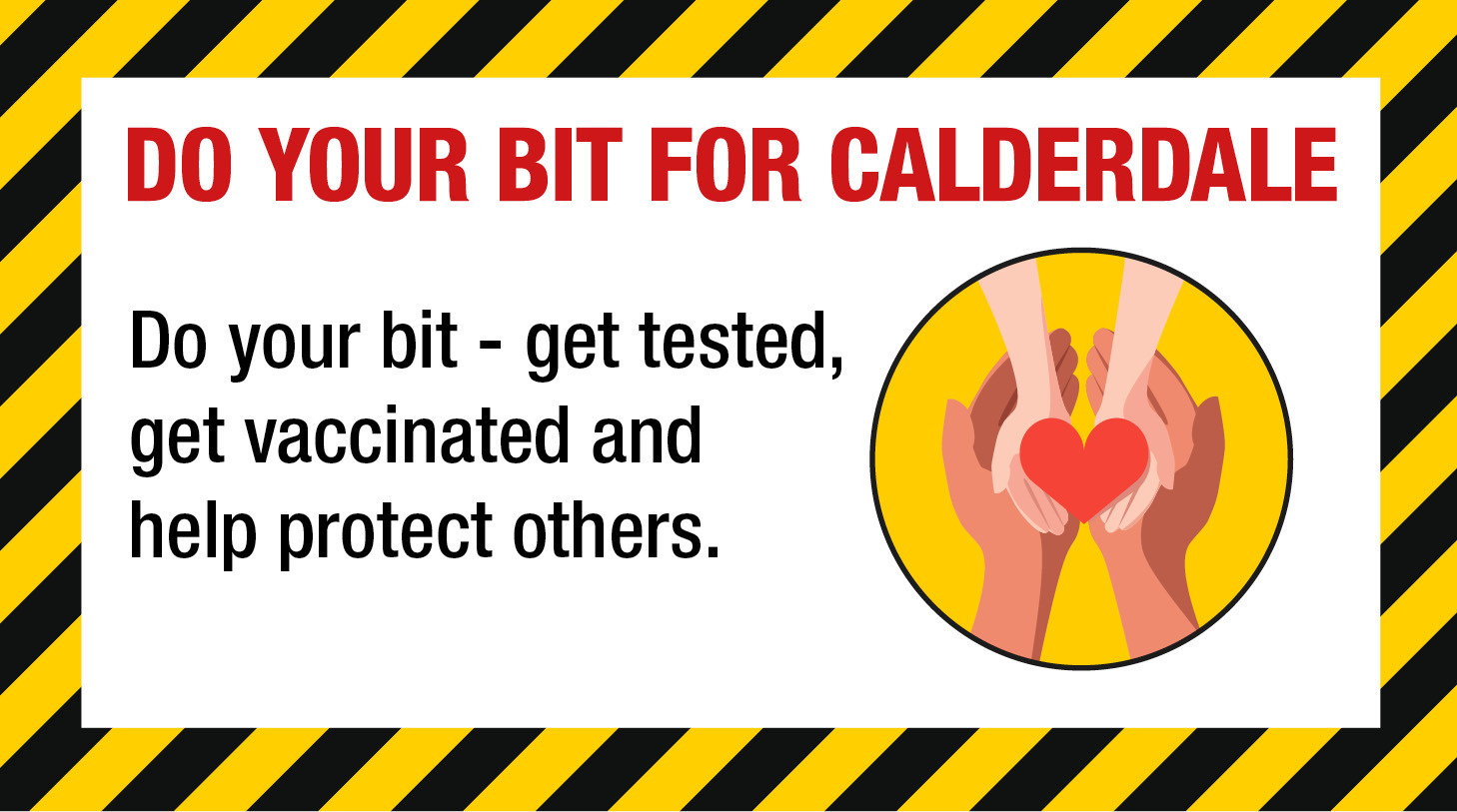 COVID-19 testing in Calderdale has more than doubled since additional testing began in areas with increasing case rates.
Calderdale now has the highest testing rate in the Yorkshire and Humber region, with about 1,200 people being tested each day. This is 200 people more per day than the next highest testing council area.
Extra testing is currently taking place in Illingworth, Mixenden, Park, Rastrick, Ryburn, Sowerby Bridge, Todmorden and Warley. There are indications that this is making a difference. The increase in COVID-19 cases (the majority of which are the Delta variant) has started to slow down in recent days, suggesting that the additional testing is helping, and is starting to fall in some of those areas.
However, we all need to keep up the good work by getting tested and doing the five big things to protect ourselves and each other:
Keep our distance and limit mixing with people we don't live with.
Wear a face covering where necessary, unless medically exempt.
Self-isolate if we test positive or are a contact of someone who has tested positive. A range of support is available to people self-isolating: www.calderdale.gov.uk/v2/coronavirus/help.
Meet others outside where possible, and if not then let fresh air in.
Book our vaccine when we are invited by the NHS.
Continuing to do everything we can to reduce infection rates is especially important because 50% of Calderdale cases don't have symptoms when they are tested, so can spread the virus without realising.
Cllr Tim Swift, Leader of Calderdale Council, said:
"It's really encouraging to see our local communities stepping up and doing their bit for Calderdale, with a massive increase in testing since we asked people in areas with high rates to play their part. Once again, we're seeing Calderdale's kindness and team effort shine through.

"We are seeing promising signs that this extra work is having a positive impact, as the rise in COVID cases is slowing down. But we must not stop now, as the infection rate is still high."
Ben Leaman, Consultant in Public Health at the Council, added:
"The more testing we do, the more cases of COVID-19 we find, and the more chance we have of breaking the chain of infection by supporting people to self-isolate when needed. This additional testing, using tests that get sent to a laboratory, adds to the rapid testing that many people in Calderdale are doing routinely, and we'd encourage everyone to continue to use rapid tests too.

"When people get tested, we're talking to them about the support available to self-isolate, and we know this is making a difference as we've recently seen an increase in applications for support to self-isolate, including financial help.

"It's fantastic that so many people have come forward for extra testing, as it's helping us to fight the Delta variant peak and giving us time to offer both doses of the vaccine to all adults.

"Currently we're seeing the highest local COVID case rates in young adults, so it's really important to get the first vaccine and then follow up with the second dose when invited, now that anyone over 18 can get vaccinated. We're working with our partner organisations to increase access to pop-up vaccine clinics in community locations, which we know are popular with younger adults, and in workplaces at high risk of outbreaks and with younger workforces."
For information on additional testing and the location of testing sites, please visit www.calderdale.gov.uk/v2/coronavirus/managing/extra-testing
For information on the locations and timings of walk-in vaccination clinics, please visit www.calderdaleccg.nhs.uk/walk-in-vaccination-clinics/(external link)
Important health messages are out on the move in areas with high and increasing COVID-19 rates, with the Council using 'ad bikes' in Mixenden, Warley and Park at the end of this week and into the weekend. The bikes display banners containing the information, and flyers are being handed out to local people. This builds on the intensive partnership work with communities in areas with high case rates to promote extra testing and the importance of getting vaccinated with both doses.
For up-to-date and reliable information about COVID-19, use trusted sources such as:
www.gov.uk/coronavirus(external link)
www.nhs.uk/coronavirus(external link)
www.calderdale.gov.uk/coronavirus