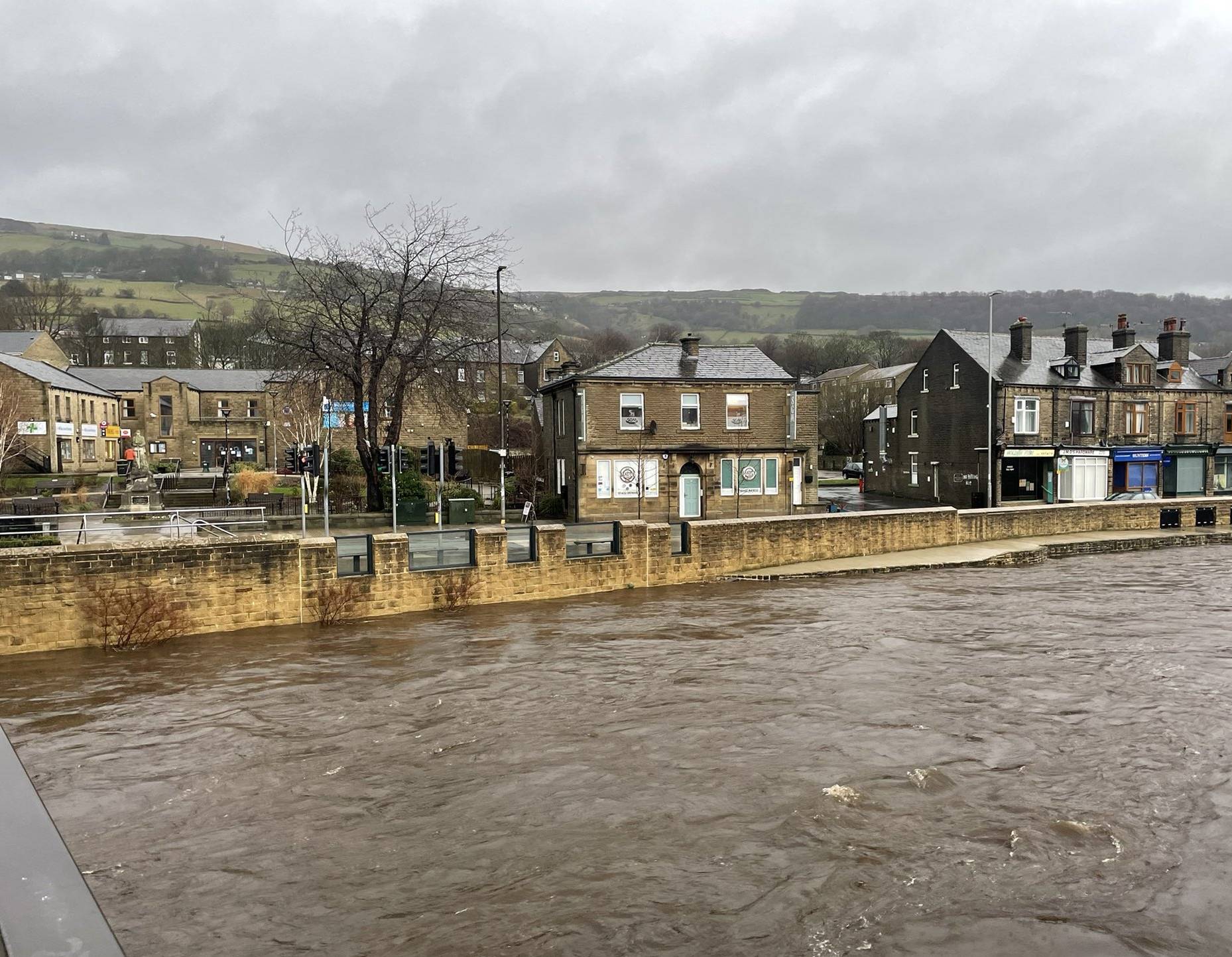 Calderdale Council is thanking communities for pulling together and is encouraging people to have a flood plan, after Storm Franklin brought persistent heavy rain and strong winds to the borough on Sunday 20 February.
Flood warnings were in place throughout the day and the ground was already saturated due to the impact of Storm Dennis and Storm Eunice last week.
A small number of properties were affected and there was a large amount of surface water on roads right across Calderdale. This led to some temporary road closures, including Park Road between Elland and Brighouse when the canal burst its banks.
All the affected roads are now back open apart from Mill Lane in Mixenden due to a collapsed wall. Teams are assessing the damage and will reopen the road when it is safe to do so.
Flood warnings for Walsden, Todmorden, Brearley and Luddendenfoot were removed just before noon on Monday. No further flooding is expected in these areas. Please continue to stay well away from swollen watercourses and floodwater, and be aware of debris and surface water affecting roads.
Water is pouring off fields just off Burnley Road, on Windle Royd Lane in Halifax, so drivers are asked to avoid the area due to standing water on the road. Teams are working hard to resolve the issue.
Surface water is a hazard, and this was one of the biggest impacts of Storm Franklin in Calderdale. In these cases, people are advised not to travel unless essential and not to drive through water if this can be avoided. If you have to drive through standing water, please take care and drive slowly to avoid putting yourself and nearby properties at greater risk.
Throughout Sunday, Council teams, partner organisations, flood wardens and local residents showed their usual Calderdale kindness and community spirit, braving the bad weather and working around the clock to support each other, pass on vital information and respond to issues. Freezing temperatures by the end of the day meant ice was an added risk, so gritters were out to keep roads as safe as possible. Teamwork continues today to support clean-up operations in the worst-hit areas.
Preparations were in place before the storm hit and flood defences and other resilience work held up well. The impact of the rainfall was thankfully less severe than in previous flooding events, but it was a very near miss.
Cllr Scott Patient, Calderdale Council's Cabinet Member for Climate Change and Resilience, said:
"It was an anxious time for many over the weekend, as the heavy rain caused flooding to a small number of homes, river levels were rising and there was widespread surface water flooding. Thankfully, we can call this a very near miss. We were just centimetres away from more serious impacts, and flood defences did their job well, protecting hundreds of properties along the valley. Thank you to everyone throughout our communities for pulling together.

"Storm Franklin is a stark reminder of the climate crisis, which is particularly pertinent as we mark 100 days since the COP climate summit in Glasgow. We live with the constant risk of flooding in Calderdale, and events like Storm Franklin demonstrate the small margins that can be the difference between a major flood and a near miss.

"It's important that we all continue to be aware of the risks and ensure we take steps to prepare for flooding in future. Knowing what to do in a flood and having a flood plan can significantly reduce damage to homes and possessions, reduces risk to life and decreases the likelihood of suffering from mental health impacts in the future."
In England there are over five million homes and businesses at risk of flooding. The average cost of flooding to a home is around £30,000. Nearly two in three households at risk of flooding don't believe it will happen to them. Research shows that people who haven't taken action to prepare for flooding are in the clear minority (30%), but this still means that as many as 1.5 million households, who are at risk, are yet to prepare.
Visit www.eyeoncalderdale.com(external link) for advice on preparing for flooding. Eye on Calderdale is also the one-stop website for up-to-date information about flooding, weather and traffic disruption in Calderdale.
Flood preparation advice includes:
If there is a flood alert, prepare by packing medicines and insurance and other important documents and visit the flood warning information service.
If there is a flood warning, act by moving family, pets and belongings to safety. Turn off gas, water and electricity.
If there is a severe flood warning, survive immediate danger by following the advice of emergency services or calling 999 if needed.
For more information visit www.eyeoncalderdale.com(external link)