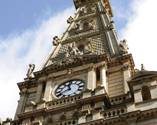 Sunday 17 May is International Day against Homophobia and Transphobia (IDAHOT), and every year, Calderdale Council flies the rainbow flag from Halifax Town Hall as a show of support. 
This visible and colourful support for lesbian, gay, bisexual and transgender (LGBT) communities emphasises the Council's commitment to equality, in recognition of IDAHOT. 
The IDAHOT campaign started in 2004, when a group of international activists took the decision to commemorate 17 May as a day of global importance to the LGBT community. This day was chosen as it was the date that the World Health Organisation removed homosexuality from their list of mental disorders, in 1990. 
To mark the day, Calderdale Council will fly the rainbow flag from one of the most prominent buildings in the borough, Halifax Town Hall. 
Calderdale has a large LGBT community, and we would like to acknowledge and identify with the diverse communities in the borough. We believe that everyone should be valued for who they are, and to continue supporting this, we are working with Stonewall, Britain's leading gay, lesbian and bisexual equality organisation to help demonstrate our commitment to equality even further. 
Stonewall recently held its Yorkshire and Humber Workplace Equality Index Awards to showcase the best employers for lesbian, gay and bisexual staff. Calderdale Council was placed a brilliant 10th in the region, highlighting our continued hard work to ensure workplace equality. 
Calderdale Council's Director of Communities and Service Support, Robin Tuddenham, said: 
"I'm delighted that, for the second year running, we're showing our support of the LGBT community in a very visible way, by flying the rainbow flag – a symbol displayed around the world as a sign of diversity and inclusiveness. 

"We are working with Stonewall to keep improving our standing as a top employer for LGBT communities, making sure we continue to tackle discrimination and create inclusive workplaces." 
For more information about IDAHOT visit www.dayagainsthomophobia.org(external link)